The Truth About Frownies Face Stickers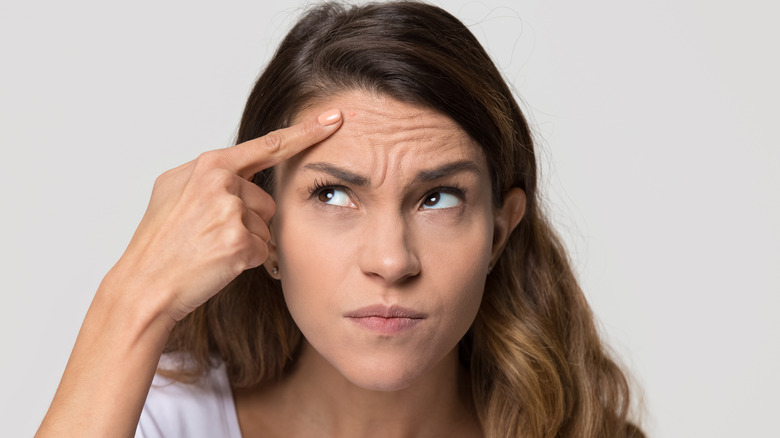 Shutterstock
There's no doubt 2020 gave us many reasons to frown. But as our moms and favorite influencers have always told us, "Keep making that face and it'll get stuck like that" (via Cosmopolitan). Left with"11" lines (those two lines found in between your eyebrows), these wrinkles and other signs of aging may just be another added stress in our lives. 
Frownies Wrinkle Patches, however, have promised to change that. The skin-toned adhesive patches have been used for over a century by women to minimize those unwanted age lines, Cosmopolitan revealed. While some may now rely on Botox to smooth the unwanted texture from their face, Frownies are a great drugstore option. Late actress Olivia de Havilland swore by them, and even modern beauty icon Rashida Jones embraces them (via Refinery29).
Yes, Frownies have long been the beauty secret hiding in plain sight. So for those of us who are not ready for the commitment of Botox or cannot afford it, Frownies may just be the solution to facial lines.
How Frownies face stickers really work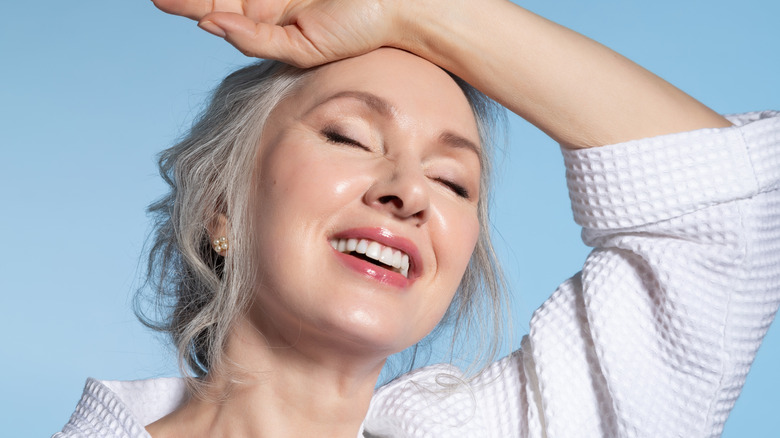 Shutterstock
Frownies, "the original wrinkle patch," are flesh-colored triangle patches meant to be worn overnight. Since 1889, the natural weighted unbleached craft paper patches have been placed on women's foreheads to prevent wrinkles and make their skin look young and confident (via Cosmopolitan). But how do they actually work?
First, a lesson in wrinkles. Wrinkles, especially those "11" lines in between your brows, form largely in your sleep. "These deep-to-barely-set lines tend to look stronger first thing in the morning because our facial skin is thinner and more elastic," according to Healthline. With no active ingredients, Frownies patches function simply by retaining your muscles in your sleep, preventing them from moving and thus forming 11 lines, and training your muscles overtime to stay in place. "Turns out you can train your facial muscles to relax while you sleep," Charlotte Palermino of Cosmopolitan, who tried out the Frownies patches herself, wrote.
Reviews, however, are mixed when it comes to the timing of the results. While Palermino only saw significant results after three months of wearing the patches, The Derm Review claims minimal next-day results should be visible. While the wrinkle may show up later throughout the day, your skin should look smoother after waking up and removing the patch.
Goodbye wrinkles, headaches, and depression?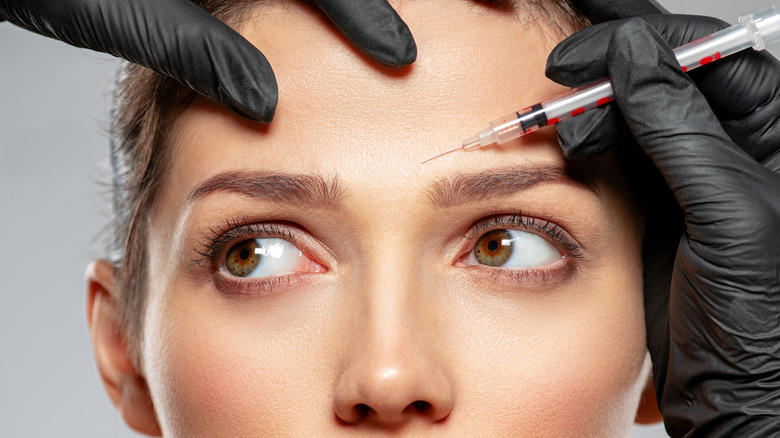 Shutterstock
Apart from wrinkles, Frownies users have also found relief from headaches and depression. "The area you put the tape in the center of your eyes is an acupuncture point called Yintang," acupuncturist and Eastern medicine expert Renne Altman told Healthline. "It's the location of the third eye and amazing for stress reduction." Although hard evidence is lacking, anecdotal accounts have pointed to their ability to curb headaches.
As for depression, researchers have already started to explore the relationship between Botox and this mood disorder. However, this Botox alternative could also help depression patients. A 2014 study in Frontiers in Psychiatry found that Botox, and in this case the same logic could be applied to Frownies, recipients reported fewer instances of feeling sadness due to the prevention of "psychomotor" frowning. Both of these applications, however, are still not fully confirmed nor approved by the FDA, and the medical community continues to be unsure of their efficacy as medical treatment. For more severe instances of migraines or chronic depression, consult your medical provider first.
Nevertheless, it is clear that Frownies face stickers are frequently used and loved by their loyal customers. If the "11" lines are not your biggest wrinkle concern, worry not. Frownies also sells a variety of other facial patches.