Here's How To Pull Off A Coffin Shape For Short Nails
Shutterstock
Love the look of coffin-shaped nails but not keen on the long length? You're not alone. While coffin nails are a popular nail-shape, the traditionally super-long look isn't functional for most people. Can you imagine changing a diaper or even typing an email with 2" long talons?! The good news is that you can recreate the coffin nail shape on shorter nails, and it's actually far easier than you might think.
As per the blog, We Heart Nails, coffin nails — also known as ballerina nails — are a popular nail shape worn by various celebrities, from Noah Cyrus to Khloe Kardashian (via StealHerStyle). As We Heart Nails notes, the coffin nail shape is usually long and tapered, but instead of pointy ends, the tip is filed flat. Coffin nails usually require that you to grow your nails to a significant length or use acrylic nails or gel to build the length and strength needed to sustain the style.
The good news is that according to StayGlam, if you can get the style right, the coffin nail shape can even look great on short nails.
How to get beautiful coffin nails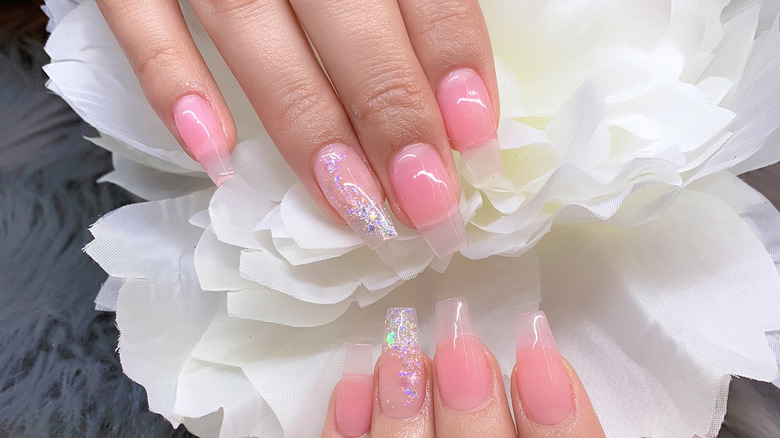 Shutterstock
We Heart Nails suggests that the best way to create elegant coffin-shaped nails is to create a stiletto shape and then square off the tip. With shorter nails this can be more tricky as there's less nail to work with; instead YouTuber, Melissa's Mani's suggests start by the squaring off the tip and then bringing the tapered ends in (via YouTube). 
We Heart Nails suggests that before you start shaping your nails you place a small dot of nail polish in the center of the tip of your nail. This will help you keep the nail even and centered on both sides. The goal is to keep both sides as even as possible. 
Once there is a basic shape, gently file and buff the shape into perfection, which according to Melissa's Mani's might mean filing the tip again to ensure the flat shape is distinct and noticeable. Once the nails have been shaped, then comes the fun part – decorating them.
What are the best coffin nail designs?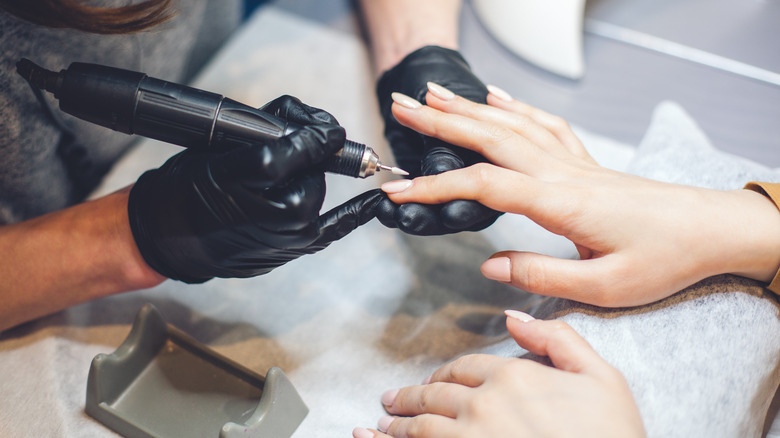 Shutterstock
According to StayGlam, there are lots of fantastic designs perfect for decorating short coffin nails.
Sparkly glitter short coffin nails can look fantastic; these nails can all be coated in glitter polish or a combination of glitter-based designs can be used, such as ombré glitter designs or dipped glitter designs. This kind of coffin shaped nail style is perfect for a wedding or any other special occasion.
For easy-to-wear, chic and stylish coffin nails, nude colored nail polish is a definite winner. These simplistic nails are subtle enough for work, while being glam enough for a night out.
Matte, short coffin nails offer another way to create a stylish and eye-catching look with just one nail polish color. You don't always need glitter and gems to create an iconic nail look, a matte polish in the perfect tone can do the trick.
For an elegant look that's both on-trend and chic, French manicured coffin nails look great. Featuring white tips, white cuticles and a nude, natural pink hued polish. The classic French manicure may require a bit more finesse if you're painting them yourself, but they always look wonderfully elegant.