Are Beautyblenders Really Worth The Money?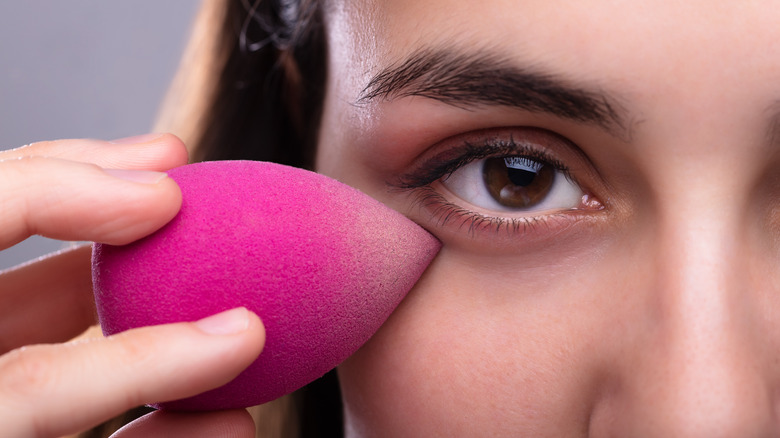 Shutterstock
We may receive a commission on purchases made from links.
Gone are the days where we only used cheap brushes and the triangle-shaped beauty sponges we stole from the Macy's beauty counter as kids – makeup application sponges have experienced a surge in popularity, and it's not hard to understand why. According to Bustle, since the original Beautyblender launched, makeup sponges have become the makeup application product to have, but there are still a lot of questions surrounding them. Are they really worth the money? How do you keep them clean? How often do you have to replace them?
For creating a flawless base, makeup sponges are an essential beauty tool. As per Cosmopolitan, there are a range of different shapes, sizes, and textures of sponges to choose from, which can make selecting the right one for your makeup routine a little tricky. When choosing a makeup sponge, many people assume that the original Beautyblender is the best option despite being more expensive (they are priced at $20 each on Amazon). But with cheaper alternatives out there, are Beautyblenders really worth the money? 
Do Beautyblenders offer better blending than makeup brushes?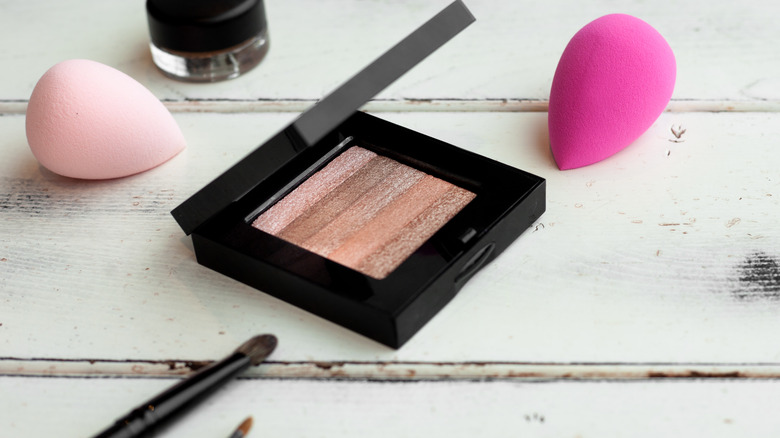 Shutterstock
When it comes to makeup application, the best tool to use depends on the goals that you're trying to achievep, as noted by Bustle. Many professionals opt to use makeup sponges for product application rather than brushes, as sponges can create a more flawless airbrushed look. So how do you go about using it, and is the makeup sponge really worth the investment? 
As reported by Cosmopolitan, makeup artist Hannah Martin said, "A dampened sponge can blend foundation more effectively and evenly than fingers or brushes. They can also lay down power more densely and with more precision (for baking for example) than a brush." She also explained that most makeup sponges can retain water, and that you should "dampen them before use and that way they don't absorb any of the liquid products that you might use them with." As per Cosmopolitan, the act of "bouncing" a sponge over foundation — or other base products — can give a more even base.
Bustle noted that vlogger Dana Wang put her Beautyblender and her favorite makeup brushes to the test, and discovered that Beautyblenders "blend like a dream" in comparison. She also said that using a Beautyblender sponge gave her skin a "smooth, flawless glow." 
This is what sets the Beautyblender apart from other makeup applicators
Shutterstock
If you're not sold on the Beautyblender yet, don't worry, we have more to tell you. According to Bustle, traditional makeup sponges tend to contain Latex, whereas the Beautyblender is made of non-latex, antimicrobial foam. The Beautyblender is also designed to press foundation — or other base products — onto the skin, whereas traditional makeup sponges wipe product across the skin, similar to how makeup brushes apply makeup.
Compared to traditional makeup sponges, Beautyblenders work more effectively at transferring the highest amount of product, so you can use less foundation but achieve a greater level of coverage. This reduces product wastage and saves money, in addition to reducing the likelihood of ending up with cakey skin. Bustle also reported that the Beautyblender is more of a multipurpose tool than a traditional sponge or makeup brush — it can be used to not only apply base products like foundation and concealer, but can also be used for contouring products and primer (this is your note to use primer, the skin on your face needs more love than the skin on your body).  
As per Bustle, Beautyblenders tend to work better on dry skin compared to makeup brushes and traditional sponges. Makeup brushes can cause further irritation to skin that is already dry, flakey or damaged. Whereas, using a Beautyblender to gently press product onto the skin tends to cause less irritation.