The Truth About Jane Fonda's Shocking Encounter With A Bear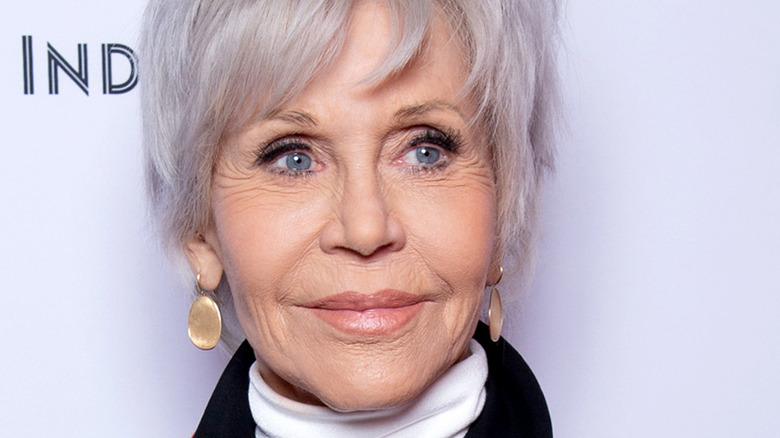 Amanda Edwards/Getty Images
On April 20, 2021, Jane Fonda appeared on an episode of "The Tonight Show Starring Jimmy Fallon," where she looked back on a scary encounter with a bear during a game of "Best, Worst, First."
As she appeared on the late-night talk show via video chat, the Hollywood legend was asked about her "worst uninvited guest." And, in a somewhat shocking response, she informed host Jimmy Fallon that she came face-to-face with a bear while visiting her cabin in New Mexico with one of her grandchildren.
"My grandson was about 3-months old. I was in a very small cabin in New Mexico on a ranch I had and his crib was in the corner," Fonda explained, per Yahoo News!, noting that she had heard a noise coming from the area that sounded like the rattling of a door. "I got up and went into the living room and I turned around and my golden retriever came running out whelping and yelling."
Jane knew exactly how to respond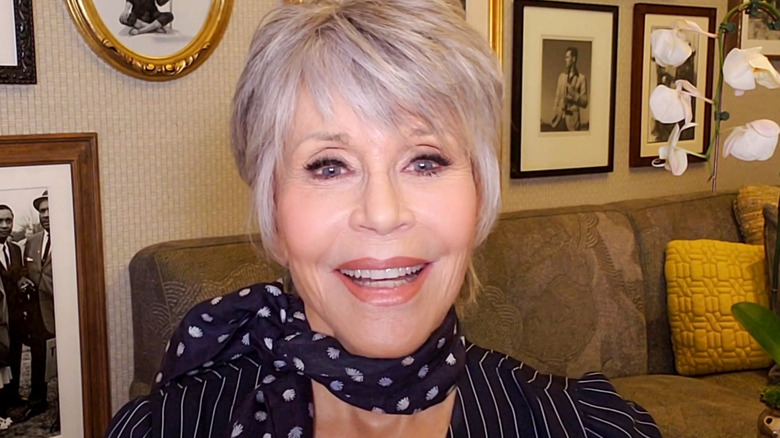 Getty Images/Getty Images
Seeing the concern in her dog, Jane Fonda immediately knew that something was not right and rushed to her grandson's bedroom. "I'm like, 'What's this?' And I go running in. Whoo! There's a bear! Right in the middle of my small bedroom, heading right for my grandson's crib," Fonda recalled of the terrifying encounter on The Tonight Show Starring Jimmy Fallon.
Although some would panic when faced with such a situation, Fonda knew exactly what to do: make herself appear as big as possible.
"I opened my bathrobe and I went, 'Roar!' And this is what happened: The bear urinated on my antique rug and then turned around and sat down," she explained. So, what did she do next? She again roared at the bear, prompting the animal to exit the room and sit down by the screen door he ripped through to get in. "There's the hole in the screen door that it came through. I pushed it out and slammed the glass door."