Laura Dern's Latest Project Has A Very Important Message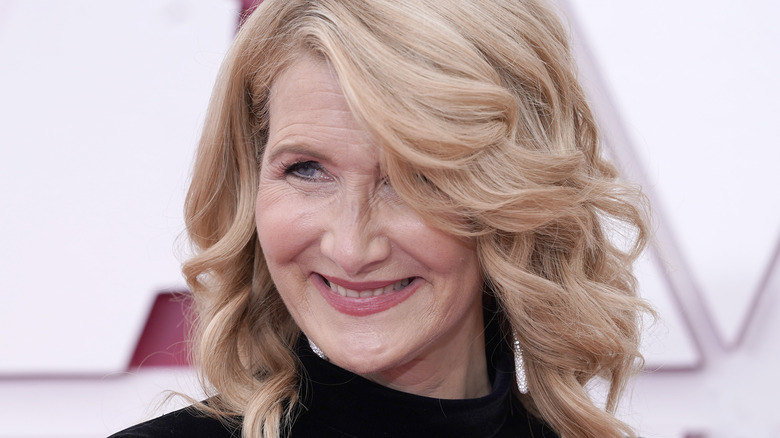 Pool/Getty Images
Laura Dern is one of the most versatile actors around. Her pitch-perfect portrayal of Renata on "Big Little Lies" is just the tip of the iceberg. Dern's skills don't stop at acting. She also wrote and produced a number of episodes of the TV series "Enlightened" (via IMDb), in which she also starred.
For her latest project, "If Anything Happens I Love You," Dern serves as executive producer. The Oscar-winning animated short film covers a painful topic: parents grieving after their child is murdered in a school shooting. In an interview with Backstage, Dern explained why she was drawn to the film.
"I was not only moved by the consideration of the messaging around gun violence, but by the fact that the film addresses grief and how one lives in memory of another," she told the outlet. Dern also said that she thought animation was an excellent way to tell the story because it "allow[s] us to personalize the story through animated characters." But this isn't the first time Dern has addressed the topic of gun violence.
Laura Dern has spoken out about gun violence in the past
In a December 2019 interview with The Los Angeles Times, Dern shared that activism is basically in her DNA — her mother, actor Diane Ladd, began taking her to protests and rallies alongside the likes of Jane Fonda when she was about 8 years old.
In addition to being passionate about fighting climate change and protecting the environment, Dern shared that she's involved with Everytown for Gun Safety, a nonprofit that advocates for gun control and gun violence prevention. "[It] should be a requirement of every citizen of this country [to know about]," Dern said of Everytown. 
"We have an anxiety epidemic among teens and children in this country," Dern told the Times, noting the stark contrast she observes when she visits her friends in New Zealand and sees that their children are not afraid there might be a mass shooting at their school.
"Driving to school this morning, my daughter — she's a young activist and works with Everytown and spoke at the March for Our Lives — she's like, 'How many marches are we going to have before there's even one law changed?'" Dern continued. "The fact that after [the Las] Vegas [shooting] they were talking about this bump stock ban, and we're still just fighting over the same minutiae. That's just tragic."
"If Anything Happens I Love You" definitely sounds like a project that's close to Dern's heart.