Diamond Expert Reveals How Much Clare Crawley's Ring Cost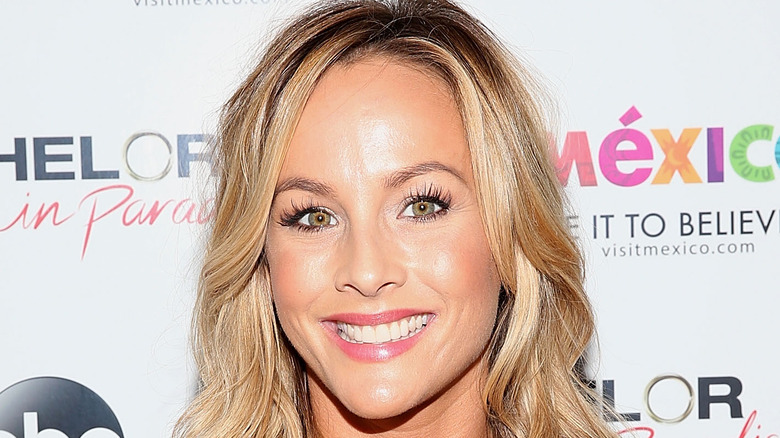 Jesse Grant/Getty Images
Calling all of Bachelor Nation: Clare Crawley is wearing her massive diamond ring from Dale Moss again (via Cosmopolitan), and it's even more expensive than we thought. Clare became one of our favorite "Bachelor" contestants on after she came in as runner-up on Season 18, featuring Venezuelan bachelor Juan Pablo Galavis (did you know that Juan Pablo was supposed to make an appearance on Clare's season of "The Bachelorette"?). By her own "Bachelorette" season, Sacramento-born Clare had evolved from a salon hair stylist to a full-blown social media star (via ScreenRant), but was still heavily on the lookout for love — that was, of course, until Dale Moss came in the picture.
Once Clare saw former footballer Dale, she was sold — the pair famously left the show after just two weeks, and Moss proposed with an enormous diamond ring (via Us Magazine). As most "Bachelor" romances go, the couple are very on-and-off — but since Crawley has been spotted with her ring again, we spoke to Rare Carat GIA Graduate Gemologist and Applied Jewelry Professional Kimberly Abruzzo to get the inside scoop on the multiple-diamond stunner. 
As Abruzzo mentioned, "Clare's received a lot of rings" from past "Bachelor" cast members — including Canadian contestant Benoit Beauséjour-Savard who proposed to Crawley on "The Bachelor Winter Games: World Tells All" back in 2018 (via Us Magazine). While the oval-cut Neil Lane platinum diamond ring from Benoit was gorgeous (via Brides), as Abruzzo made clear, Dale's ring is even more impressive.
All the details about Clare Crawley's massive engagement ring
Gemologist Kimberly Abruzzo explained to us that Clare Crawley's ring from Dale Moss is a "vintage-inspired design," which is perfectly suited for their romantic connection straight out of an old-Hollywood love story. Just like Clare's past ring from Benoit Beauséjour-Savard, Dale's engagement ring to her is also designed by "Bachelor" staple Neil Lane, who has handcrafted designer jewels for the franchise since 2002 (via The Sun). While it may be awkward to have several engagement rings by the same designer, Clare doesn't seem to mind. 
According to Abruzzo, Clare's engagement ring is made up of a "4.5 carat radiant-cut center stone" and is "accompanied by two shield-cut side stones" to make up a seriously impressive diamond array. As if that wasn't enough, the bachelorette's latest ring is on "a platinum band encrusted with pave diamonds," making it one of the most stunning rings in "Bachelor" history.
So how much is Clare's ring worth? Abruzzo estimates the ring's value to be approximately $150,000, a truly epic price tag. Although Clare and Dale reportedly want to keep their relationship "private" and still live on opposite coasts, the former bachelorette looks as happy as ever showing off her diamond on her Instagram stories (via Us Magazine). Still, as Abruzzo references, Crawley's difficult romantic history might just indicate another stunner in the future. Only time will tell!