What These HGTV Stars Looked Like Before The Fame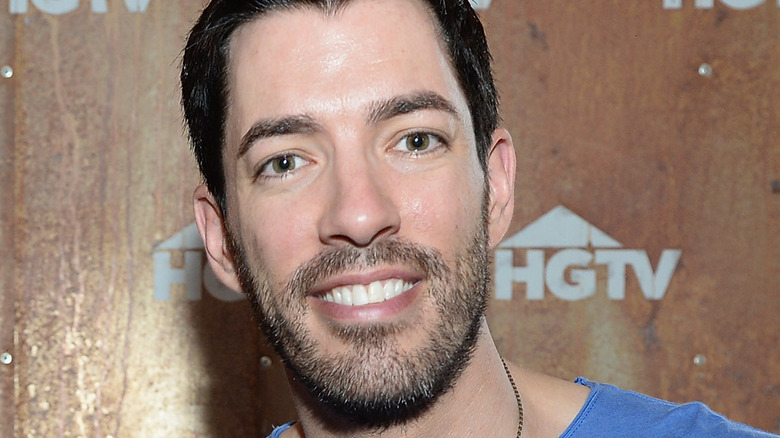 Jason Davis/Getty Images
If you've ever dreamed of HGTV stardom, you may be thinking you need to live and breathe real estate. Those design stars must have been rehabbing houses since childhood. Turns out the stars of HGTV have done every type of work, and most of them didn't even start with real estate. From underwear models to a Hooters waitress, these stars prove that it's never too late to change paths.
Chip and Joanna Gaines
Ahh Chip and Joanna Gaines — the reality couple that helps us believe in love again. Judging from their on-screen fun and playfulness, it's easy to imagine them happy together whether they were rich or poor, and they've been both. They weren't always the moguls running a hit show, magazine, shop, and bakery. Before their HGTV fame from their reality design show Fixer Upper, Chip and Joanna were actually broke.
"I remember when we first got married, the only money we had was what was in Chip's pocket," Joanna Gaines told People. "He always had a wad of cash, but we were broke. If I needed to go grocery shopping it's whatever was in his pocket. That's how we paid the bills." Chip began flipping houses when the couple got married, but that business did not pay the bills in the beginning. Chip Gaines revealed that during their first two years of marriage, Joanna's father kept asking him when he was going to get a "real job."
The couple was never looking for fame. "All of this sort of fell into our laps," Chip told Fox News. "We were just living our life out here in little bitty Waco, [Texas]. We had dreams and aspirations like most folks, but this has really been something else.
Nicole Curtis
Nicole Curtis is another HGTV rags-to-riches story. Curtis has called the shots on her shows Rehab Addict and Rehab Addict Rescue, but she wasn't always the confident boss lady she is today. In college, she couldn't decide on a career path. She actually attended school in three different states: Georgia, Florida, and Michigan. She also changed her major from pre-law to education. Rehabbing houses was never the plan.
After college, Curtis paid the bills by waitressing at restaurants like IHOP and Hooters. She also started cleaning houses before and after her restaurant shifts. She continued cleaning houses after she became a single mom so that she could schedule her work around time with her son Ethan. "I never regretted giving up a corporate job to clean houses so that I could make Ethan's second grade Halloween party happen," she told People.
The only reason that Curtis started rehabbing houses was out of necessity. "I got interested in rehabbing because I was poor," she told AZ Central. "Nothing motivates you to learn how to do something like not having the money to pay to have it done."
Once Curtis started getting into restoring old houses, she earned her real estate license just around the time that DIY Network was looking for a blonde host for their new show. "Coincidentally, there was this really horrific Glamour Shots photo of me on my website, and when a production assistant at Magnetic Productions was scanning for blond real-estate agents for the show, they saw it," she told Minnesota Monthly. And the rest was history!
Jonathan and Drew Scott
Just watching one episode of Property Brothers, it's clear that Jonathan and Drew Scott are HGTV gold. Two handsome and funny brothers battle it out amid gorgeous homes and incredible transformations. And it seems like they were always destined for HGTV greatness. The two have a history in both real estate and performing so they were made for this.
Both Scott brothers had their hearts set on acting since they were young. In an interview with Glamour, they revealed that they even had some success. They both had roles on the Canadian series Breaker High. Drew also appeared on Smallville, and Jonathan had a small role on The X-Files. They even tried their hands at underwear modeling!
Their real estate career began when they were only teenagers after watching a late-night infomercial. "Drew and I were coming out of high school and we didn't want to be starving actors so we saw this infomercial on how to make millions of dollars with no money down by Carlton Sheets," Jonathan told Forbes. "At 18 with $250 down we bought a $200,000 home right across from the University and after a little work sold it a year later for a $50,000 profit and that's when the light bulb went on."
With that combination of acting and real estate experience, it was only a matter of time until one of the networks snatched them up. "We have been acting since we were kids in TV and film and once we built our real estate company, we were used for some pitches for some lifestyle shows but they never panned out," Jonathan told Forbes. Drew actually tried out for a show called Realtor Idol — and "even though it was a terrible idea, the network liked him."
Genevieve Gorder
Genevieve Gorder has made the rounds at HGTV. From Design Star to the award-winning series HGTV White House Christmas, she has secured her place as HGTV royalty. It might be surprising to learn that HGTV was actually the third network she worked for.
Originally from Minneapolis, Gorder moved out to Oregon to attend Lewis & Clark College after high school. After falling in love with her graphic design class, she scored an internship with MTV in NYC. She then transferred to the School of Visual Arts in Manhattan and graduated with her bachelors in fine arts. That MTV internship turned into a full-time job, and Gorder ended up starring in the series Sex in the '90s. Years later, Gorder was cast as one of the star designers on TLC's Trading Spaces.
Carter Oosterhouse
There's a reason why HGTV star Carter Oosterhouse looks more like a model than a carpenter — he was one! Oosterhouse was the youngest of four kids raised in Michigan. As a kid he loved all sports and actually received a full-ride scholarship to Central Michigan University for rugby. There, he studied nutrition and communication before moving to Los Angeles to pursue his modeling and acting career.
But building and real estate was always in his blood. "The town that I grew up in, which is Traverse City, Mich., is a big tourist town. So a lot of people are always remodeling and building," he told HGTV in a since-deleted interview. "For me it was just a summertime job, just to make some money." It wasn't long before he discovered his carpentry talent — and it seems to run in the family. Both of Oosterhouse's brothers are carpenters, and his sister is an interior designer.
Tarek and Christina El Moussa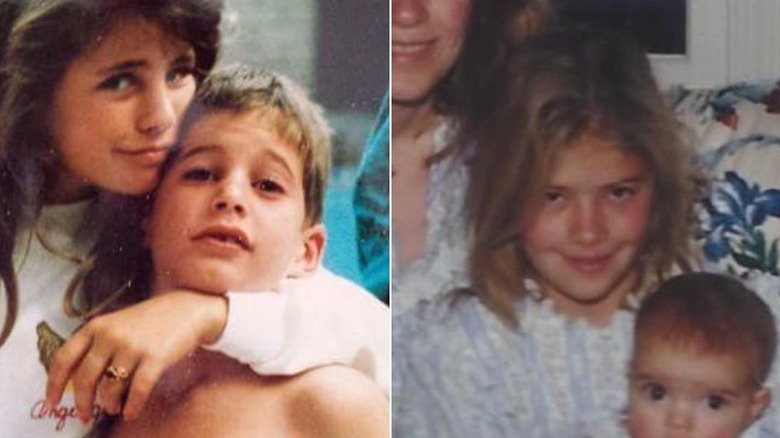 https://www.instagram.com/p/BOWT6AVj0Tt/?hl=en
Tarek and Christina El Moussa's split didn't slow these two down. They're continuing to work on their hit show Flip or Flop, which they had never planned to do in the first place. The El Moussas were Orange County real estate agents before HGTV fame. When the housing bubble burst, the couple needed to find a new way to make money. They moved out of their $6,000-per-month mortgage home and found a roommate to share a $700-per-month apartment. They sold their cars and actually split Subway sandwiches for dinner. They began buying rundown properties and fixing them up themselves.
"We just started flipping houses and we took a long shot and sent a production company an e-mail. They liked us and said to send a home video. We did, and they liked it," Tarek told Country Living. "A year-and-a-half later, HGTV picked us up for a pilot. Midway through season one, the show was almost cancelled because someone high up at HGTV thought it would fail. It didn't."
Sabrina Soto
As host of HGTV's popular The High/Low Project, Sabrina Soto gets to show off her unique ability to blend luxury and affordable design. Soto got her start in design by helping her mother — a Cuban immigrant who started her own design company when Soto was a child.
And it wasn't just hard work that helped Soto land multiple roles on HGTV. It just may have been fate. Soto shared with Alejandra that she learned about the movie The Secret and the law of attraction shortly before scoring her first television appearances. "My friend told me about the movie The Secret and I thought it was a little crazy. She gave it to me to borrow and I let it sit on my desk for a long time. Finally one night I watched it (at the time I was only doing design and real estate, not TV)," Soto explains. "After I watched it, I called my friend and said 'I'm going to go back on TV.'"
The next day, Soto logged onto Craigslist to look for jobs on television and nabbed one. "It was crazy, it was the day after I watched the movie," she said. "I think there is something about really believing in what you are going to do and making it happen."
David Bromstad
Before competing on HGTV Design Star, David Bromstad had his sights set on a very different network. "Walt Disney. 100 percent. That's why I went to art school. I wanted to be a Disney animator," he told South Florida Gay News. "I was obsessed with anything Disney." Bromstad actually did work for Disney as a visual merchandiser for six months. He then went to the sculpting department where he was sanding sculptures all day. "It was a great learning tool for bringing perfection into my work," he explained. "At the time though, I was 23 years old and was like, what the hell am I doing? But I learned so much."
It's no surprise then that Bromstad was drawn to interior design. He was able to use his creative flair more freely, compared to spending hours illustrating or sculpting. Once he started hosting and designing for Color Splash, he was hooked.
Egypt Sherrod
Coming from a family of real estate brokers, Egypt Sherrod knew she wanted to do something different. Rather than follow in her family's footsteps, she chose to go into radio. However, eventually she decided that real estate might be where the money is. "As I got older and wiser, I realized you have to do smarter things with that money and I grew up knowing that real estate was the foundation of wealth," she told Mommynoire. "When I was in my very early 20's, with my savings, I got an investment property and flipped it." When that flip made money, Sherrod invested in another property and then another. After she realized how much she was paying in realtor fees with every flip, she decided to obtain her real estate license. From then on, she split her time between her two loves of real estate and radio.
Once Sherrod became a mom, she wanted to get away from the craziness of New York so she started looking around. When she was offered a radio job in Atlanta, HGTV jumped at the chance to film Property Virgins there.
Scott McGillivray
Scott McGillivray may have one of the best pre-HGTV lives. Before starring in Income Property, he was in a legit '90s boyband called Next Element! Sporting cornrows and metallic pants, McGillivray bravely shared the above hilarious picture with his Instagram followers. Sadly, he moved on from the singing and dancing when he found a new passion: real estate. At age 21, he bought and rented out his first house while still in college. He did it again and again until he owned five properties when he was just 23 years old.
His first television appearance was on the Canadian show Debbie Travis' Facelift. He began as a crew member and then became one of the designers. When the show producers found out McGillivray had experience fixing up and renting out properties, they came up with the idea for Income Property.
Go for it!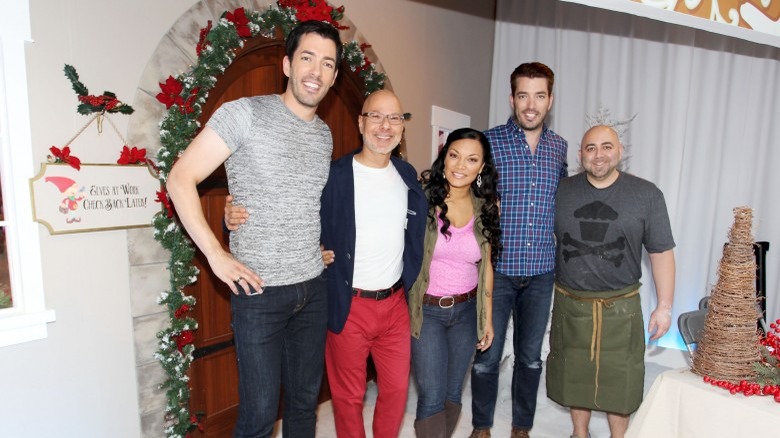 Getty Images
So as you can see, there's no need to have any kind of experience to get started in real estate or interior design. It doesn't matter if you are currently waiting tables at Hooters or performing some cheesy boy band choreography. All that matters is that you have a love of design and a desire to learn. I especially love that so many of these HGTV stars started out completely broke. Next time your furnace breaks down or door needs replacing, try doing part of it yourself. You may even end up with your own reality show!