The Truth About William And Kate's Wedding Cake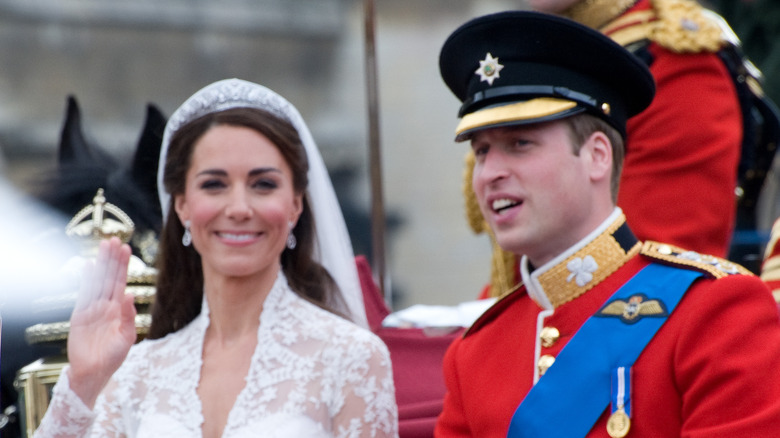 Shutterstock
It has been a decade since William and Kate tied the knot, but we are still dying for a piece of their scrumptious wedding cake.
While most couples opt for flavors like vanilla or perhaps red velvet for their wedding cakes, Kate and William went with fruitcake. As noted by US Weekly, the eight-tier cake consisted of a whopping 17 individual cakes. Making the confection was a painstaking process, as it was decorated with nearly 1,000 iced flowers — each one hand-crafted.
The cake was so big that a door had to be removed to get it into Buckingham Palace's Picture Gallery. The door was put back, of course, but not before Queen Elizabeth made a joke about the situation. "I can remember her saying, 'I hear that you've been dismantling my house,'" said the cake's creator, Fiona Cairns, in the documentary "The Day Will and Kate Got Married" (via People).
Kate Middleton also worked on perfecting the cake for her wedding to Prince William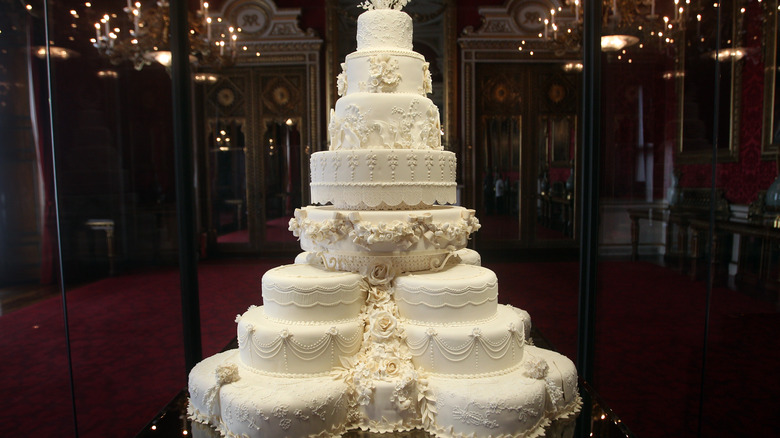 Wpa Pool/Getty Images
Even sweeter than the cake itself is the fact that Kate Middleton still keeps in touch with Cairns. "I received a phone call on my mobile to say that the couple had said the cake was beyond their expectations. ... And then after that, I [have] spoken to Kate a couple of times and received letters, and yeah, the cake was a success," Cairns told Us Weekly.
Cairns revealed that Kate had a huge hand in how the cake turned out, calling her "the visionary" of the masterpiece. "She is actually very creative," she said.
What's up with the choice of flavor, though? According to Cairns, it's not a popular choice in modern times, but fruitcake used to be quite common as a wedding cake. "Queen Victoria started with the tradition of fruitcake as a wedding cake," she explained. "And it was really the wealthy who could afford it and then it became more mainstream."