Dermatologist Reveals Her Top Favorite Acne-Fighting Ingredients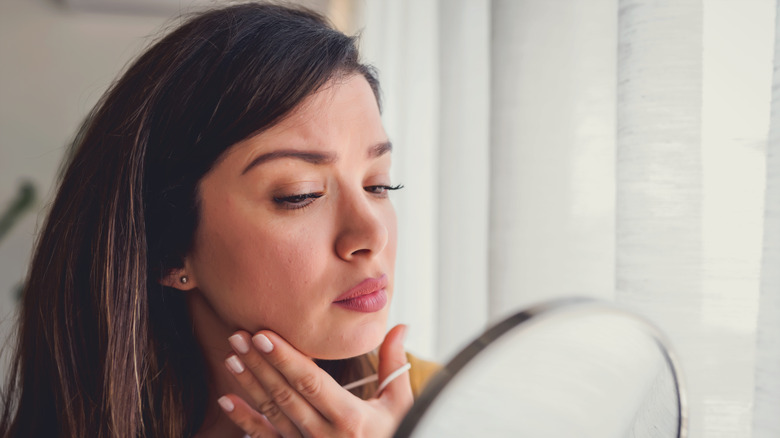 Shutterstock
Dealing with acne can be a lifelong struggle for many. While society in general associates with puberty and adolescence, many adults also live with acne. According to Healthline, 85 percent of women and 15 percent of men have had acne as adults. Therefore, if it's something you experience, please take heart that you are far from alone, and it is nothing to be embarrassed about. Even still, it can be truly frustrating to buy acne washes or acne treatments and see little to no improvement in the condition. The List talked exclusively with Dr. Dendy Engelman, board-certified dermatologic surgeon and RxSaver Dermatologist, and asked about her most-relied upon treatments for stubborn acne. 
The first ingredient she discussed is salicylic acid, which she says is "great for acne-prone skin." Prescription-strength salicylic acid is available in concentrations up to 6 percent, but you can buy many over-the-counter products like toners, cleansers, and serums that feature up to 2 percent salicylic acid. According to Huffington Post, salicylic acid works by "loosening and breaking apart desmosomes [attachments between cells in the outer layers of the skin]," which exfoliates the skin and unclogs pores. It is also "lipophillic," which means it can penetrate deeply into clogged pores, cleaning them out. Last, it is also anti-inflammatory. 
Other medicines and ingredients that help fight acne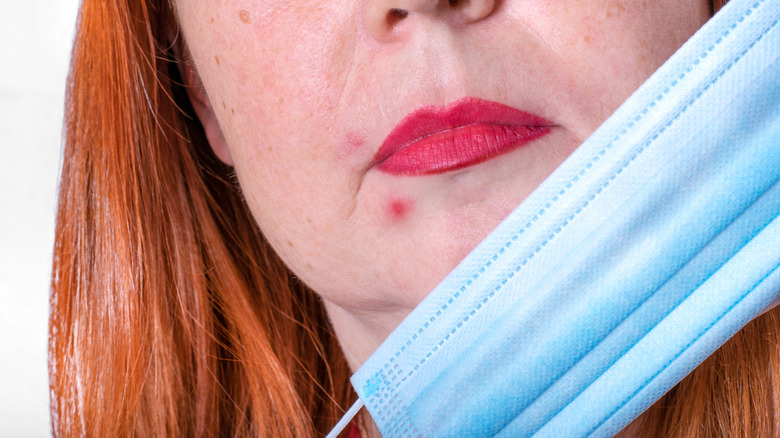 Shutterstock
Even people who don't usually deal with acne might be having a flare-up right now due to wearing face masks and face coverings during the pandemic. Or if your job requires such masks anyway, this might be something you've dealt with for a longer period of time. Engelman says, "If you're dealing with maskne, AKA acne mechanica, you'll be happy to know that it responds well to several prescription medications. Oracea and its generic equivalent doxycycline hyclate help treat this type of acne caused by friction." According to Very Well Health, this type of medication is an antibiotic that works to kill the bacteria that causes acne from the inside out. It is generally prescribed when topical medications aren't doing enough to control the acne.   
Engelman also says that "the brand drugs Onexton (generic clindamycin/benzoyl peroxide) and Soolantra are also effective in treating acne caused by mask use." These are topical medications that work to kill the bacteria inside the pores that cause the blemishes. According to Healthline, such medicines also "peel away" dead skin and work to fight excess oil, dead skin cells, and other pore cloggers.