Inside Queen Elizabeth's Relationship With Angelina Jolie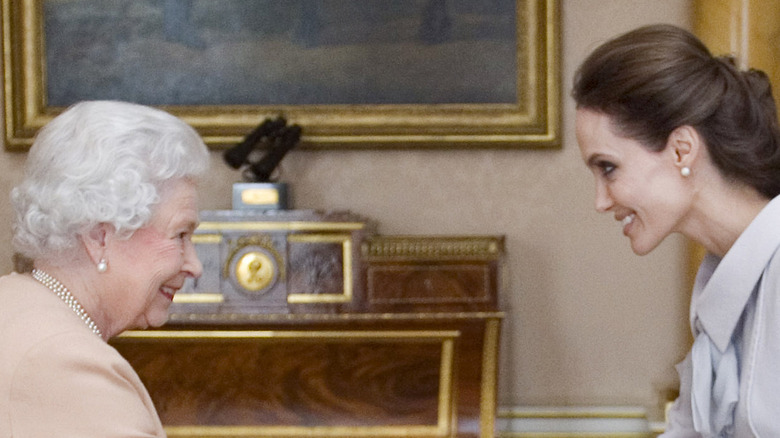 Wpa Pool/Getty Images
Although Queen Elizabeth II and Angelina Jolie are both very recognizable faces across the globe, many fans don't know that the pair actually share a strong bond with one another. In addition to their friendship, the duo is also related. SCMP.com reports that the Oscar-winning actress is the 26th cousin of the monarch. Jolie is linked to the Queen through her mother, actress Marcheline Bertrand, whose family dates back to the 12th century and shared blood with French king, Philip II. Funnily enough, Jolie's ex-husband, Brad Pitt, is also related to Elizabeth, as they share a common ancestor in Henry II.
According to Showbiz Cheat Sheet, Jolie's acting chops really caught the eye of the entire royal family. Of course, the actress' humanitarian work has also earned praise from the monarch. Back in 2014, Jolie was presented with a high award by Elizabeth. The "Girl, Interrupted" star was presented with an honorary damehood by the queen herself, as she was recognized for her aid to the UK foreign policy, as well as for the work she put in to help end warzone sexual violence (via The Guardian). While Queen Elizabeth may be a big fan of Jolie's, the actress seems to share the same sentiment for the queen.
Angelina Jolie has great admiration for Queen Elizabeth II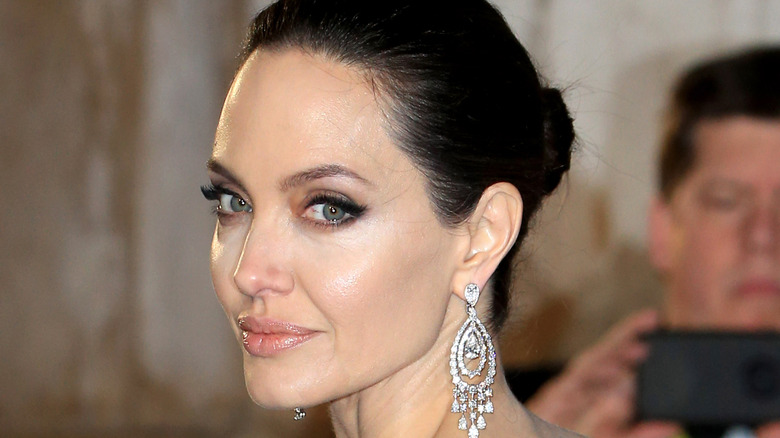 Shutterstock
Angelina Jolie appears to feel a connection to Queen Elizabeth, as the two share some common humanitarian interests. In the past, Jolie and her family visited Namibia to advocate for environmental conservation (via W Magazine). While there, Jolie spoke about the importance of the work, and how Elizabeth has influenced her and helped teach her children valuable lessons. "For us to come here and say to the children, 'This is why it's important to plant a tree,' that's the biggest message I can teach my kids, and it's something that they've certainly learned from Her Majesty," Jolie admitted.
"They ask me, 'Why is it so important to her?' ... 'Why does the Queen of England care about planting trees in Africa?'" Jolie continued. "What it comes down to is you say to the kids, 'You know really, you don't know her, you can't understand all that it means to be a queen and all that.' ... But you try to say, 'You know she's just this really lovely lady who really cares about people around the world, and she really cares about the future, and she wants your grandkids and her grandkids to be able to be running around, enjoying nature and other cultures, and the importance of other cultures.' She thinks that really matters and I agree with her," the actress added (via W Magazine), revealing the queen's impact on the world. It's clear that both women have left their marks in a lasting way.