Melania Trump's White House Rose Garden Makeover Is Still Enraging The Internet. Here's Why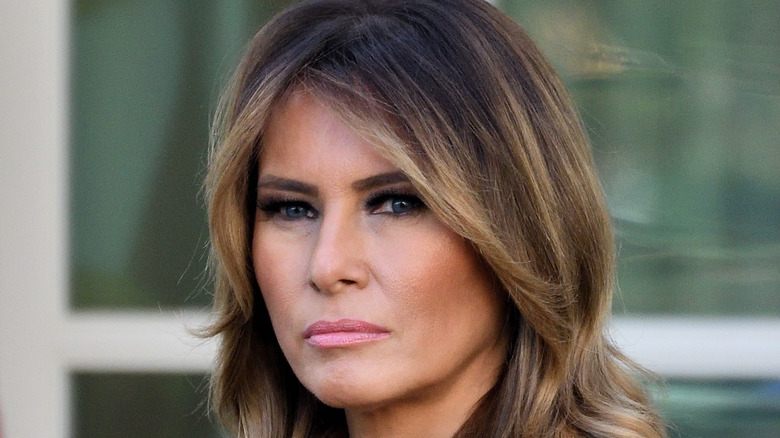 Shutterstock
During her time in the White House, Melania Trump – who now lives a very private life in Florida — made quite a few stylistic changes to the historic workplace of the president. Some of those changes were met with praise, such as refreshing the wall fabric in the Red Room and restoring furniture in the Blue Room, via USA Today. Other changes, however, were met with some backlash.
One of Trump's most significant renovations was that of the Rose Garden. Commissioned by President John F. Kennedy and designed by horticulturalist and gardener Rachel Lambert Mellon, the original Rose Garden featured delicate Katherine crab apples sweeping over rows and rows of colorful flowers. "It has fulfilled John F. Kennedy's vision of a garden that would endure and whose atmosphere, with the subtlety of its every changing patterns, would suggest the every changing pattern of history itself," Mellon wrote for the White House Historical Association.
In August 2020, however, Trump unveiled a new Rose Garden that featured mostly grass, and very few flowers. As reported by Vox, the former first lady's design dug up the trees and vibrant florals in favor of pale roses and paved walkways. Donald Trump and his administration claimed that the design was practical, and made it easier for tech crew and members of the press to set up in the space. "The Trumps paved paradise and put up a parking lot," the Daily Edge tweeted at the time. With a new president in the White House, critics are calling for the changes to be reversed.
An online petition has called for Jill Biden to restore the Kennedy Rose Garden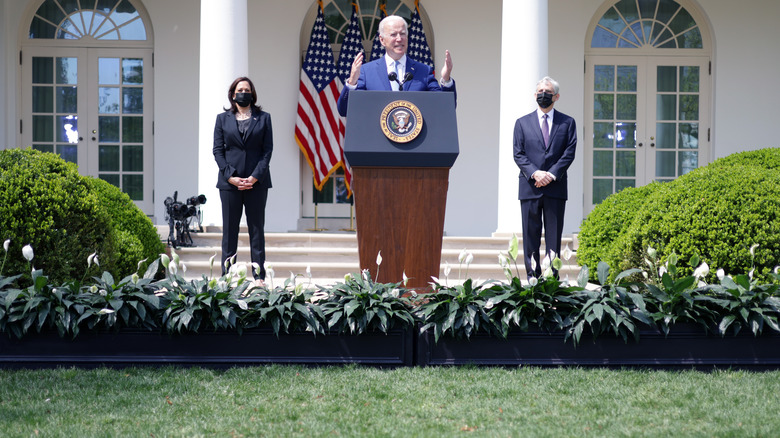 Alex Wong/Getty Images
Some Americans are still angered by Melania Trump's overhaul of the Rose Garden and have claimed that Trump's redesign was an insult to the late Jackie Kennedy, who oversaw a major renovation of the garden in 1962, per Insider. "I know Jackie Kennedy is rolling in her grave about the garden Melania Trump messed up," one user tweeted. "Melania Trump ... completely got rid of Jackie Kennedy's beautiful rose garden," another user wrote, tagging First Lady Jill Biden. "@FLOTUS please restore it. Melania Trump has no sense of beauty nor does she have feeling."
The commentary soon turned into movement. A petition on Change.org for Jill Biden to "Restore Jackie Kennedy's Rose Garden" has, as of publication, over 58,000 signatures. "Jackie's legacy was ripped away from Americans who remembered all that the Kennedy's meant to us," the petition reads. "We want Jill Biden and Doug Emhoff to take this on and restore the Rose Garden to Jackie's original [sic] design." The White House has not yet responded to the petition, according to The Hill.