Here's How To Choose The Best Bra For Your Specific Shape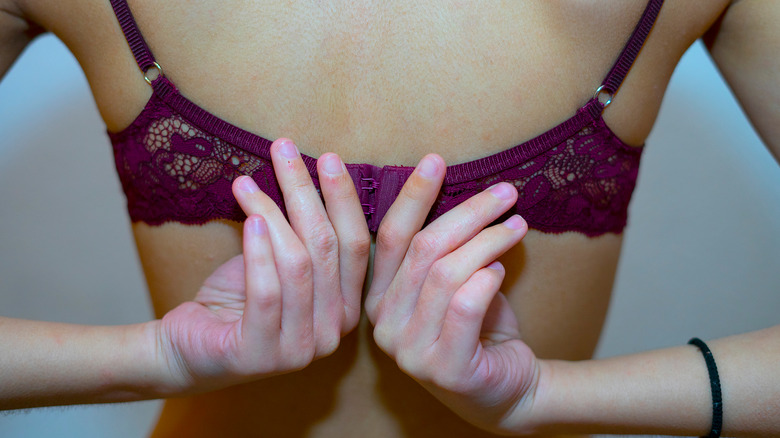 Shutterstock
If you've ever brought a pile of bras to a fitting room, only to find that none fit, you might believe that the perfect bra is merely an unattainable illusion. Contrary to popular belief, though, the perfect bra is possible and can be found simply by determining which common breast shape most clearly resembles your own. As Cora Harrington, a lingerie expert and author, told Glamour, your breast volume (whether they are full on the bottom, full on the top, full all around, etc.) will inevitably tell you which bra to opt for on future shopping endeavors. According to ThirdLove, your breast shape is likely to fall into one of the following categories: Asymmetric (one breast is larger than the other); athletic (wider breasts with less soft tissue); bell shape (fuller at the bottom); east-west (nipples pointing in different directions); relaxed (breasts with loose tissue and nipples pointing downward); round (full at the top and bottom of breasts); slender (thin with nipples pointing downward); side set (wide space between breasts); and teardrop (round breasts that arejust slightly less full at the top).
Surprisingly, asymmetrical breasts are more common than you might think. As Josie-Anne Le Diouron, a bra fitting specialist at Empreinte, told Real Simple, the best bra for those asymmetrical babes is the trusty t-shirt bra. "A T-shirt bra will help visually reduce the difference of sizes," Le Diouron told Real Simple. "The absence of seams and the full coverage will smooth the volume of the breast on a larger area, making the difference less noticeable."
The right bra can transform your breasts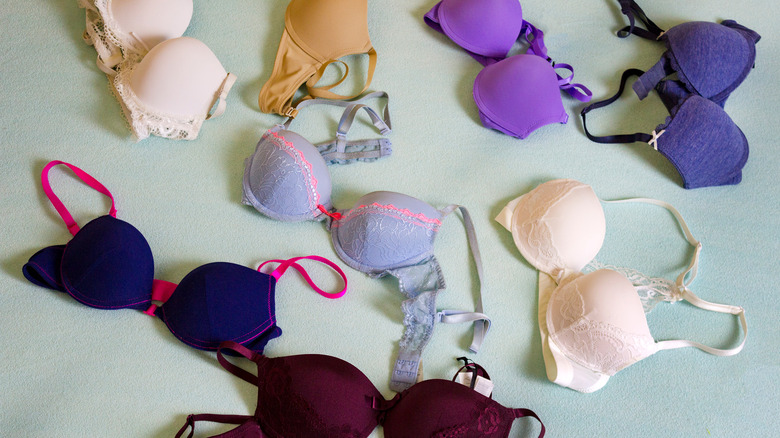 Shutterstock
For athletic, more muscular breasts, ThirdLove also recommends opting for the t-shirt bra. Since athletic breasts tend to be wider, a t-shirt bra that will visually eliminate that gap in your breasts and smooth the muscle is your best bet. Those with bell-shaped breasts, or breasts that are slimmer at top and fuller at the bottom, should opt for an "underwired full cup bra" that will give them the support and structure that they need in order to fill in that volume on top, as Le Diouron told Real Simple. East-west breasts, or those breasts that gravitate towards the sides of your body, need a contoured bra that will give the breasts shape and forward projection. As Harrington told Glamour, balconette bras, or bras with a horizontal cup cut, are the perfect fix for those relaxed breasts that hang a bit lower than average.
Those lucky enough to have full, round breasts all around should look for thin and un-lined styles like triangle bras and longline bralettes, as Sapna Palep, co-CEO of Journelle, told Glamour. ThirdLove points out that slender, narrow breasts that tend to point downwards need support in the form of a seamed bra, which will work to point the breasts in the right direction. Side-set, or breasts with a large space between them, can be fully supported by an uplift plunge-style bra. And finally, teardrop-shaped breasts will benefit from a balconette bra that will add support and shape your girls.