This Is Why 90 Day Fiance's Yamir And Chelsea Broke Up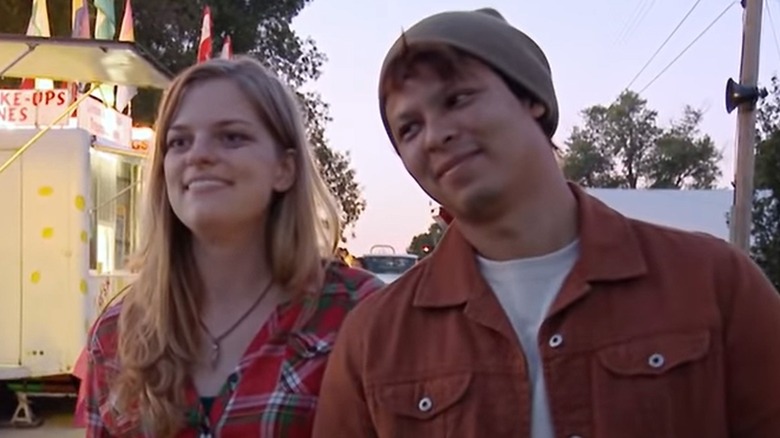 TLC
Season 2 of "90 Day Fiancé" introduced us to couple Chelsea Macek from Illinois and Yamir Castillo from Nicaragua. The couple met while Macek was volunteering in Nicaragua and she saw a live performance of Castillo's boy band, Myla Vox (via YouTube). It seemed like love at first sight, and despite some difficulties, the couple were devoted to each other and got married at the end of the season. However, according to RadarOnline, Macek filed for divorce from Castillo on November 30, 2016. 
There was already strain on the relationship when Castillo left Nicaragua, and thus breaking up Myla Vox, to move to Illinois to be with Macek (via InTouch Weekly). However, it was soon clear that the small suburban town in Illinois didn't provide enough opportunities for the pop star. According to Screen Rant, Castillo wanted to move to Chicago after receiving positive feedback on his demo tapes he sent to producers, but Macek didn't want to make the move. Castillo moved to Chicago to pursue his singing career, but the long distance didn't work out.
Separating from Yamir allowed Chelsea to make personal discoveries
Since the divorce, Macek has come out as bisexual, and most recently pansexual, according to People. While Castillo previously knew about Macek's sexuality, Macek says that wasn't what initiated their breakup. However, the breakup has given Macek the time and space to explore her sexuality. She has since moved to Colorado Springs, Colorado where she was previously in a relationship with a woman named Erin, and recently married a man named Daniel Colombo Verni (via Screen Rant and Instagram).
Castillo has also moved forward. He has his Green Card and works full-time as a musician in Chicago. And while the former couple has decided to keep silent on any more personal details regarding their breakup, it's clear that the care and compassion they had for one another was real. 
According to InTouch Weekly, almost a year following their divorce, Castillo posted a tribute to his ex-wife on his Instagram page revealing that the couple had been in touch and that there is no hate between them. "You can always count on me for the rest of your life," he wrote.