Here's What Lindsey Witte From My 600-Lb Life Looks Like Now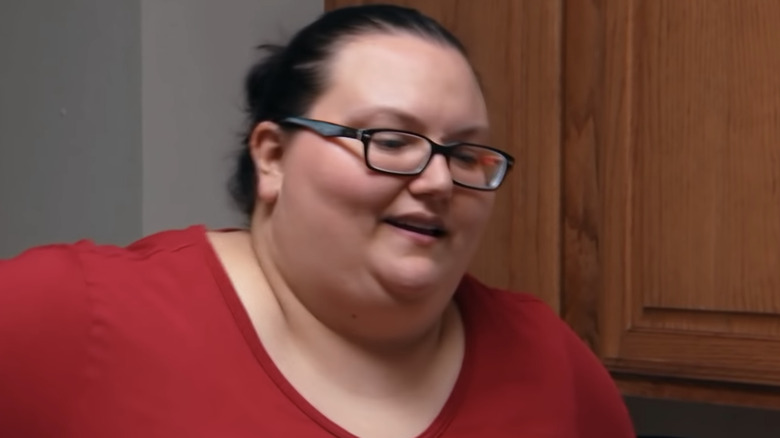 TLC
No one can deny that "My 600-lb Life" is a successful show. It gives everyday people the resources and opportunity to improve their lives, both mentally and physically. What's better than that? One of their success stories is Lindsey Witte. Fans were introduced to Witte in season eight where she weighed 648 pounds, according to Gossip Cop. Not only was her health suffering, but her marriage, too — her food addiction, coupled with her husband's alcohol addiction, nearly destroyed both of their lives, the outlet reported.
Tired of using food as a coping mechanism, Witte sought help to end food addiction with the show's resident medical expert, Dr. Now. Per The Cinehamolic, Witte followed Dr. Now's calorie diet, which restricted carbs and sugar. The diet plus exercise helped her lose 209 pounds in 12 months. The last time viewers saw Witte, she got approved for a new gastric surgery and set a new weight goal, according to the outlet. Now, many fans are wondering: how is Witte doing now?
Lindsey Witte is doing much better since My 600-lb Life
Good news for fans: Witte is thriving! According to The Cinemaholic, Witte is sticking to her diet and exercise plan, which has helped her lose weight faster. The outlet also reported that she has committed to going to the gym every day with her friend, Irene. The endless support from her friends and family has helped her achieve her goals.
The Cinemaholic also revealed that Witte went to a psychotherapist to treat the issues surrounding her food addiction, so she won't fall back into bad habits. "Nothing is going to shake my commitment to doing what I need to have the life I want," Witte said in a Facebook post. That said, Witte and her husband are also doing well, per The Cinemaholic. The outlet reported that fans initially believed that Witte and her husband were separating, but Witte clarified on social media that her marriage is doing much better after both of them started working on their addictions.
Since the show, Witte has also set up a Facebook group chat called Second Chance Success — The Real Lindsey Witte for fans to keep track of her weight loss progress, per Distractify. She's clearly been reclaiming her life and dropping her toxic habits, and fans couldn't be happier for her.