What's A NanoSteamer And How Can It Help Your Skin?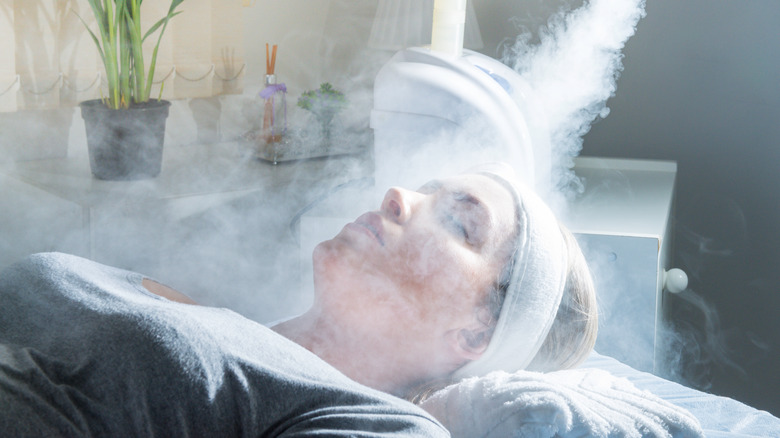 Shutterstock
If you are struggling with the oh-so dreadful "maskne," there's one tool that could be your holy grail solution — a facial steamer. This device produces a warm mist directed at your face, according to Riverchase Dermatology. Facial steamers produce steam with particles that are small enough to penetrate the skin's pores, unlike the steam that comes from a boiling pot (via Body Organics). According to NBC's Today, an "ultrasonic vaporizer" in the device produces negatively-charged ions that are dispersed with the steam.
Negative ions, which are often found in the air around beaches and mountains, can have a positive effect on people (via WebMD). Dr. Michael Terman, an ion researcher at Columbia University, told WebMD, "The action of the pounding surf creates negative air ions and we also see it immediately after spring thunderstorms when people report lightened moods." NBC's Today claims that the steam with negative ions can be 10 times more effective in deep-cleaning your pores.
The benefits of steam technology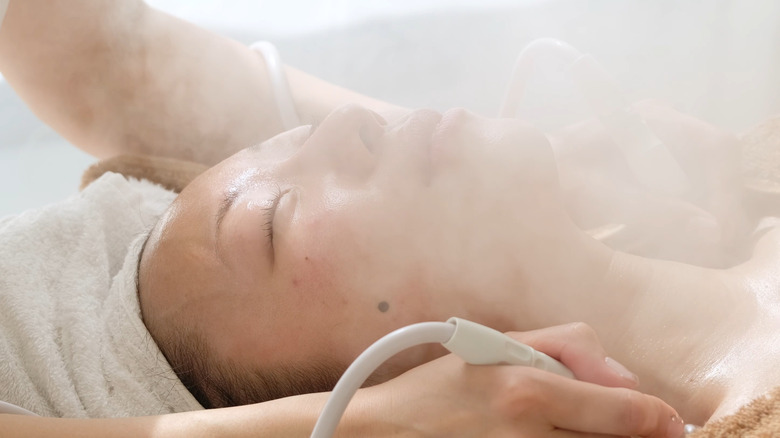 Shutterstock
Allure says if you have sensitive skin or find exfoliating to be too rough, facial steamers are a more gentle alternative to clearing the skin's pores. Cosmetic chemist Annie Tevelin told Allure, "I struggled with acne for a really long time, and I found that normal exfoliators were really abrasive." Tevelin, who also owns skincare brand Skin Owl, added, "Through my research, I found that when you heat the skin and steam it, that acts as an enzymatic exfoliator."
According to Elle, this happens because as warm steam hits the skin, it also heats up any dirt or oil clogging your pores. So at room temperature, the debris in your pores is like the texture of refrigerated butter. As the debris heats up, it melts into a softer consistency and is easier to remove from your pores. Celebrity esthetician Renee Rouleau told Elle, "It only stays soft as long as the skin is moist."
Joshua Zeichner, director of cosmetic and clinical research at Mount Sinai Hospital, agreed and told Allure, "Facial steaming can help hydrate and soften the outer skin layer, enhancing penetration of active ingredients into the skin." Since steam can help skincare actives penetrate the pores, Rouleau told Elle that she recommends steaming before applying serums and moisturizers.
What happens to your face after using a steamer?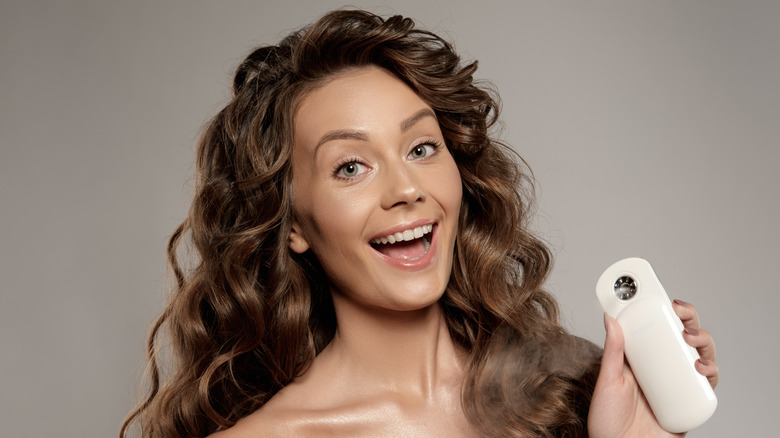 Shutterstock
There are several facial steamers on the market and they all vary in price. According to Elle, Panasonic has a popular steamer that is often sold out. Esthetician Tracy Hudson told Elle she likes the steamer because of its high performance, reliability and budget-friendly price. A similar steamer Elle and Riverchase Dermatology recommend is the Pure Nano Face Steamer. NBC's Today tried out the Pure steamer, which is almost $47 and has a 4.5 star rating on Amazon.
Casey DelBasso, the Today writer who tested the product said that just after one use of the steamer, she was able to see a significant amount of debris, from her natural oils to leftover cosmetic products, come out that would have otherwise been stuck in her pores. DelBasso also felt like her skin glowed after using the steamer. Tevelin told Allure, "Facial steaming helps to boost hydration, which means it has a soothing, smoothing effect, and it also boosts radiance." The steamer DelBasso used also can be used as a humidifier and towel warmer.