The Weirdest Items You Didn't Know You Could Buy At Costco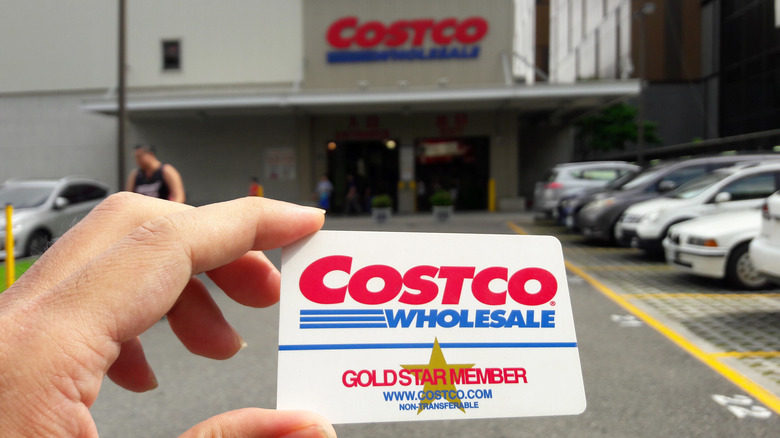 Shutterstock
Costco Wholesale is where bulk shopping and savings live together in perfect harmony. We all know it's the one stop shop for groceries, clothing, and even patio furniture. But did you know that Costco sells some weird items (other than a lifetime supply of paper towels)?
If we're just talking about food, forget everything you know about buying a whole rotisserie chicken for only $4.99. It's time for some serious shopping. Costco has taken bulk shopping to an entirely new level with items such as a 7-pound tub of nutella, and a 180-serving bucket of mac and cheese (via People). Did you ever want to buy a 72-pound wheel of Parmigiano Reggiano cheese? Costco's got your back. Pair it with a leg of Jamón Ibérico de Bellota for the "low" price of $550 (via Kitchn).
Speaking of expensive food items, Costco also sells a $6,000 doomsday prepper food kit and a bottle of Macallan scotch that'll leave your wallet $31,999.99 lighter. If you're more of a wine person you can splurge on a personal wine cellar that can hold up to 600 bottles of wine, (via Dolly), or if you really want to shop in bulk, why not purchase a 55-gallon drum of extra virgin olive oil (via MSN)?
And if you didn't already know, you can order a slice of delicious Costco pizza ahead of time for the same $1.99 price it's been since 1985 (via Business Insider).
Costco sells a few random luxury items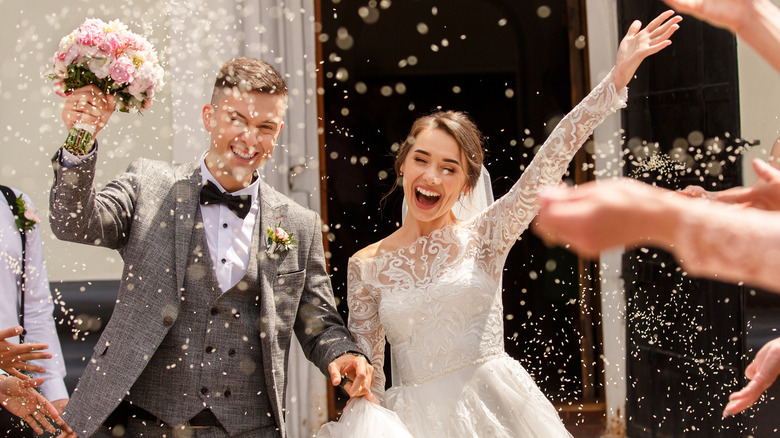 Shutterstock
Costco gets a rep for being cheap and affordable, but there are some major luxury items up for grabs as well. Costco sells vacation packages, and even trips to Disneyland at huge discounts for its members (via Dolly).
If you're hearing wedding bells and taking that next big step in your life, Costco is a one stop shop. They sell wedding invitations and luxury engagement rings (via EatThis.com). And while it's no surprise you can get a sheet cake at Costco, it may shock you to know that they sell wedding cakes made entirely out of cheese (via SFGate)! Add in the digital grand piano and the crystal chandelier and you'll have a wedding by Costco you won't soon forget!
Once the nuptials are complete, you can deck out your backyard and turn it into paradise. Costco also offers an above-ground pool, and a four-person steam sauna you can use to unwind in after your dip. Depending how much space is left, maybe it's time to tap into your rural side and raise those chickens you always wanted to. Yes, Costco sell chicken coops for only $89.99.
And if you're really into planning ahead, why not pick out your very own casket? It might be a bit morbid, but Costco actually sells everything you need from beginning to end. Thanks Costco.