The Truth About Twenty One Pilots
Shutterstock
In just a few weeks, alternative rock duo Twenty One Pilots - composed of Tyler Joseph and Josh Dun - is bringing a concert right to your living room, or laptop, or phone, or wherever you want to tune in for their livestream event May 21, 2021 at 8pm EST. For $20, fans can purchase access to the concert as well as exclusive merch, a special edition of their new album, "Scaled and Icy," and enjoy what the band's site calls "a 6-week interactive experience" and an "unpredictable journey" culminating in the show itself, (via live.twentyonepilots.com). 
If that sounds intriguing but a little hard to define, that's pretty much what you can expect with Twenty One Pilots, a band that's been notoriously slippery when it comes to labels, but no less popular for their genre-dodging. 
In many ways, Joseph and Dun are living the garage band dream. Per a Huffington Post interview, the pair met through a mutual friend, a buddy of Joseph's who had worked with Dunat Guitar Center and thought the two would get along, and was evidently correct. Joseph described Dun as "super-intense when it comes to the live show — he just puts everything into it...I really couldn't have dreamt of a better guy to play music with." 
The Name Twenty One Pilots is a caution against shortcuts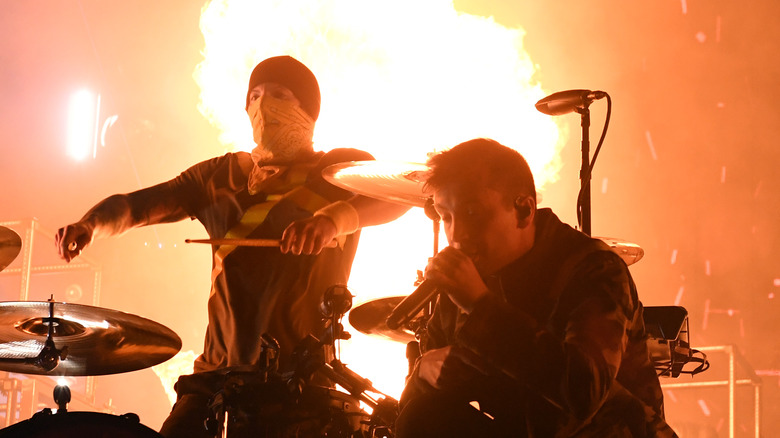 Ethan Miller/Getty Images
Though their unique blend of rap, punk, and rock, sometimes seasoned with a little ukulele appeals to fans across America and the globe, Twenty One Pilots started off playing shows in their hometown of Columbus, Ohio, where, according to Rolling Stone, Josh Dun's mom was a dedicated promoter, doing her best to get Ohio State University students to "come see [her] son play music." 
Both men come from conservative Christian families, and Dun recalls having to hide certain music, like Green Day, from his parents, so having his mom supporting his musical endeavors must've been a big deal.
Though Tyler Joseph and Dun have been as slippery about their personal beliefs as they have about defining their musical style, they both believe in the power of hard work and dedication, valued instilled deeply by their parents. In fact, the name Twenty One Pilots is a reference to the toll of taking the easy way out as exemplified in the Arthur Miller play "All My Sons," in which the patriarch confesses to his role in the deaths of 21 WWII air force pilots by knowingly shipping faulty plane parts rather than risk his job. 
So though in their biggest hit, "Stressed Out," the band sings about the nostalgia of youth and the lack of responsibility, they've got no illusions about putting in the work when it comes to their music and shows. Fans are surely in for a treat, whatever the "unpredictable journey" entails.