Does Eating Certain Foods During Pregnancy Really Cause Allergies?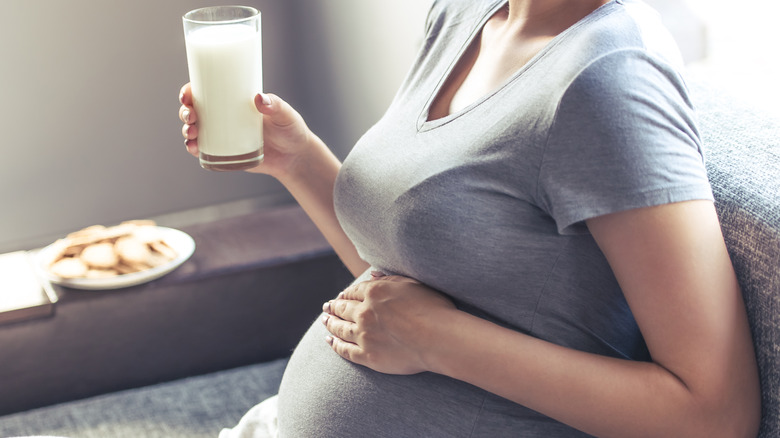 Shutterstock
When it comes to what those who are pregnant should eat, Health.gov suggests consuming a variety of protein, vegetables, iron, fruits, whole grains, folic acid, and fat-free or low-fat dairy products. When it comes to what those who are expecting should avoid, the American Pregnancy Association says to stay away from raw meat, soft cheeses, deli meat, unpasteurized milk, fish with mercury, and alcohol.
What is consumed by women before and during pregnancy helps to nourish the body (and later the baby) and can even shape the baby's food preferences, as reported by NPR. However, 32 million people in the United States alone have food allergies, with 5.6 million of these being children. To top off the stats, there are over 170 foods that can cause allergic reactions, such as milk, eggs, peanuts, tree nuts, wheat, soy, and fish (via Food Allergy Research & Education). So can eating certain foods when expecting cause allergies and/or increase the baby's risk of being allergic?
Food that an expecting person consumes cannot cause their baby's allergies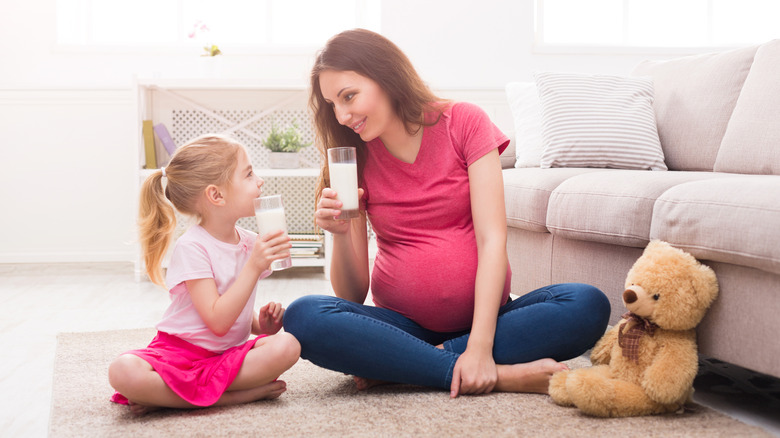 Shutterstock
Dr. Kate Killoran is an OB-GYN with Your Doctors Online and talked with Care.com about foods causing allergies. "Sometimes allergies occur, and women can think back and may feel like they caused the allergy because of what they were eating in pregnancy," she said, but this couldn't be further from the truth. 
Dr. Candice Fraser, an OB-GYN with Trinity Medical Care, added that "eating peanuts or drinking milk during pregnancy will not cause allergies." In fact, there is evidence that suggests that eating certain foods while pregnant may decrease the baby's chance of being allergic to said food.
There are a lot of dos and don'ts that come with the pregnancy journey. Instead of stressing about the particular issue of food allergies, though, those who are expecting should take advice from Johns Hopkins Medicine and The Academy of Nutrition and Dietetics and focus on getting in the right vitamins and minerals, regularly working out, and maintaining a balanced diet overall.