Here's What You Should Know Before Starting To Use Bio-Oil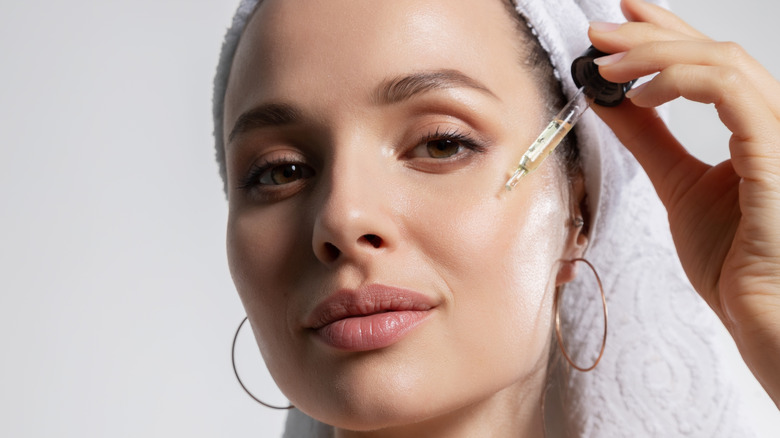 Shutterstock
Bio-Oil is a cosmetic oil that can be used to help reduce the appearance of acne scarring. It may also help to reduce facial hyperpigmentation and soften the appearance of fine lines and wrinkles on the face (via Healthline).
Packed full of potent ingredients designed to aid skin health, including calendula, lavender (which has antifungal properties and could help to fight acne), rosemary, and chamomile, Bio-Oil may also be useful for helping to prevent breakouts and manage a range of skin conditions. This cosmetic oil also contains vitamins E and A, as well as other skin health boosting ingredients like tocopherol (via Healthline). 
According to board-certified dermatologist Dr. Marie V. Hayag, Bio Oil contains various vitamins and essential plant oils, including sunflower oil, which, she says, is a "great ingredient for the skin" (via Byrdie). "It acts as an emollient and makes skin feel soft and smooth, and it's even been shown to enhance recovery from damage to the skin barrier," Dr. Hayag said.
What are the benefits of using Bio-Oil on your face?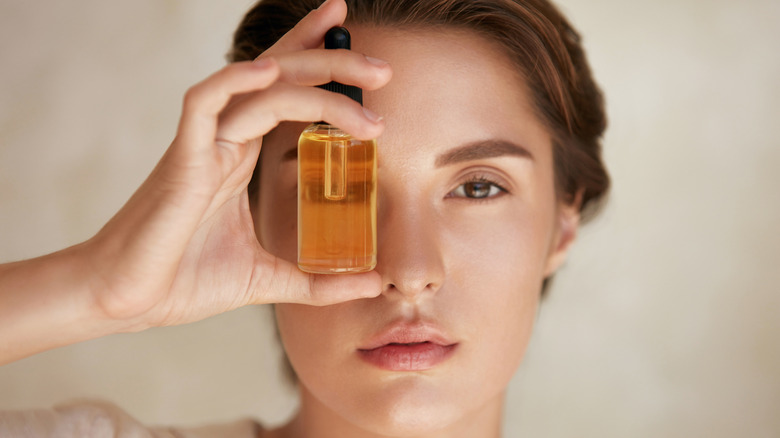 Shutterstock
Thanks to its high vitamin A content which, according to Healthline, can promote cell turnover, Bio-Oil can be used to help soften wrinkles and reduce the appearance of fine lines. 
It can also be used for helping to lighten older acne scarring. Healthline reports that a 2012 study performed by Bio-Oil showed that 84% of people experienced an improvement in the overall appearance of acne scars, while 90% noticed an improvement in scar coloring, after using Bio-Oil.
Per Healthline, according to another study, Bio-Oil can also be used to lighten hyperpigmentation — dark spots — on the face caused by sun exposure, UV light, or genetics.
Byrdie reports that A 2011 clinical study shows a "statistically significant improvement" in uneven skin tone appearance for 86% of participants after applying Bio Oil twice daily for 12 weeks.
Healthline also reports that Bio-Oil has been shown to lighten scars, according to a 2011 study that found that 90% of people experienced an improvement in terms of scar coloring after eight weeks of product use.
Bio-oil can also be used to help treat oily skin, according to Healthline. In some instances, oily skin appears oily because there is actually a lack of oil production and the sebaceous glands end up overcompensating for this by creating too much oil, leading to skin that is oil-prone. Applying Bio-Oil to the skin may help to combat this problem and regulate oil production. 
Does Bio-Oil have any side effects?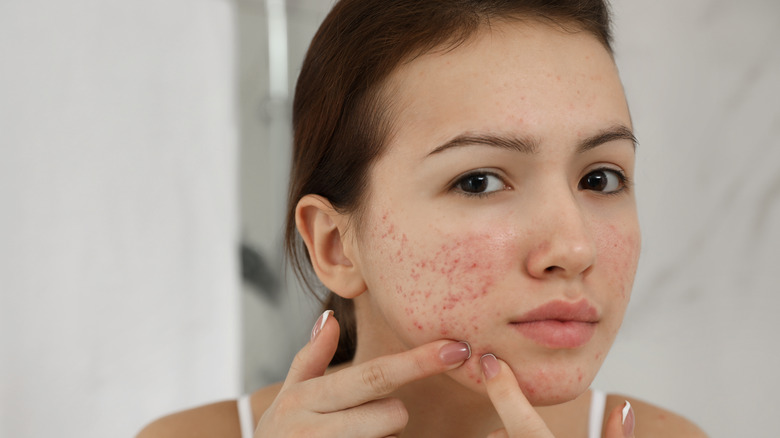 Shutterstock
While Bio-Oil is considered to be a safe cosmetic oil, like most products, it does come with a number of associated risks and side effects (via Healthline).
The oil should not be used on skin that is cracked, sore, or bleeding. This is because Bio-Oil contains fragrance that can be harmful if it enters the body.
Bio-Oil's fragrance ingredient Linalool is a known allergen and may cause an allergic reaction in some people. For this reason, it is recommended that you do a small skin patch test before using Bio-Oil for the first time (via Healthline).
To use Bio-Oil on your face, apply a few small drops of the oil to skin that is clean and dry, repeat this twice a day. Avoid rubbing the oil in; instead, gently pat the oil into your skin to help make absorption easier. 
Once Bio-Oil has been applied to your face, it does not need to be washed off immediately. According to Healthline, you can leave Bio-Oil on your skin overnight.