Donald Trump Just Launched A New Website. Here's What We Know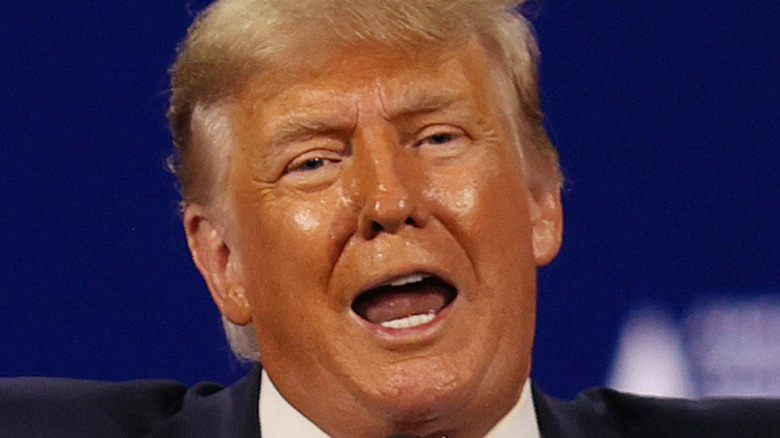 Joe Raedle/Getty Images
It's been some time since any of us have heard directly from former President Donald J. Trump. For a while there, his public communications were limited to screenshots or statements printed on stationery marked "Save America President Donald J. Trump" and shared by supporters, like his lawyer Jenna Ellis. 
Months after he was seen encouraging rioters to storm the U.S. Capitol in a violent insurrection – and was banned from social media as a result – Trump is back spreading his message on what the BBC is calling a new "communications platform," which will upload statements and content directly from the former president himself. The platform allows its users to like and share Trump's comments on sites that have banned his presence like Twitter and Facebook. As BBC reports, the new platform announcement comes a day before Facebook's Oversight Board is set to re-examine its "indefinite suspension" of Trump.
While Trump's advisers, including Jason Miller, say that the "new platform is going to be big," there were less charitable comments from tech experts like the New York Times' Kara Swisher, who told the BBC that the new site is simply a blog. "I was like, '2002 is calling and it wants its blog back," she said. Swisher also added what Trump intended for the site to be was still unclear, but one thing was certain: "It is just the beginning of his attempts to try to re-establish a louder ability to participate in digital media."
Trump adviser says another social media platform is still in the works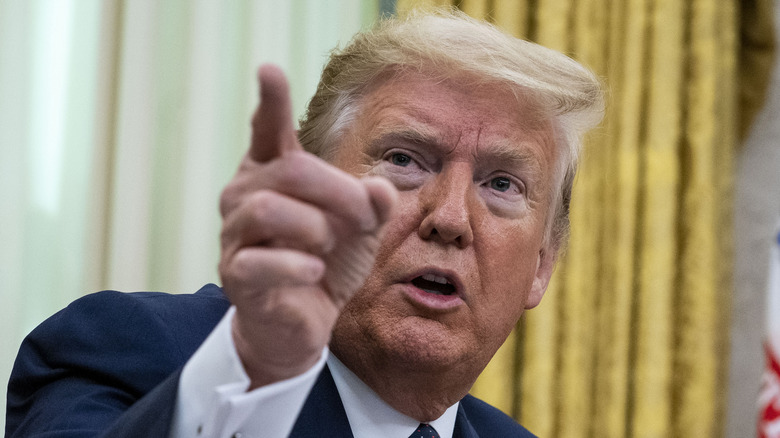 Pool/Getty Images
Donald Trump critics say the new site also does more than offer a platform for the former president to share his views. 
As one Twitter user pointed out, "I see you are still trying to con donors who aren't paying close attention into sending you dough every month" along with a screenshot of the site showing the site's call for automatic donations. Another social media user took the opportunity to compare Trump with another one-term president, Nobel Peace Prize winner Jimmy Carter, quipping, "Jimmy Carter is building Habitat homes in his walker at 157, and Trump is blogging about how Liz Cheney is Antifa."
But Trump adviser Jason Miller says the new site, for all its focus on the former president, is not all that it seems, because another digital platform offer is just around the corner. Miller tweeted, "President Trump's website is a great resource to find his latest statements and highlights from his first term in office, but this is not a new social media platform. We'll have additional information coming on that front in the very near future."