The Truth About Elise Stefanik
Pool/Getty Images
She first made waves in 2014 when, at 30 years of age, she became the youngest woman to be elected to the House of Representatives, (via Roll Call). At 36 years old, Elise Stefanik could well become the youngest woman to reach the top of the GOP's House caucus if she succeeds in unseating embattled Wyoming representative Liz Cheney as conference chair. Stefanik's chances are expected to be high because her candidacy is being backed both by House Minority Whip Steve Scalise and by former President Donald Trump (via USA Today).
Elise Stefanik was born and grew up in upstate New York, and is a graduate of Harvard University. She represents the 21st district of New York and serves on the House Armed Services Committee, the Committee on Education and Labor, and the House Permanent Select Committee on Intelligence. Prior to being elected to Congress, she worked in the former President George W. Bush's administration, where she worked the economic and domestic policy issues. Her time there may have had her cross paths with Liz Cheney, who served at the State Department. Liz is the daughter of former Vice President Dick Cheney, who served under Bush's administration, (via USA Today). 
Elise has not always been true to Donald Trump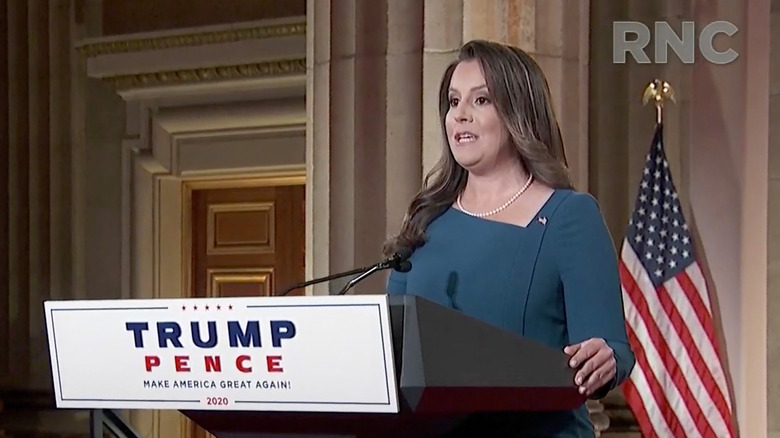 Handout/Getty Images
While Elise Stefanik is now one of Donald Trump's most loyal defenders in the House, it wasn't always this way. Similar to former UN Ambassador Nikki Haley, CNN says during the early days of the Trump administration, Stefanik was one of the former president's harshest critics, and she went after him for everything from his comments about Muslims to his policies like the border wall and his push for stronger ties with Russia. 
But all that changed two years ago, when The Wall Street Journal says Stefanik began marching to Trump's beat. While New York pollster Don Levy has said that Stefanik while might consider herself as being bipartisan "where she has made the most headlines is being an ardent supporter of Trump." And while she is seen as being more moderate than Liz Cheney, she is also considered to be "more flexible" because she has changed her position on issues like the Equality Act (she voted for it in 2019 and then reversed herself this year).
Stefanik has made waves through her PAC, which she has used as a vehicle to elect more Republican women to the House. Republican House member Guy Reschenthaler, who had voted to support Cheney in February, has told The Wall Street Journal that he is now in favor of seeing Stefanik take over Cheney's role.