Megan Rapinoe: How Much Is The Famous Soccer Star Worth?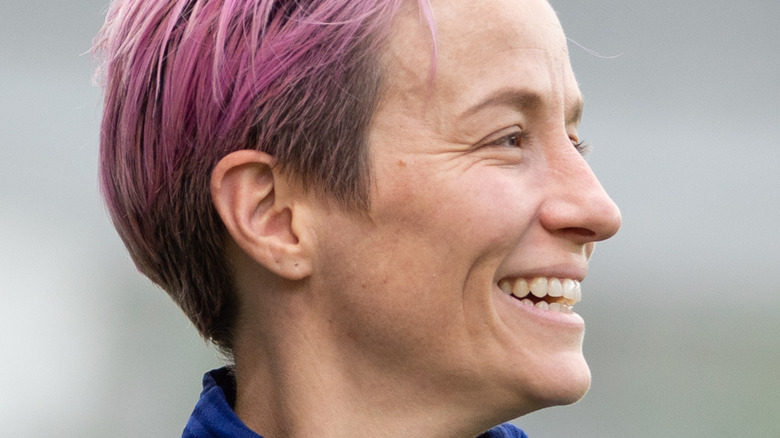 Jeremy Reper/isi Photos/Getty Images
Soccer star Megan Rapinoe is among the most beloved and successful female athletes in the country, quickly enamoring herself to sports fans and newcomers alike with impassioned speeches about human rights, equal pay and, most pertinent, LGBTQ rights. In one such address, Rapinoe advised, "We have to be better. We have to love more and talk less. We got to listen more and talk less. We got to know that this is every person's responsibility," (via Pop Culture). Rapinoe is also part of a celebrity power couple, thanks to her long-time relationship with basketball star Sue Bird. 
She certainly has no issue speaking her mind, memorably confirming that attending the White House would not be an option as long as Donald Trump was still in office. Before leading her team to World Cup victory, Rapinoe told gathered journalists she would turn down an offer to visit. The soccer star doubled down following their win, noting, "Your message is excluding people. You're excluding me. You're excluding people that look like me. You're excluding people of color." Evidently staying true to who she is has paid off in a big way, as Rapinoe is worth a pretty penny already.
The soccer star has definitely earned her spot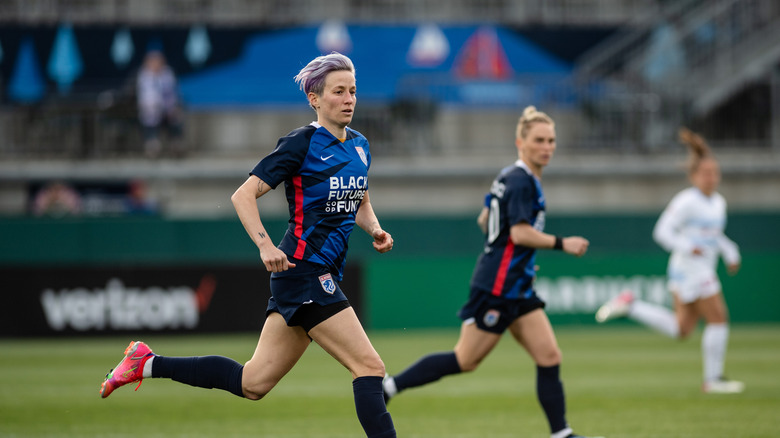 Jane Gershovich/isi Photos/Getty Images
As Cheat Sheet notes, Megan Rapinoe kicked off her soccer career playing in college for the Portland Pilots. She was subsequently selected by the Chicago Red Stars, in the 2009 WPS Draft, following up with impressive stints with the Philadelphia Independence, the MagicJack, Sydney FC, the Seattle Sounders Women, and the Olympique Lyon. Rapinoe has been with the OL Reign since 2013. Her wages are difficult to ascertain. The top salary for a NWSL player is $50,000 per year, however Rapinoe demanded equal pay in 2020, as noted by NPR at the time. According to SBNation, the in-demand athlete earned $168,000 for her time playing in Europe, too, while The New York Times advises team salaries are generally between $100,000 and $400,000 per year. 
Rapinoe has several lucrative endorsement deals supplementing her income, particularly with Nike, who made one-of-a-kind sneakers to celebrate her 2019 Ballon d'Or win (via Insider). As Insider notes, in 2019, the athlete signed a two-book deal with Penguin Press. She and partner Sue Bird have several joint ventures going, too. The couple shares lavish properties in Seattle and Connecticut, with both ladies confessing to having a fashion addiction — Bird for sneakers, Rapinoe for clothes in general. Regardless of their strong activist convictions, they regularly enjoy eating in top restaurants, driving luxury cars, and jetting off to stunning destinations. They can certainly afford it as, to date, Rapinoe has earned $3 million, as per Celebrity Net Worth.