Guy Fieri Always Grabs A Couple Of These At The Grocery Store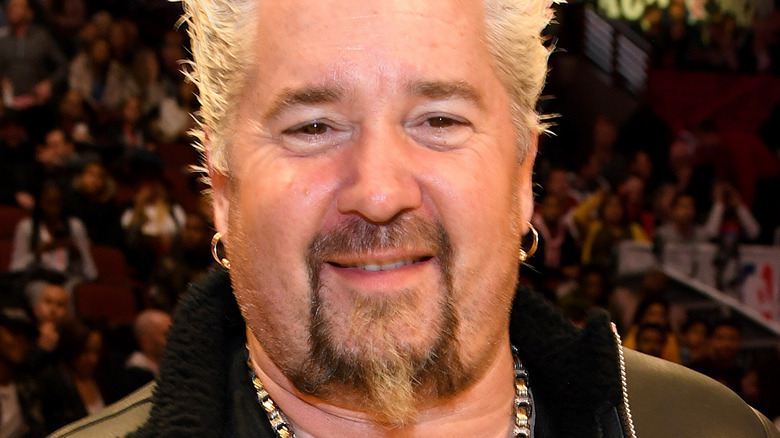 Kevin Mazur/Getty Images
Guy Fieri has been tearing up our television screens for a long time now, and the Mayor of Flavortown isn't slowing down any time soon! After all, the 53-year-old restaurateur has made a name for himself on the Food Network with fan-favorite shows, "Guy's Grocery Games," "Diners, Drive-Ins, and Dives," "Food Network Star," and "Guy's Family Road Trip," (via IMDb). Fieri is a New York Times best-selling author, owns a winery called Hunt & Ryde, and has restaurants all over the country (via Guy Fieri), so whether you love him or hate him, it's safe to say that Fieri is here to stay.
And while the Emmy award-winning host has likely tried more foods in his lifetime than most of us would in ten lifetimes, a few of Fieri's food quirks have come to light over the years, like the fact that he notoriously hates eggs, which, for someone who hosts a show about diners, is pretty surprising. "I'll eat just about everything. I challenge myself every year to revisit things I don't like," he told the Food Network. "I'm not a huge egg fan."
Guy Fieri never leaves the grocery store without this pantry staple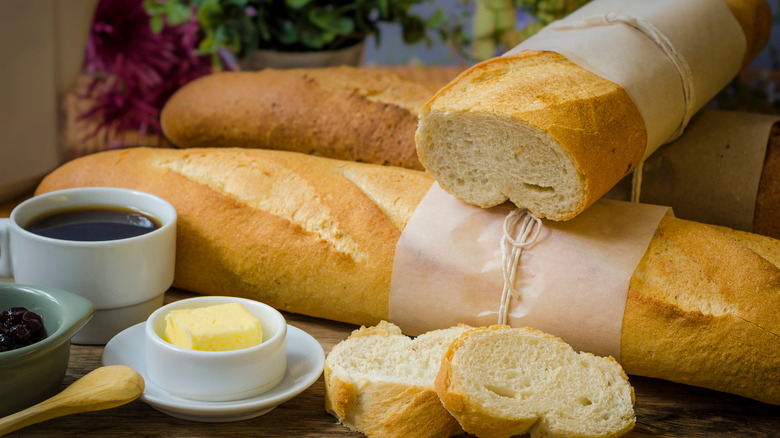 Shutterstock
The "Diners, Drive-Ins, and Dives" producer revealed that every time he and his family visit a grocery store, they grab two baguettes, or sometimes, two loaves of sourdough, for a little snack on the drive home. "You know, a baguette or sourdough, just really good, crunchy," he told the Food Network of his carb addiction. "We get two, because one will be halfway gone by the time we get home."
And while bread is clearly a favorite in the Fieri household, in an interview with USA Today in March, the "Tournament of Champions" host revealed that while everyone was making banana bread and sourdough during the pandemic, he and his family focused on cooking together as a unit more, and making some of the family's favorite meals and snacks.
"As a chef, I'm always working on recipes. Did we make more pizza at home? Yes. Did we do more smoking meats and making jerky? Yes. We farmed a lot more — we have a big ranch, so we spent a lot of time cutting firewood and clearing brush. But we did spend more time cooking as a family," he revealed, adding, "And boy, did my phone blow up. For some reason, my friends wanted to call for recipes" (via USA Today).