Brilliant Updos You'll Love For Your Natural Hair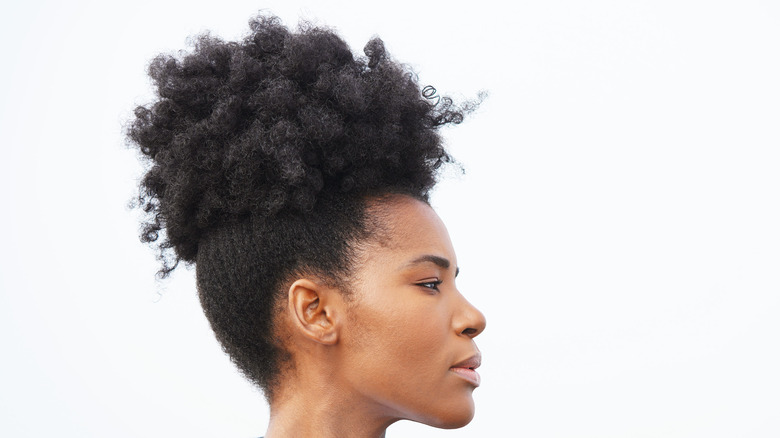 Shutterstock
For any natural-haired girl, finding new hairstyles can be something of a challenge. Box braids, twist outs, and Bantu knots are just a few common hairstyles to do, but what if you're done with these go-to looks and want to try something new? Luckily, per Glamour, natural hair is very versatile, so there are always new and interesting styles to try.
With summer coming along — and the heat and sweat that comes with it — finding new updos for your natural hair is a must. One style in particular to try is a high puff. According to Glamour, this hairstyle is the go-to look for many curly-haired girls and requires little to no manipulation. Plus, the outlet added that a high puff is a great way to show the length of your hair! Another hairstyle to try is a high bun with sidelights. Per NaturallyCurly, this hairstyle is the perfect summer look! Simply put your hair in a high bun and leave two single strands in the front—it's just that simple!
There are so many versatile styles for curly hair! Other updos to try are pineapple updo, curly bun with faux bangs, and faux hack (via NaturallyCurly).
Simple and easy updos that any natural hair girl can wear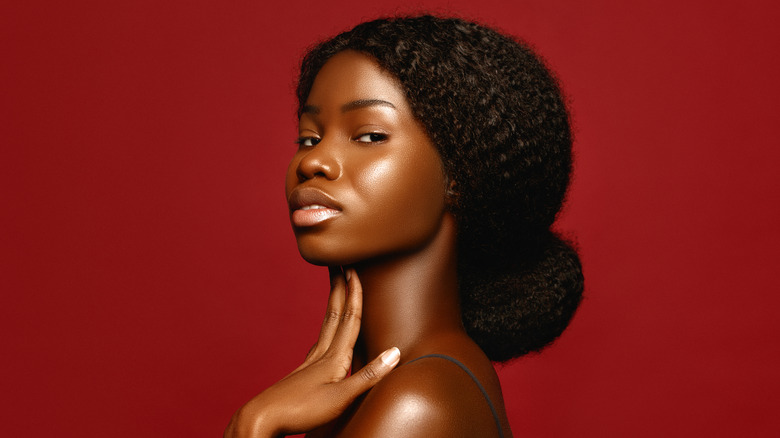 Shutterstock
While natural hair is versatile, no one said maintaining it was easy. Natural hair is a process, per Refinery29. It takes a long time to learn your hair, but, luckily, there are protective styles such as a summer updo that are simple and easy for any natural-haired girl.
According to StayGlam, one look to try is a braid in a low bun. The outlet said this look is super simple and only requires twisting or braiding (whichever you prefer) your back and secure it with a bun! StayGlam also said that this hairstyle is perfect for any 4C girls whose hair suffers from dryness and frizziness.
Another style, according to StayGlam, is an updo crown. This hairstyle is a beautiful statement that is both elegant and bold. Just want you wanted to showcase this summer! Simply twist or braid your hair around the base of your head and there you have it — a braided (or twisted) crown! This style keeps your hair off your face and is fashionable, per the outlet. A two in one!
These are just a few hairstyles you can create this summer. With natural hair, you can try almost anything! And what better way to discover your hair than by showing off new and fashionable looks this summer?