Why Sunny Anderson Is Hiding Her Kitchen From You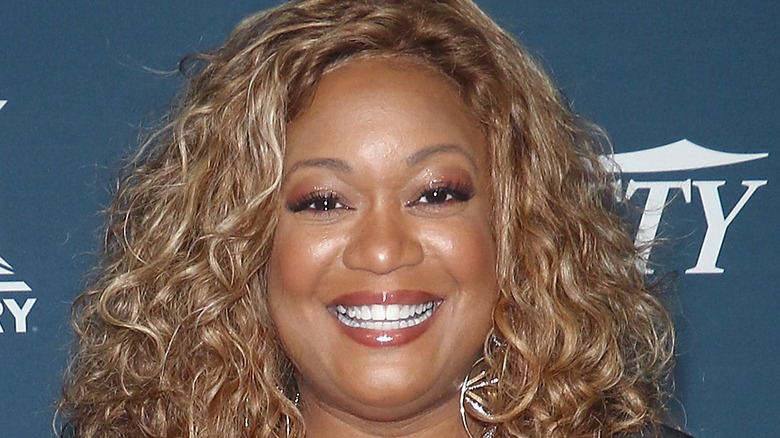 Jim Spellman/Getty Images
Food Network stars such as Giada De Laurentiis and Katie Lee are continuing to adapt to working during the ongoing pandemic. The same can be said for long-time Food Network star Sunny Anderson, who has appeared on the network's food-talk show hybrid "The Kitchen" for several years now. Anderson has been hesitant to welcome viewers into her home, despite filming the show from home for many months during the pandemic, but this doesn't mean that she hasn't been active on social media or interacting with home cooks and fans across the world. 
Now over a year into the pandemic, "The Kitchen" has resumed filming in its studio, but Anderson is continuing to cook outside on the set — just like she did during quarantine (via CheatSheet).
Are you curious about why Anderson doesn't want to show the inside of her home on television? 
Here's why Sunny Anderson actually films outside
Sunny Anderson is a known fan-favorite on "The Kitchen," and she has been praised for the enthusiasm and unrelenting positive spirit that she brings to the series (via CheatSheet). Because her fans are so invested in her, then, they immediately began wondering why the chef was cooking outside in every episode, with their concern only growing stronger in the winter months. Anderson lives in Brooklyn, after all, where it can get really cold.
After her Instagram was flooded for months with questions regarding this filming style, Anderson provided a handful of reasons. She first explained that she wanted to maintain her privacy, before even adding that she likes dressing in layers so she didn't mind the cold. Of her privacy, Anderson explained in an Instagram reply, "Never when taking this job/show was there a line about invading my home and sanctuary."
Finally, because of increased pressure after continuing to film outside on set, Anderson revealed in a comment under another Instagram post, "I have autoimmune issues as well as my camera man," explaining that it is safer to work outside during the pandemic because there is increased air flow. This situation shouldn't have come to Anderson feeling like she needed to disclose her medical circumstances, but, hopefully, her fans will respect her filming choices now that she has.