How To Take Care Of Your Skin After Using The Ordinary Peeling Solution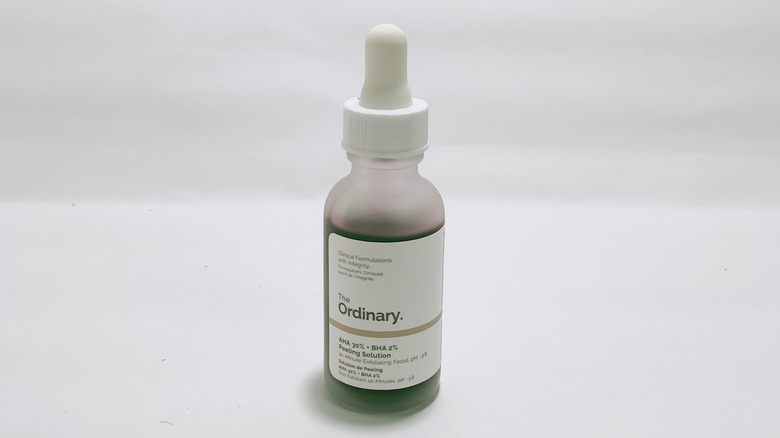 Shutterstock
You might have seen this product go viral when people started dripping the wine-colored liquid all over their face on TikTok. This skincare item is no ordinary active though. It's The Ordinary's AHA 30% + BHA 2% Peeling Solution. According to The Ordinary, this product contains Alpha Hydroxy Acids (AHAs) and Beta Hydroxy Acid (BHAs), which work together to improve the texture of the skin's surface and reveal fresh, radiant skin.
The FDA states that AHAs exfoliate the surface of the skin, causing dead skin cells to shed off. This can help smooth wrinkles, clear pores and even out skin discoloration. According to Paula's Choice, BHAs are oil-soluble, and are consequently able to get deeper into pores. BHAs are especially great for people with acne-prone skin or clogged pores.
Because both of the acids can be thorough exfoliators on their own, you don't usually see the two actives combined into one product. That is why The Ordinary's peeling solution is especially potent, but that also means there is a greater risk of irritating your skin. The Ordinary has included hydrating and calming ingredients into the solution like Tasmanian Pepperberry derivative, Vitamin B5, Hyaluronic Acid and black carrot. However, the company still warns, "This formula contains a very high concentration of free acids. We recommend use only if you are an experienced user of acid exfoliation and your skin is not sensitive."
Avoiding irritation while using peeling solution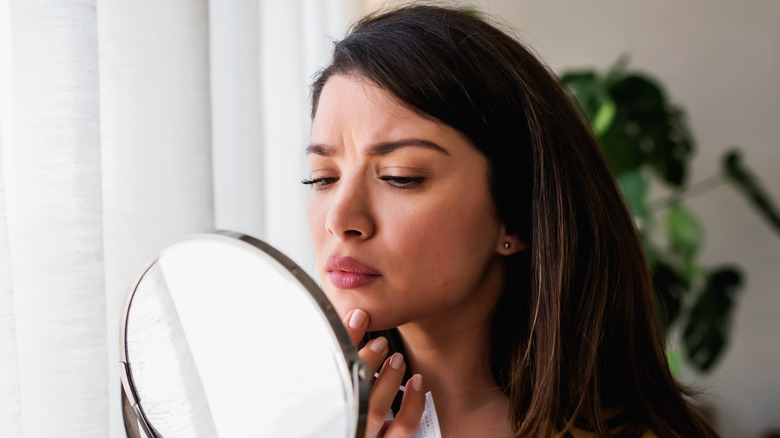 Shutterstock
The Ordinary recommends cleansing your face and thoroughly drying your face before using the acid, making sure to avoid applying this around the eye area. They also recommend leaving the mask on for only 10 minutes and then rinsing the peel off with warm water. The most important tip they provide is to use the product no more than twice a week. Dermatologist Marisa Garshick recommended the product to NBC's Today, but cautioned those with sensitive skin to reduce their usage to once a week. Garshick said, "The chemical exfoliating solution is a great option for those looking to improve the appearance of fine lines, blemishes, pores, dullness and texture." She added, "Containing different hydroxy acids, including glycolic acid, lactic acid and salicylic acid, it helps to address various skin care concerns."
Glamour writer Jenny Singer tried out the peeling solution and provided advice on how she was able to avoid skin irritation. Singer rinsed her face with warm water after using the mask as directed, and then cleansed her face again to ensure that she removed all the product off her face. She spread a liberal amount of a creamy moisturizer to make sure she re-hydrated her face. If you use other exfoliating products or retinol, Singer also recommended reducing or eliminating usage of those products. Beautiful with Brains states that it's not advisable to use the peeling solution if you're taking tretinoin, and to consult with your dermatologist before using the product. 
Moisturizers are key after-care products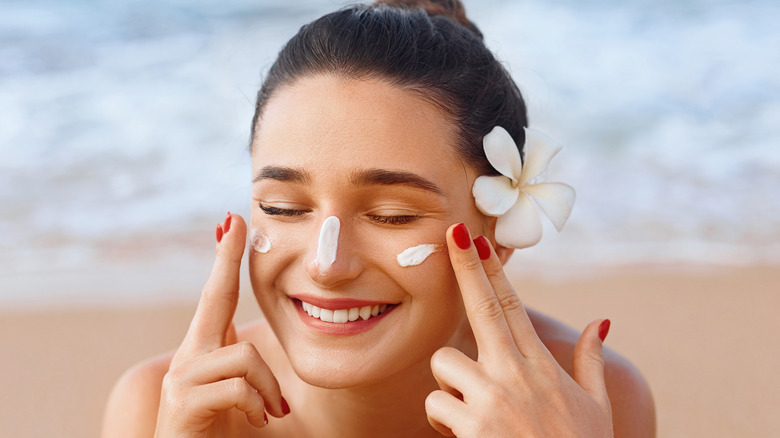 Shutterstock
Fresh skin will be more photosensitive, or reactive to UV rays (via Beautiful with Brains). That's why it is crucial to continuously apply and reapply sunscreen, up to a week after using the peel. Beauty Within host Felicia Lee calls this product a "heavy-hitting AHA treatment." Lee elaborated, "It's basically shedding dead skin, and if you're not doing enough to restore hydration as well as seal in nourishment and oils back in, it can be drying." Skincare guru Melissa Van Dijk also emphasized moisturizing your skin properly after using the peeling solution. She recommended oils from The Ordinary line like their "B" oil and 100% Organic Cold-Pressed Borage Seed Oil. If you are looking for water-based serums, she recommends the Amino Acids + B5 and the Hyaluronic Acid 2% + B5. She also suggests The Ordinary's Natural Moisturizing Factors + HA.
Dermatologist Aanand Geria told Healthline, "Vitamin C can soothe and help to expedite the healing process." He also suggested using aloe vera from the plant itself to help heal the skin. Ellis James Designs said they recommend switching to a gentle cleanser and following up with a gentle moisturizer, to prevent irritating sensitive post-peel skin. The blog post recommended the CeraVe Hydrating Facial Cleanser, a repairing formula that contains ceramides that help rebuild the skin's barrier, as well as the Neutrogena Oil-Free Sensitive Skin Facial Moisturizer. This Neutrogena moisturizer is lightweight and doesn't clog pores.