The Truth About Russell Crowe's Girlfriend, Britney Theriot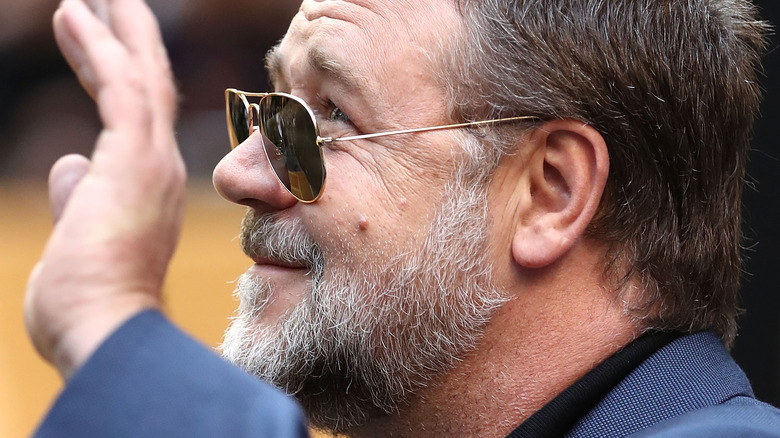 Getty Images
Russell Crowe is rumored to be on the verge of an engagement after dating Britney Theriot for nearly two years. The 57-year-old actor, who packed on the pounds to play the late Roger Ailes in 2019's "The Loudest Voice," is said to be doing "everything he can," including regular tennis matches with his fitness-enthusiast partner, to drop the added weight.
"He wants to walk down the aisle looking his best," a source told Women's Day magazine, via Now to Love. "He wants to be able to keep up with Britney." But who is Theriot, and when did their relationship begin? According to the report, the couple first crossed paths on the set of "Broken City" in 2013 (Theriot's only movie, per The Things), when Crowe was still married to ex-wife Danielle Spencer. However, it wasn't until 2019 when Crowe and Theriot were first linked romantically.
"The good thing is they've had a lot of time to get to know each other and talked through what they want from a relationship," the source explained of the courtship.
Britney Theriot reportedly wants to start a family with Russell Crowe
While Meaww revealed that Britney Theriot is not currently acting and is instead focusing her career aspirations on real estate, the outlet also noted that she was given a "special thanks" in Crowe's 2020 film "Unhinged."
As for her thoughts regarding her future with Crowe, who was linked to Meg Ryan in the early 2000s, Theriot is reportedly hoping to start a family with the actor, who is 27 years her senior and already has two teenage boys, Charlie and Tennyson, from his first marriage.
"She wants kids, for example, which is another reason she's got him on a fitness trip, and he wants to stay in Australia. Thankfully, Britney doesn't want to raise her family anywhere else," the insider told Women's Day magazine (via Now to Love). Although Crowe and Theriot are not yet engaged, the source went on to say that Crowe would prefer to wed in a quiet ceremony while Theriot would like "a big wedding."