How To Take Care Of Goddess Braids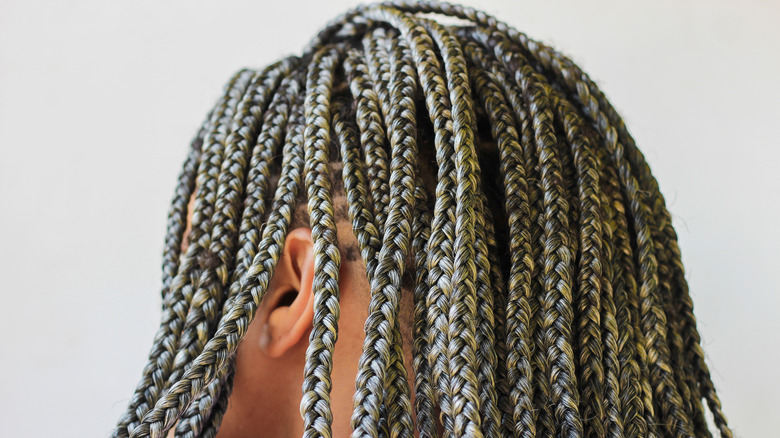 Shutterstock
It's pretty safe to say that goddess braids are the go-to protective style for any natural hair girl. After all, this hairdo is not only versatile — you can wear these braids in a variety of ways — but it also protects your hair, something every curly-haired girl needs (via Byrdie).
Plus, goddess braids date back to Ancient Africa, according to Onchek. They represent a symbol of artwork and creativity, which makes wearing them even more special, the outlet reports.
Furthermore, according to Glamour, goddess braids take a shorter time to install compared to regular box braids because of the difference in thickness — goddess braids are thicker in size. The outlet also said that this hairstyle can be styled in different ways — ponytail, bun, half up half down, you name it! Whatever style you prefer, goddess braids can make it adaptable, per Glamour.
Goddess braids are versatile, symbolic of creativity, and long-lasting. What better hairstyle to wear than this super chic look.
Maintaining your goddess braids requires two steps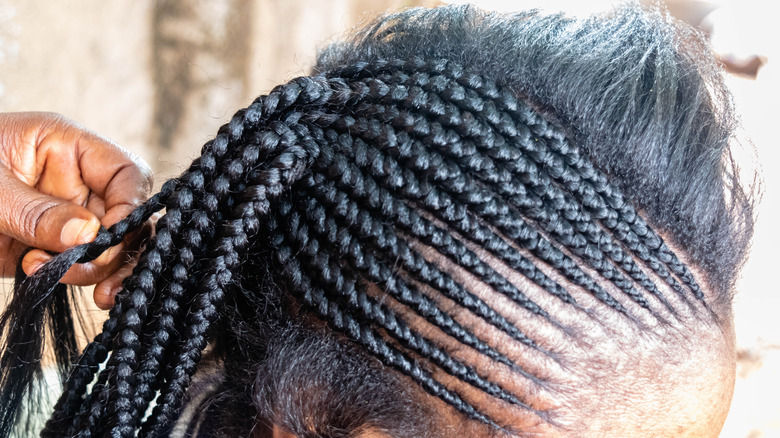 Shutterstock
So, you decide to wear goddess braids but don't know how to take care of them? No fret! According to Curl Centric, maintaining your braids is quite simple. The first step, according to the outlet, is wrapping your braids in a silk or satin scarf every night. This, per Curl Centric, will help minimize frizz and extend the time of the style.
The best silk or satin scarves to invest in are Silke London Silk Hair Wrap, per Marie Claire. This product is the go-to protection for any natural-haired girl wearing a protective style, the outlet reported.
The next step is to oil your scalp as needed, according to Curl Centric. The outlet revealed that oiling your scalp will not only preserve the style, but also hydrate your scalp once it becomes itchy or dry. The best oils to use are Jojoba oil, grapeseed oil, or sweet almond oil, per Curl Centric.
Now that you know how to take care of goddess braids, what's stopping you from making a hair appointment and getting this chic look? Goddess braids are calling your name!