Here's How To Stop Acne Scars Before They Even Show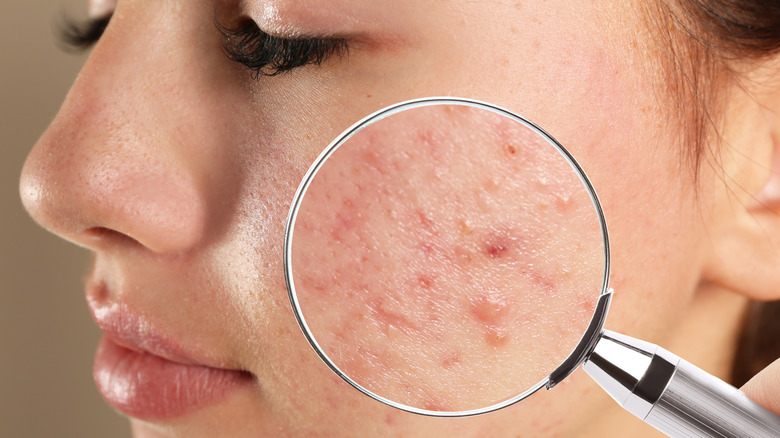 Shutterstock
While acne itself is enough of a self-esteem buster, even once the acne has been vanquished, the scars it can leave behind are unwelcome reminders of the struggle for clear and healthy skin. Scarring left behind by acne can differ in type and severity depending on the person and the particular type of acne they were dealing with. According to Healthline, the scarring can range from actual indentations in the skin to hyperpigmentation (dark spots) where the blemishes once were. Depending on the type of scarring you have, different treatments may be more helpful than others. 
For instance, chemical peels, dermabrasion, laser therapies, microneedling, and dermal fillers are all potential options you could discuss with your dermatologist, and there are more intensive treatment options as well for the most severe scarring. And while it's comforting to know we are not simply stuck with the scars if we don't want to be, is there something we can do to prevent scarring before it even happens?  
How to prevent acne scarring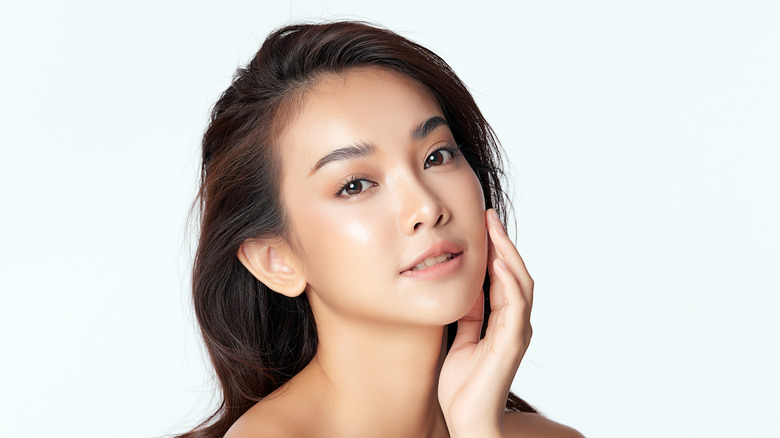 Shutterstock
According to dermatologist Naissan O. Wesley, who spoke with Vogue about acne and scarring, the first step to preventing scarring is to tackle the acne itself. "Start with controlling and treating the acne first—otherwise, you may just be chasing more scars," she explains. And while this might seem obvious, it's tough when you are someone who is trying to both reduce already-existing scars and fight blemishes. The good news is that some acne treatments work double duty and also help reduce the appearance of scars and dark spots, like salicylic acid. According to Medical News Today, other such treatments include retinoids, lactic acid, and alpha hydroxy acids.  
So what does Wesley recommend to help prevent scarring while treating acne? According to Vogue, the solution might be "a soothing daily acne treatment, such as Arbonne Clear Future Corrective Acne Treatment Pads." Wesley says of this product, "They contain salicylic acid and willow bark extract in a pad form to help reduce acne inflammation and gently exfoliate the skin surface to heal acne and acne marks faster...as well as prebiotics, polysaccharides, calendula, and sage to help heal and maintain the skin's moisture barrier."
Wesley explains that while treating both acne and scars at the same time might be necessary for a while, "Once the acne is under control and there is not much new acne formation, then it would be appropriate to undergo additional acne scar treatments if needed to treat any scars still present."