Why You Should Be Using Snail Mucin In Your Skincare Routine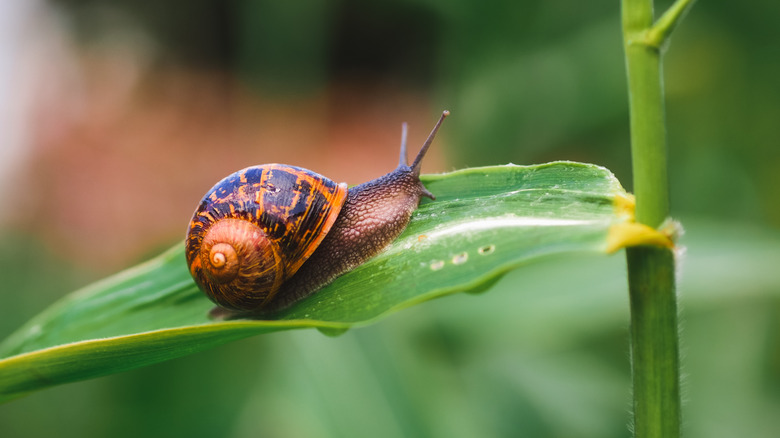 Shutterstock
Korean skincare is currently taking the world by storm. Beauty lovers all over the world have become obsessed with the Korean 10-Step Skincare Routine, fallen in love with Korean beauty products like sheet masks, lip masks, and jelly packs, and everyone is chasing 'glass skin' perfection (via Self and Glamour).
Many K-beauty products are fun, unusual, and innovative: ticklish bubble masks have taken over Instagram, and colorful rubber masks by brands like Dr. Jart are super popular (via Cosmopolitan and Byrdie).
But there are some Korean skincare products and ingredients that might raise eyebrows with people unfamiliar with Korean beauty, like pig collagen, placenta, donkey milk, and salmon roe, which are popular ingredients in many Korean-made beauty products (via Elle).
One of the most surprising ingredients to many K-beauty newcomers, however, is snail mucin. It might be difficult to imagine slathering snail goo on your face–and it hardly sounds luxurious– but many Korean skincare lovers swear by it–and the science backs them up.
What exactly is snail mucin, and where does it come from?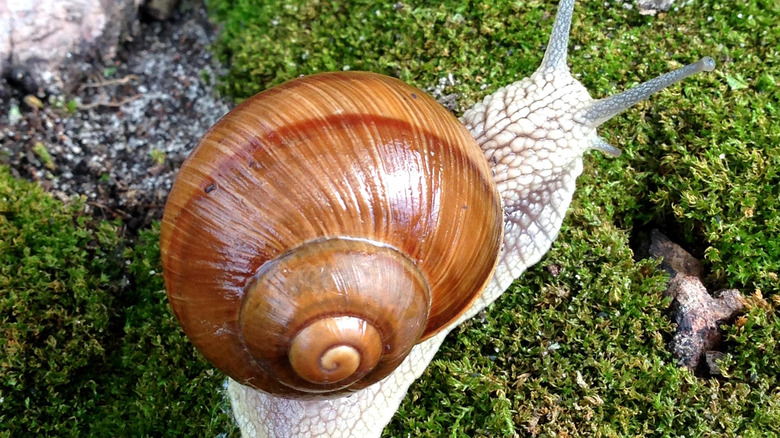 Shutterstock
Snail mucin is pretty much exactly what it sounds like: it is a slimy secretion that comes from everyone's favorite garden critter, snails.
According to popular K-beauty blog The Klog, snail mucin is harvested from species of edible snails like the Roman snail (the kind most often used in escargot), the garden snail, and the giant African snail. By only using snail mucin harvested from edible snails, beauty brands can ensure that the snail mucin used in their products are safe for topical application.
The snails are grown in captivity for sanitary and sustainability purposes, and snail farmers from Chile to Italy have developed ways to extract the magic goo without harming the snails. As featured in a short documentary by Great Big Story, Italian scientist and snail farmer Simone Sampo created a machine that he calls a "spa for snails" that helps the snails produce batches of mucin before they are re-released into Sampo's garden.
It is worth noting that the snail mucin used in beauty products is not the same goo snails produce to help them move. In an  interview with Byrdie, Austin-based dermatologist Dr. Ted Lain describes the skin benefits of stress-induced snail mucin.
"Because snail mucin is a stress-induced excretion, it's comprised of ingredients meant to repair or protect from injury," Lain told Byrdie. "These include growth factors, which work by triggering the growth of new skin cells and new collagen."
What are the skincare benefits of snail mucin?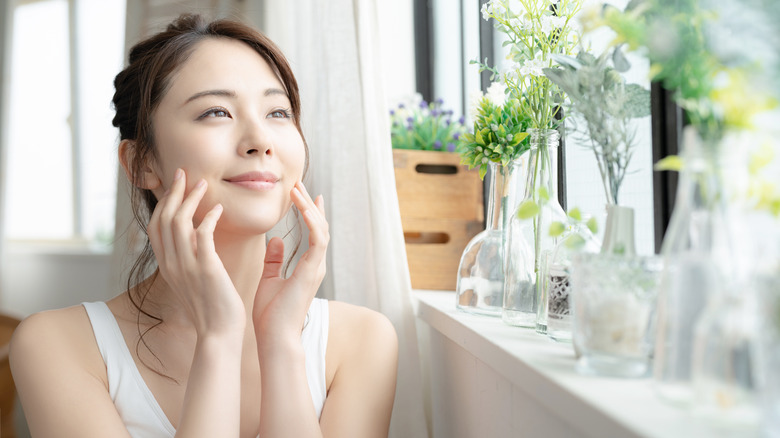 Shutterstock
If you can get over the ick-factor associated with snail mucin, the goo is actually wonderful for your skin. In an interview with Everyday Health, New York City-based esthetician and co-founder of the popular K-beauty blog and cosmetics company Soko Glam gushed about the benefits of snail mucin.
"Snail mucin is packed with nutrients such as hyaluronic acid, glycoprotein enzymes, antimicrobial and copper peptides, and proteoglycans," Cho told Everyday Health. "The hyaluronic acid helps in the anti-aging process as it hydrates the skin, and antimicrobial peptides have been known to reduce acne and treat hyperpigmentation."
According to Women's Health, the hyaluronic acid in snail mucin gives your skin a moisture boost that can help plump and smooth your complexion. And glycolic acid naturally exfoliates and boosts collagen regeneration which is your best defense against signs of aging. Additionally, snail mucin contains zinc which has natural anti-inflammatory properties that can help combat inflammatory skin issues like acne and dermatitis.
Snail mucin might give you the heebie-jeebies, but it can keep your skin moisturized, youthful, clear, and healthy.