Kyle Richards' Daughter Could Be Her Twin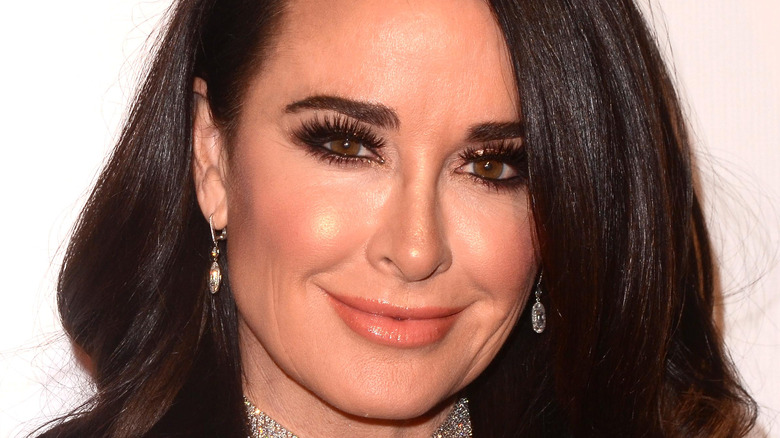 Shutterstock
As a child actress, Kyle Richards appeared in works such as "Little House on the Prairie" and "Halloween," and today, she is probably best known for being on "The Real Housewives of Beverly Hills" (via IMDb). She has been part of this reality series since its first season, and fans have watched her go on lavish vacations with the other ladies, get into arguments with friends and family members, and raise her four daughters.
When Richards was 18 years old, she welcomed her first child, Farrah, into the world in 1988, with Guraish Aldjufrie. Since 1996, Richards has been married to Mauricio Umansky, and they have three daughters together: Alexia, who was born in 1996; Sophia, who was born in 2000; and Portia, who was born in 2008 (via Showbiz Cheat Sheet).
While all of Kyle Richards' kids favor her, one in particular seems to be morphing into the actress more and more each day!
Kyle Richards and daughter Sophia have had twinning moments
Sophia Umansky, Richards' third daughter, is currently attending George Washington University, is the event chairman for Kappa Kappa Gamma, and is interested in real estate, according to her LinkedIn page. Her father owns The Agency, a real estate brokerage, where Sophia has interned. So, while in her professional life, she may be following after her dad, she gets her looks from her mama!
From the long dark hair and the fair complexion to the gorgeous eyes and full lips, this mother-and-daughter duo has had more than one twinning moment. Here, in the accompanying Instagram photo that was shared wishing a happy birthday to "the most beautiful most amazing mom," they are both even wearing similar coats. They both take fashion risks, as seen in Richards (via Instagram) and Umansky's outfits shared on Instagram. On a more serious note, they both tested positive for COVID-19 — news which the reality star shared in December (via Entertainment Tonight) — but both are recovered and doing well.