How To Choose The Best Shade Of Auburn Hair For Your Skin Tone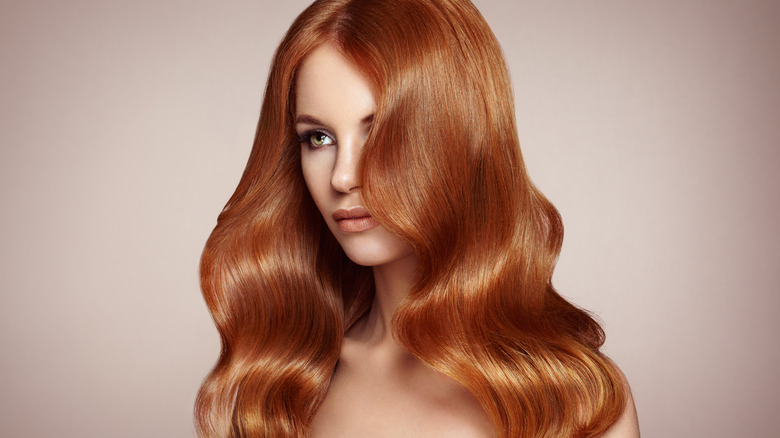 Shutterstock
Auburn hair is the perfect mix of copper, caramel and gold — a gorgeous color that can look amazing on any skin tone. Varying from strawberry blonde to deep mahogany, the right auburn shade for you will bring out the shimmer in your eyes, and give you some serious mystery. That being said, the auburn shade you choose should depend on your complexion type.
According to Melvin's Hair Do, coloring hair an auburn tone is an age-old tradition dating back to ancient Egypt and Rome. Back then, women would achieve a fiery hair color by using a mix of lemon juice, saffron, and basking in the sun. While ancient Egyptians associated red hair with Set, the god of storms (via Ancient Egypt Online), auburn tresses are still thought of as magnetic, sultry, and downright supernatural. Synonymous with intensity, auburn hair isn't for the faint of heart — so prepare for the double takes!
Melvin's Hair Do outlines the different auburn shades, which all have copper undertones and look best on varying complexions. The lightest auburn is strawberry-blonde, which blends gold with hints of red. Light and medium auburn mix light golden red and chestnut, while bright copper is a mix of vibrant red and orange. Down the spectrum, red copper is a bright copper mixed with a deeper brown, and dark auburn is rich chocolate with red undertones. Each more fiery than the next, choosing your best scarlet shade truly goes down to your skin tone.
Best auburn shades for you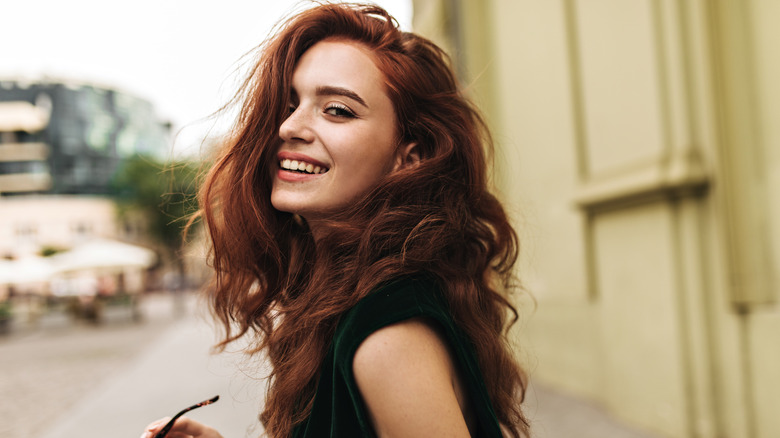 Shutterstock
If you have a light skin tone, hairstylist Christine Tran told Mane Addicts that strawberry blonde and copper tones will give you a gorgeous pop of color. That being said, if you have pink undertones, "a dark strawberry blonde or adding a rosy touch to a copper" will be even more complementary. A brighter auburn will suit neutral pale skin, and if you're cool-toned, go for a mix of strawberry blonde, copper and ginger. Yellow-based fair tones will look best in a golden-copper to take their warmth to the next level.
If you have a medium skin tone, you should look to a deep copper to medium auburn, going a bit richer. Tran told Mane Addicts that "fire engine red or dark/golden copper" suits medium skin with yellow undertones, while dark copper is great for pink undertones, and cherry red is perfect for cool-toned medium skin. If you're in olive territory, go for a gorgeous rose gold with blue-violet undertones like burgundy and mahogany, but stay away from orange.
For darker skin tones, medium to dark auburn works best, but you have room to play around (via Melvin's Hair Do). As per Mane Addicts, light brown complexions look amazing in merlot-wine shades with blue-violet tones. Medium brown tones should go for mid-range auburn brown, or burgundy for more drama. Dark brown skin looks gorgeous in mahogany with purple undertones. Darker complexions should consider purple-red "Cherry Coke" tones, and should avoid anything too golden.