Does Bio-Oil Really Work To Reduce Stretch Marks?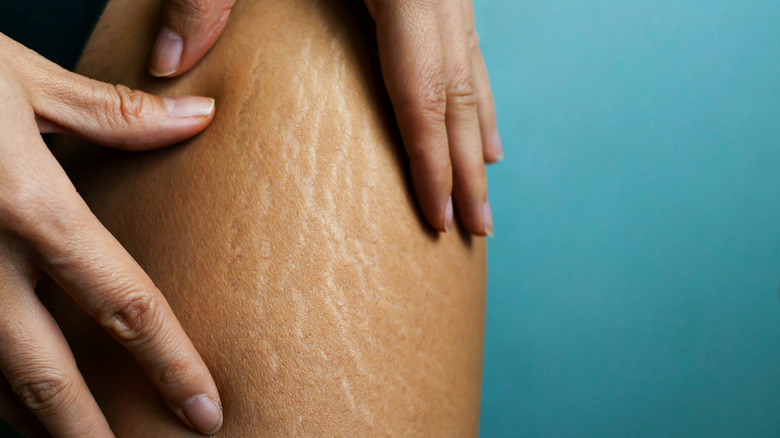 Shutterstock
Many people have stretch marks, brought on by weight loss or gain, pregnancy, or growth spurts. Bio-Oil is a popular treatment for stretch marks, as well as scars, and treating aging skin overall. But how well does it actually work? Is it worth spending the money?
Bio-Oil is made up of a combination of several ingredients including mineral oil, sunflower seed oil, vitamin E, chamomile oil, lavender oil, rosemary oil, marigold extract, and soybean oil, according to Healthline. The company's website notes that it is more effective on newer stretch marks, although older stretch marks will also see some results with regular use.
One study, done in 2018, bears out that claim. It concluded that users saw a 14% reduction in stretch marks and scars after regular Bio-Oil use. More than half of users said the overall appearance of their scars and stretch marks diminished, and only 17% said they saw no change.
Is the new Bio-Oil, labeled as naturally derived, any different?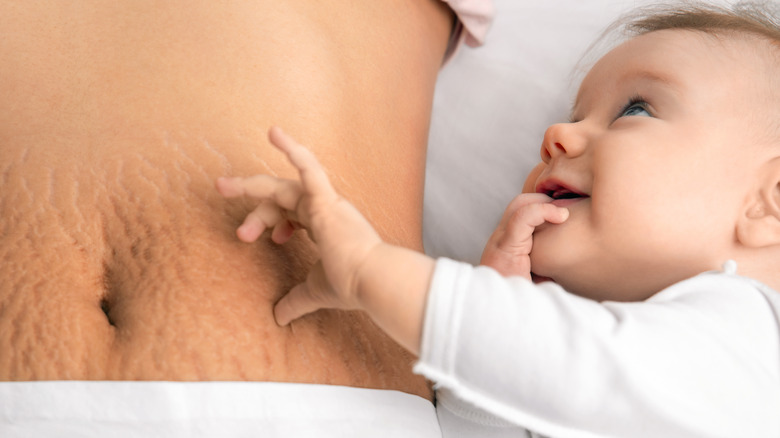 Shutterstock
In 2021, Bio-Oil released a "natural" version of their popular product, according to Allure. Since there is no regulated definition of the term "natural," it's up to a company to define what that means to them. In Bio-Oil's case, it means the product is fragrance, preservative, paraben, phthalate, phytoestrogen, and steroid free. The company believes the new product may particularly be of interest to women who are pregnant.
Even the original Bio-Oil is safe for women who are pregnant, according to the company's website. The company states that the level of vitamin A in their product is low enough that it presents no risk to developing babies. Excessive vitamin A has been linked to birth defects and liver toxicity, according to Babycenter.
Bio-Oil has a hydrating effect and can also be used for the appearance of wrinkles and to treat hyperpigmentation. One of the ingredients, linalool, is known to be an allergen, however, so it's advisable to do a skin test before you begin using it regularly (via Healthline). Just place a small amount on your forearm and wait 30 to 60 minutes to watch for a reaction. If there is no reaction, it is safe to use.