The Truth About Seth Rogen And James Franco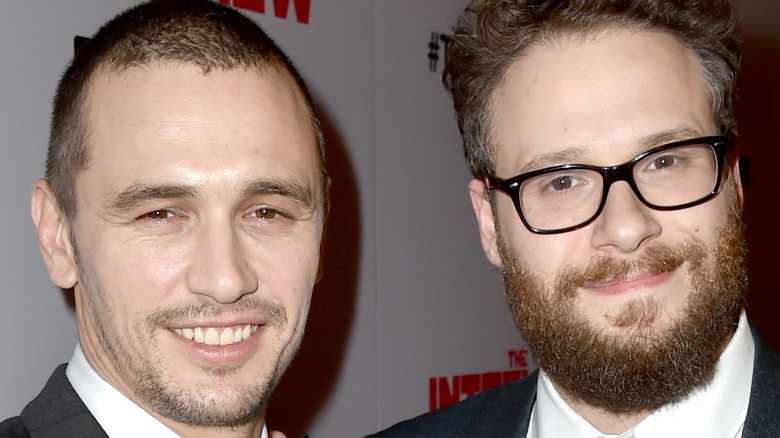 Kevin Winter/Getty Images
For years, James Franco and Seth Rogen were Hollywood's slacker dream team, conjuring up blockbuster comedies from a cloud of pot smoke like two stoned genies. Their friendship blossomed on the set of the late-'90s cult classic TV show "Freaks & Geeks," in which the two seemingly exaggerated "freak" versions of themselves. Over the next two decades, Franco and Rogen joined forces for a hearty handful of comedic hits, from the genre-bending, literally marijuana-based "Pineapple Express" in 2008, to the biographical dramedy about Tommy Wiseau,"The Disaster Artist," in 2017. They clearly collaborated well, and the 2000s and 2010s were better for it. 
These days, the relationship between Rogen and Franco seems a bit, well, cloudier. The pair haven't worked together since that 2017 film, and they haven't been spotted together publicly in recent years. While Rogen has been keeping busy in movies, on TV, and with his cannabis company, Houseplant, per CNN, Franco's acting work has noticeably slowed down following multiple sexual misconduct allegations against him (via LA Times). 
So, where does their friendship stand today? In a new interview with Britain's Sunday Times, Rogen made it clear the glory days are over. "What I can say is that I despise abuse and harassment, and I would never cover or conceal the actions of someone doing it, or knowingly put someone in a situation where they were around someone like that," Rogen said. " ... It has changed many things in our relationship and our dynamic."
Seth Rogen is not planning to work with James Franco again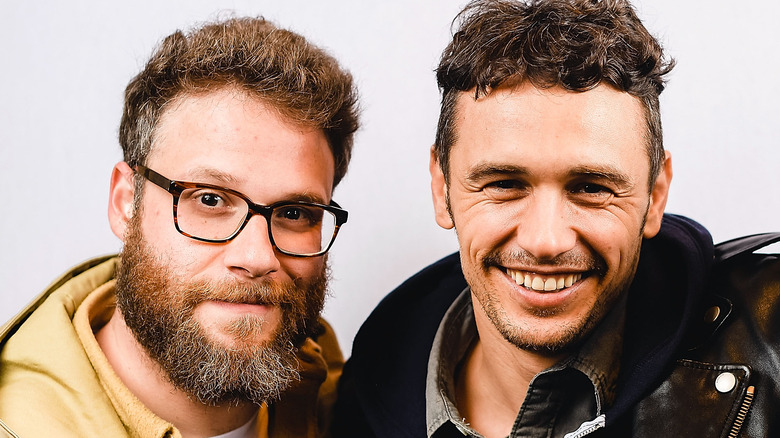 Matt Winkelmeyer/Getty Images
In 2018, two students who attended James Franco's film school accused the actor of engaging in "sexually-charged behavior toward female students" (via BBC). Franco claimed the allegations were "not accurate." 
In April, "The Disaster Artist" co-star Charlyne Yi called the pair out. Yi recalled trying to quit her role in the movie because she "didn't feel safe working with a [expletive] sexual predator" (via Page Six). She also referred to Rogen and his 2014 "SNL" monologue as "enabling Franco."
In 2014, James Franco allegedly attempted to book a hotel room for himself and 17-year-old fan Lucy Clode after meeting her after a performance of "Of Mice and Men" on Broadway, per Business Insider. Just over a week later, on April 12, 2014, Seth Rogen addressed the incident while hosting "Saturday Night Live." "To make myself feel better, I decided to prank James Franco," he joked during his opening monologue (via YouTube). "I posed as a girl on Instagram, told him I was way young. He seemed unfazed. I have a date to meet him at the Ace Hotel."
Franco then joined Rogen onstage. "I just wanted to say, great prank, buddy," Franco said. "I've been waiting at the Ace Hotel for, like, three days."
Rogen addressed Yi's statements and the allegations against Franco during his interview with The Sunday Times. "I do look back at a joke I made on 'Saturday Night Live' in 2014 and I very much regret making that joke," he said. "It was a terrible joke, honestly. And I also look back to that interview in 2018 [for Vulture] where I comment that I would keep working with James, and the truth is that I have not and I do not plan to right now."