Food Trends That Everyone Will Be Talking About In 2017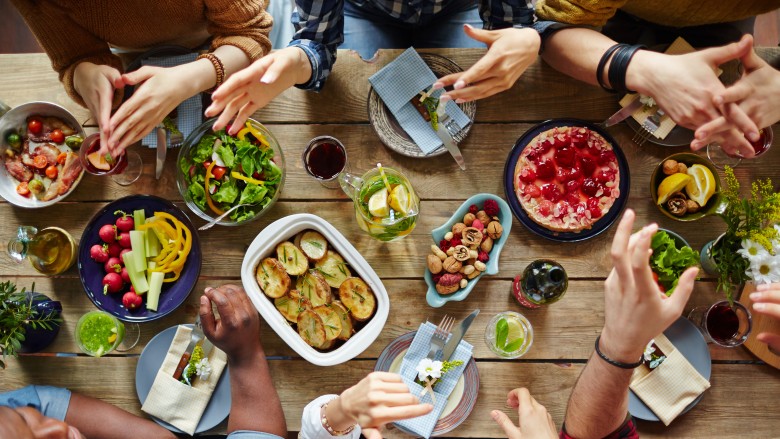 Shutterstock
These days, it seems like there's a new food trend popping up nearly every week, if not every day. 2016, for example, saw the birth of some major trends, like vegan food options, coconut oil, bubble tea and matcha, all of which are still going strong. But as we look to the year ahead, we can expect to discover even more exciting new flavors and menu options.
Turning to experts from the culinary world, as well as some food-centric intelligence agencies and industry forecasts, we've carried out (seriously hunger-inducing) research to bring you the 10 hottest foodie trends to look out for — and try! — in the months to come.
Purple Fruits And Veggies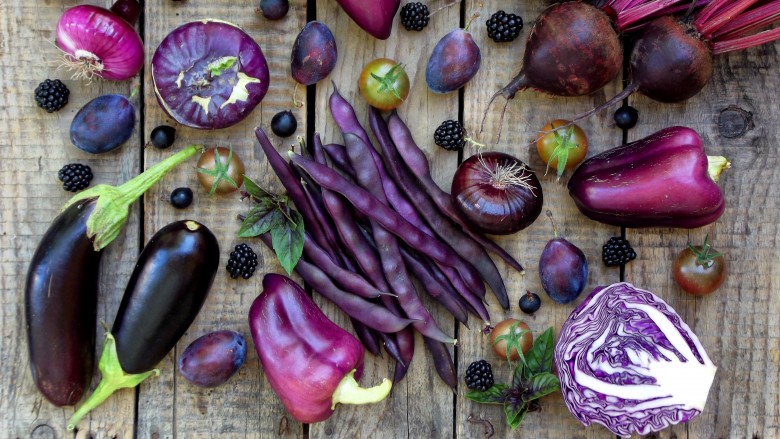 Shutterstock
When Whole Foods Market's global buyers and experts got together to predict the 10 biggest trends of 2017, purple foods made the grade. From purple cauliflower to purple asparagus, elderberries, purple sweet potatoes, purple corn and more, get ready to embrace all things purple. It may seem like a strange color, but the bold hue is actually indicative of high "nutrient density and antioxidants."
Whole Foods' top recommendations for easing into the trend? Back to the Roots Purple Corn Flakes (which "introduces a corn flake like you've never seen before with just three simple ingredients: organic, non-GMO purple corn from Minnesota, organic cane sugar from Florida and sea salt from the San Francisco Bay") and Jackson's Honest Purple Heirloom Potato Chips. As Jackson's states on its site, purple potatoes were "grown 8,000 years ago in the Andes Mountains" and "once reserved for Inca kings. With four times the amount of antioxidants of white fleshed potatoes, these are some of the most nutritionally dense potatoes available."
Alternative Pastas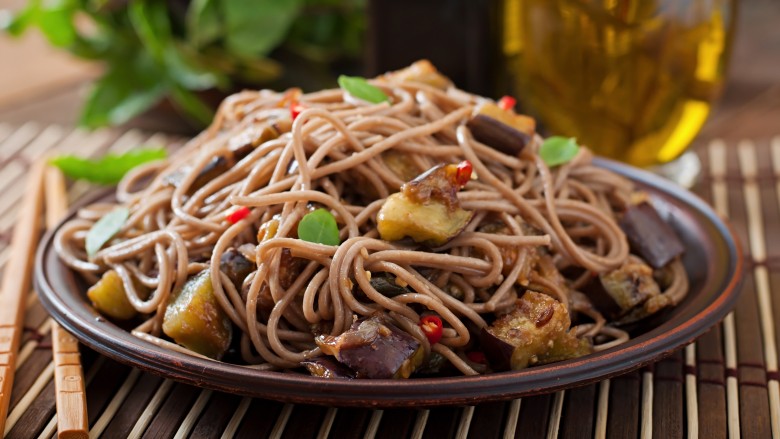 Shutterstock
It's hard not to love pasta and, despite the bad rap it tends to get from low-carb dieters, as Food Network points out, "Pasta is good! One cup of cooked spaghetti has approximately 220 calories, one gram of fat and no cholesterol. Most pastas on the market are enriched with iron, too."
Whole-grain pasta has traditionally been the go-to alternative for anyone looking to up their protein, fiber and vitamin intake, but this year will likely see a rise in alternative noodles made from the likes of quinoa, lentils and chickpeas, Whole Foods Market reports. Pushing the envelope even further will be "grain-free options like spiralized veggies", which are completely vegan and packed with vitamins and minerals.
Wellness Tonics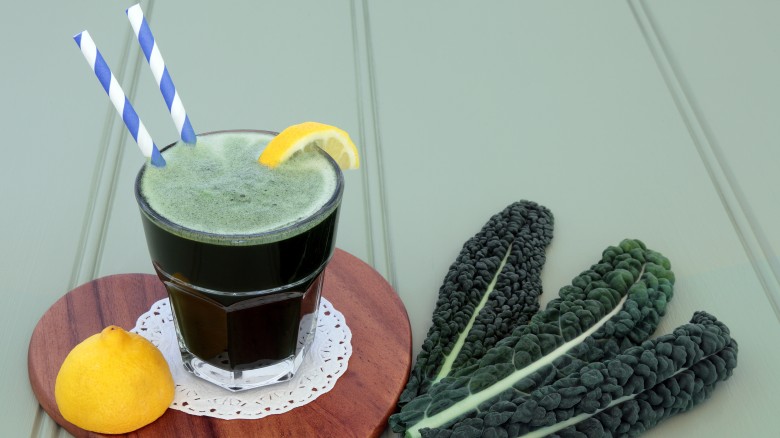 Shutterstock
As the fresh-pressed juice craze carries on, the new year will likely usher in a new version of the popular trend. According to Whole Foods Market, wellness tonics are the future and will "draw on beneficial botanicals and have roots in alternative medicine and global traditions." The hottest ingredients will include holy basil, turmeric, apple cider vinegar, medicinal mushrooms and adaptogenic herbs.
You can jump on the trend early with Suja Juice's drinking vinegars (which deliver tasty "blends of organic Apple Cider Vinegar or Coconut Vinegar, plus four billion live probiotics in every bottle") and Temple Turmeric's elixirs, aka, "Herbal infusions packed with 13 grams of our proprietary, powerful, nutrient rich Hawaiian oana turmeric."
Portuguese Sardines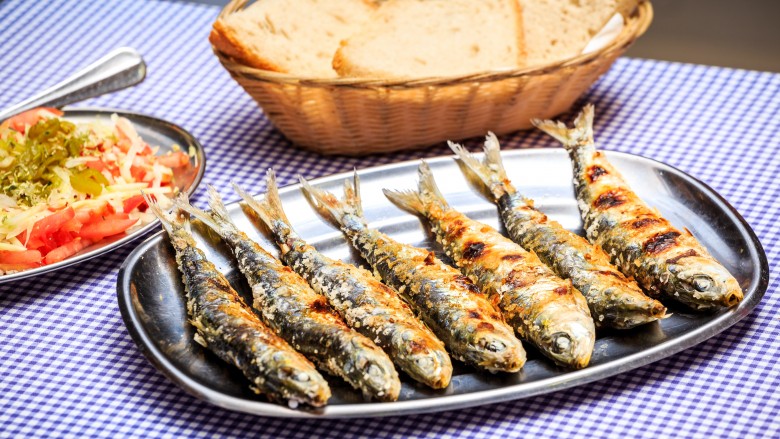 Shutterstock
With Portugal dubbed "Europe's best-kept foodie secret" by CNN in December 2016, it only makes sense that one of its most famed staple ingredients — sardines — would begin to shine on the world stage.
According to the Sterling-Rice Group's Culinary Trends for 2017 report, you should expect to see a lot of this humble fish popping up in restaurants across the country. "High in omega-3s, protein and umami flavor, sardines simply served on crusty toast with lemon, garlic, and aioli make for an uncomplicated yet elegant addition to any snacking situation," they declare.
Sleep-Inducing Eats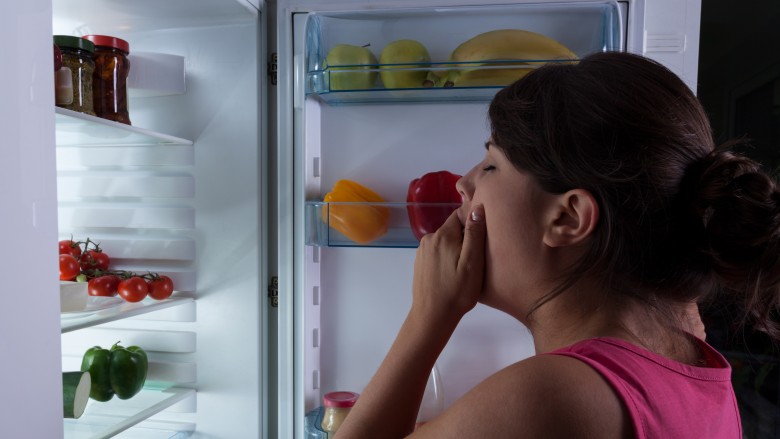 Shutterstock
Mintel, a market intelligence agency, is predicting 2017 to be a year in which we see an increased focus on food and drink tailored to nighttime enjoyment. Time and time again, sleep has been linked to weight. More specifically, "Not sleeping enough — less than seven hours of sleep per night — can reduce and undo the benefits of dieting," reports Shape.
In other words, getting enough sleep can result in increased weight loss when combined with diet and exercise. Keeping this fact in mind, Mintel is predicting a rise in night-focused food choices, like Healthy Skoop's sleep protein smoothie mix to "encourage sustained quality sleep" and Gaia Herbs' golden milk made from turmeric, dates and herbs, which is "based on the traditional Ayurvedic recipe that has been savored for centuries and is used to support the mind and body in a number of ways."
Drinkable Desserts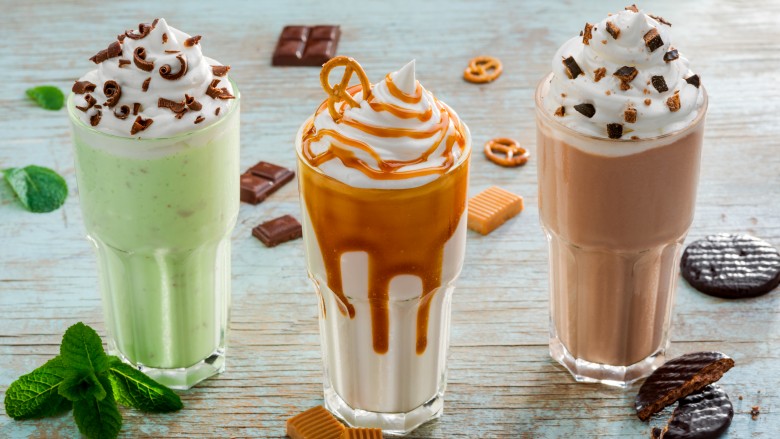 Shutterstock
When Nation's Restaurant News' senior food and beverage editor, Bret Thorn, was tasked with predicting what to look out for in the year to come, dessert cocktails topped his list. Noting a spike in popularity of drinkable desserts, Thorn sees these popping up in restaurants across the country all summer long.
NRN also suggests that you are likely to see "many of the drinkable desserts on menus are fresh, often boozy takes on classics, such as floats or milkshakes." As Dee Ann Quinones, head bartender at Westbound in Los Angeles, declared in the article, "Personally, I'd drink dessert over eating one, especially if it has alcohol."
Beautiful Bowls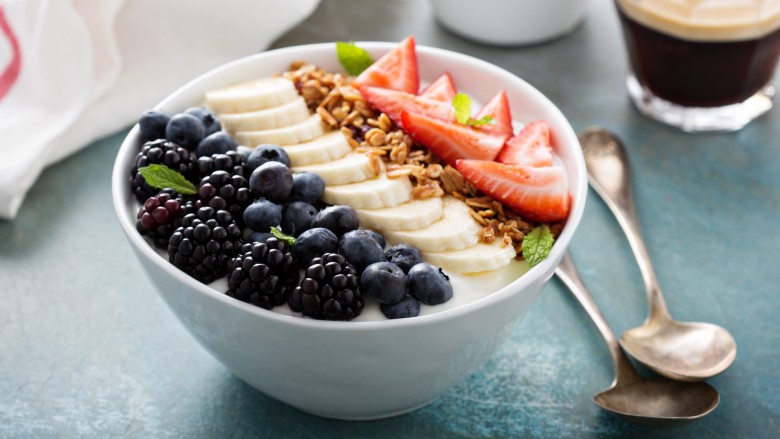 Shutterstock
Bowls first began growing in popularity last year and now, they're on the fast-track to becoming one of 2017's hottest and most versatile trends. As foodies continue to "opt for quinoa, buckwheat noodles and brown rice as their base, we'll see more bowls as meals, not only on Instagram, but also at fast casual restaurants and in the freezer aisle," predicts Today. Packed with health benefits, bowls can be easily tailored to any time of day, from Food Network's tropical Greek yogurt breakfast bowl to Fitness Magazine's steak, polenta and avocado bowl for dinner.
All Things Sustainable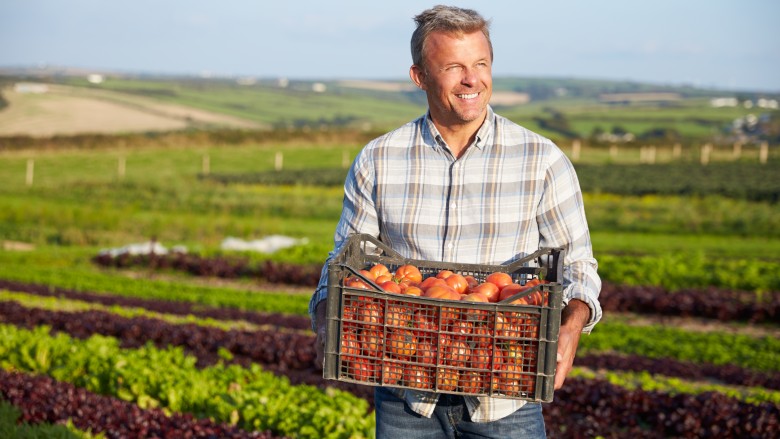 Shutterstock
When CNN caught up with today's hottest chefs and asked them to predict the hottest trends for the year to come, there was one key theme that kept coming up: the importance of social responsibility and food sustainability. Chef Dan Barber of Blue Hill predicted changes in farming habits that will result in better-tasting meats from animals that are allowed to roam freely and are raised on their mother's milk rather than on hormones.
Virgilio Martinez of Peru's Central Restaurant continued that same train of thought by noting a growing emphasis on "single origin produce with a story and tradition will come back with more value to express quality and emotion." Meanwhile, Paul Pairet of Shanghai's Ultraviolet added that you should expect even more of a farm-to-table approach with local, humble ingredients, like "open-fire, black-scorched roots, burnt fat, home cooked style" and whole animals roasted on a spit fire taking center stage.
Breakfast Sweets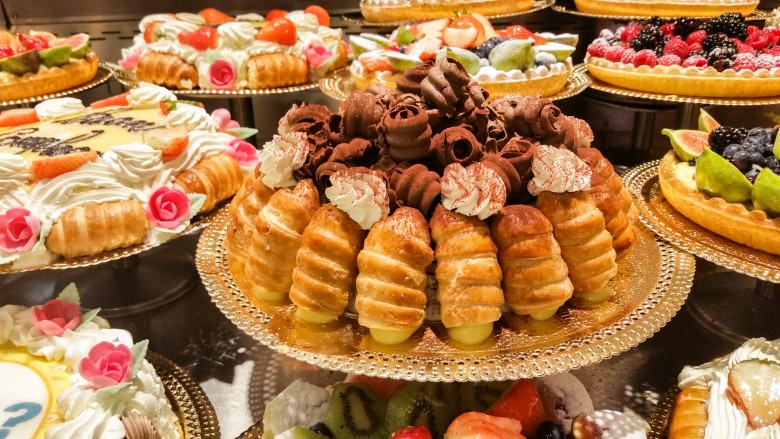 Shutterstock
Sterling-Rice Group's Culinary Trends for 2017 report cites a recent study carried out by Syracuse University, which discovered that "a daily dose of chocolate improves cognitive abilities, such as memory and abstract reasoning." Similar research done by Tel Aviv University also found that "eating dessert after breakfast could help people lose weight."
Although "the study looked specifically at people eating strict low-calorie diets", the results, as reported by TIME, were pretty amazing: "The dessert group reported feeling less hunger and fewer cravings. What's more, dessert eaters showed greater drops of the 'hunger hormone' ghrelin after breakfast — 45%, vs. a 30% drop for the low-carb dieters."
What does this all stack up to? An increase in sweet treats early in the day, of course! Like one (or all) of Country Living's 15 Indulgent Ways to Eat Dessert for Breakfast, including peanut butter and chocolate chip pancakes, bananas foster scones and blueberry cream cheese muffins.
Detox Mocktails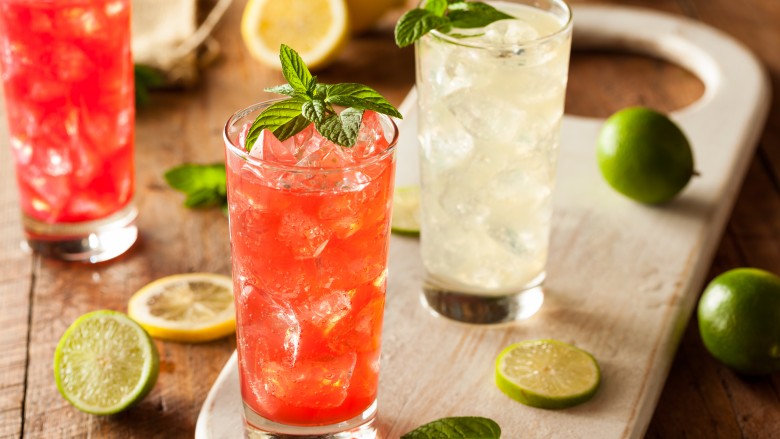 Shutterstock
Speaking with Liz Moskow, the culinary director at Sterling-Rice Group, Eat This, Not That discovered that detoxifying mocktails are about to give classic non-alcoholic cocktails a run for their money by blending great taste with major health benefits.
"People watch mixologists muddle herbs and it feels like a special treat, rather than ordering a ginger ale or club soda," explained Moskow. "We feel restaurants are going to start offering more robust menus—not just one or two little things on the side of their drink menus. It's sort of like the next incarnation of soda." Expect to see plenty of fresh-pressed juices, herbs and spices being incorporated into the bar scene in the months to come.
A year packed with delicious trends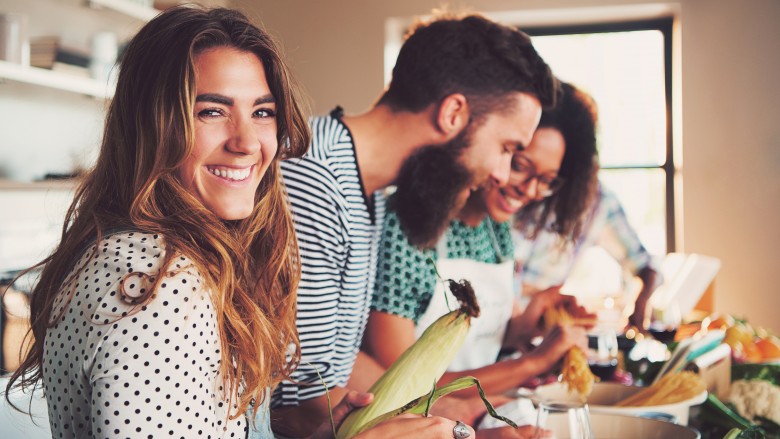 Shutterstock
2017 is shaping up to be a year in which eating healthy will be easier (and yummier) than ever before — looking at you, Greek yogurt breakfast bowl — but also one with plenty of opportunities to indulge. Drinkable desserts, anyone?
What's more, dinnertime is set to get a bit of a makeover with fresher versions of the ingredients we already know and love, coming from more reliable, sustainable sources. Perhaps one of the most exciting trends, however, is the introduction of staples from abroad, like the humble Portuguese sardine. Now, it's time to dive right in and enjoy!