Why Michelle Obama Is Worried About Malia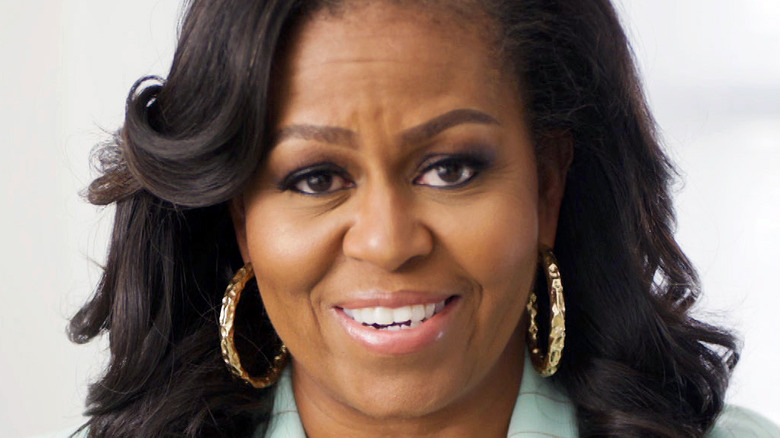 52nd Naacp Image Awards/bet/Getty Images
As the daughters of a former U.S. president, Malia and Sasha Obama have grown up in front of the world. The girls were only 10 and 7, respectively, when their father, Barack Obama, was elected into office in 2008 and they moved into the White House with him and their mom, Michelle. In fact, Sasha was the youngest person to live there since John F. Kennedy Jr. (per PBS). While their parents did their best to guard their daughters' privacy, spending their formative years in the public eye posed a unique set of challenges.
"They complained about Secret Service as they became teenagers," Obama said (per ABC News). "But as you might imagine, if you're a teenager having a couple of people with microphones and guns always following you around, that could grate on them. But they've handled it with grace, and I give Michelle most of the credit for how well they've done."
Now it's hard to believe that Malia is getting set to graduate this year from Harvard University. While her major is unknown, Michelle did reveal that Malia might want to get involved in the entertainment industry.  "Malia has expressed some interest in filmmaking," the former first lady told People. "Just like her father, she is an avid reader, and she enjoys movies."
Michelle Obama is excited but worried about Malia
Pool/Getty Images
Malia Obama's parents couldn't be prouder of their oldest daughter as she gets set to graduate from Harvard University. But while Michelle Obama is definitely excited about Malia's future, she also has some serious concerns.
"I don't want to have to worry about [Malia] entering a world where she has to worry about how people would treat her because of the color of her skin," she said, according to People. "I am excited, but I'd like to be more excited — to know that as she goes out and gets her first apartment and rides the subway somewhere, that they don't make assumptions about her based on the color of her skin. That she's not at risk, out there in the world as an adult, because she's a Black woman."
And while she believes the guilty verdict in the murder of George Floyd is a positive sign, Obama notes there is "still work to be done."
"[Malia and Sasha are] driving, but every time they get in a car by themselves, I worry about what assumption is being made by somebody who doesn't know everything about them: The fact that they are good students and polite girls, but maybe they're playing their music a little loud. Maybe somebody sees the back of their head and makes an assumption," she said, adding "I, like so many parents of Black kids ... the innocent act of getting a license puts fear in our hearts."