When You Wear A Corset Every Day, This Is What Happens To Your Body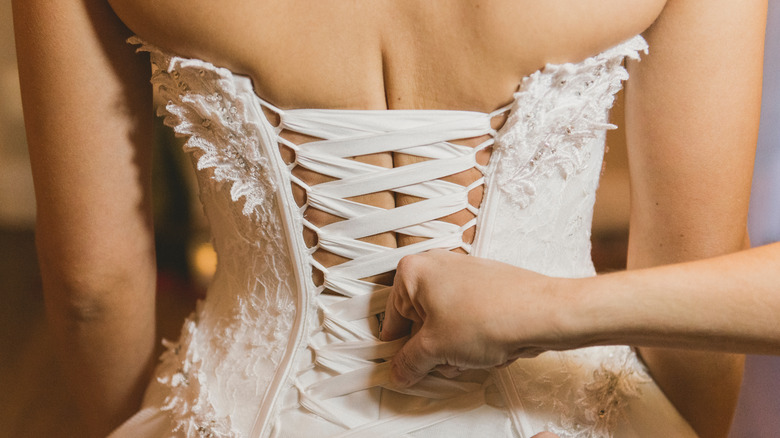 Shutterstock
Looks like the fashion trend for the 19th century is making a comeback. Yes, if you're wondering, we're talking about corsets! Thanks in part to our prolonged wearing of sweatpants given the pandemic and our obsession with "Bridgerton," the corset is all the rage. 
More and more, people are buying corsets and styling them in different ways, but it's kind of controversial if you think about it. After all, corsets were made to uphold unrealistic beauty standards, in part representing a struggle within society that women have been fighting for centuries. "[Corsets] allowed women to modify their bodies: the waist was compressed and the chest was hoisted up. 18th-century texts say that the corset allowed women to have a nice waist and a high chest," Dr. Denis Bruna, a curator at the Musée des Arts Décoratifs, Paris, told The Cut.
If you're squeezing your midsection — bruising your ribs in the process — to achieve an hourglass figure, something (bad) is happening to your body. According to Hourglass Angel, wearing a corset for eight to 12 hours a day can increase perspiration and heat. The outlet also said that when eating, you might feel a bit of pressure while wearing a corset because your stomach can't expand due to the constriction.
Despite popular belief however, per Hourglass Angel, corsets don't shift your organs or hurt your stomach. Wearing the garment can actually have good benefits, such as bettering your posturing.
Should you wear a corset?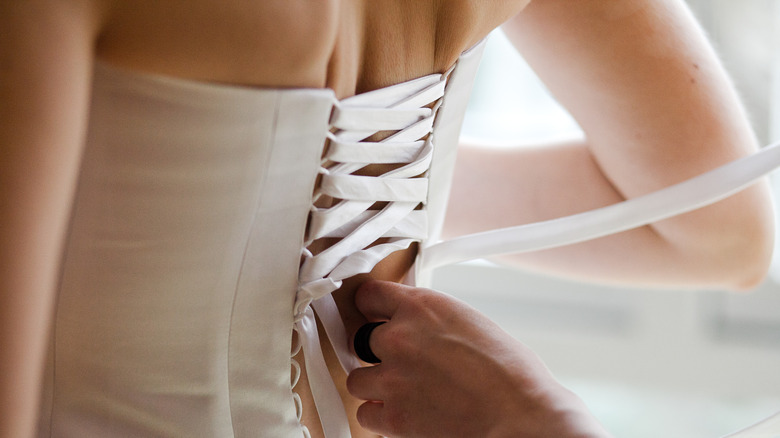 Shutterstock
Okay, so corsets aren't as dangerous as one might have thought. But, should you be wearing one? According to Orchard Corset, there are multiple pros and cons to wearing this fashion item. One pro, the outlet said, is that it boosts confidence and helps with weight loss. As aforementioned, wearing corsets while eating encourages limited food intake because your stomach can't expand (via HourGlass Angel).
While corsets give you an hourglass figure and serve as a fashion statement, there's something weird about bringing back a 19th-century fashion statement that perpetuates old-age beauty standards (via The Cut). After all, the purpose of a corset is to give you a slimmer and flat stomach, but isn't the body positivity movement advocating to take away such a standard? "If you think about it through history, [the corset] was made to please everyone but the wearer," Amy Smilovic, a fashion designer, told the outlet.
Regardless, if you want to wear a corset, wear one! Nothing is stopping you. Just know that having a slimmer stomach doesn't mean you are more beautiful. You're perfect the way you are.