The Style Evolution Of Millie Bobby Brown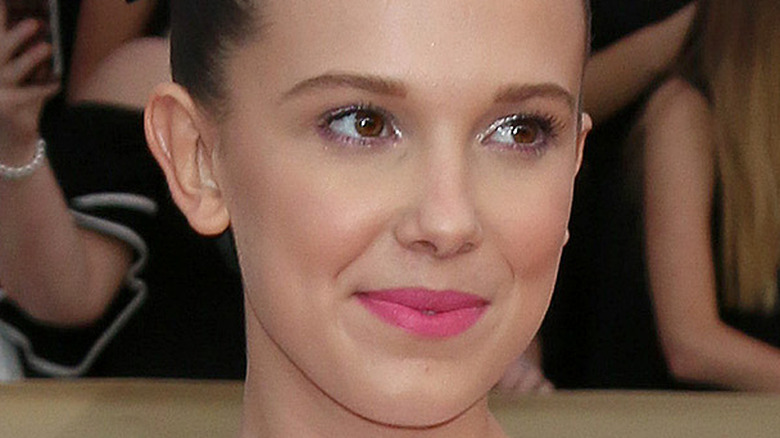 Shutterstock
During the first season of "Stranger Things," Millie Bobby Brown, who plays Eleven, was just 12 (via Thrillist). Since then, the actress has gone on to appear in films such as "Godzilla: King of the Monsters," "Enola Holmes," and "Godzilla vs. Kong," as stated on her IMDb page.
Just as her roles have grown and enhanced in the past few years, so has her style. She was just a kid when she entered the spotlight, and when she appeared on red carpets and in interviews, her outfits were very girly. There were cute and age-appropriate looks like the sweet dress with flutter sleeves she wore to the 2016 Emmys (via Instagram). Another look from that year that Brown posted to Instagram shows her wearing a headband and a frock with floral accents.
As she got a little older, she started adding some edge to her wardrobe. In 2018, she posted a shot on Instagram of her wearing a black and voluminous little number. That same year, she also posted a shot of her donning a sharp leather jacket on Instagram. This shift was echoed on "Stranger Things," too, as Eleven had a decidedly more punk look and rocked heavier makeup in Season 2 (via Bustle). 
Millie Bobby Brown's fashion has certainly changed since she was 12
In 2019, child star Millie Bobby Brown launched a makeup brand called Florence By Mills, as reported by Elle. If any fans were still picturing her as the little girl eating Eggo waffles on "Stranger Things," this beauty line surely helped remind them that this actress is now a teenager and has come a long way. 
Brown's fashion since she's gotten older has featured some of the '90s fashion trends that have come back in style, like the white sunglasses she modeled in a 2018 Instagram photo. Then there's the chic bucket hat she showed off in 2020, writing in the caption of her Instagram post, "She happy." In 2019, she talked about her changing style, telling Harper's Bazaar, "I feel like I'm becoming someone and being a woman so I just want to show that."
When it comes to more elegant moments, such as movie premieres and magazine spreads, she still gives the world some of that feminine flair, which was common during the start of her career. For example, she rocked a dainty top with ruffled sleeves on New Year's Eve in 2020, showing off the look on Instagram. If you can't pinpoint what, exactly, Brown's aesthetic is, you're not alone. Her style is constantly changing, and that's a good thing. "I think that that's one of the best things about fashion," she told Teen Vogue in 2019. "There are no rules to it. And you should never box yourself in — even though you do, but you shouldn't."