The Cast Of Criminal Minds: Who Are Their Significant Others In Real Life?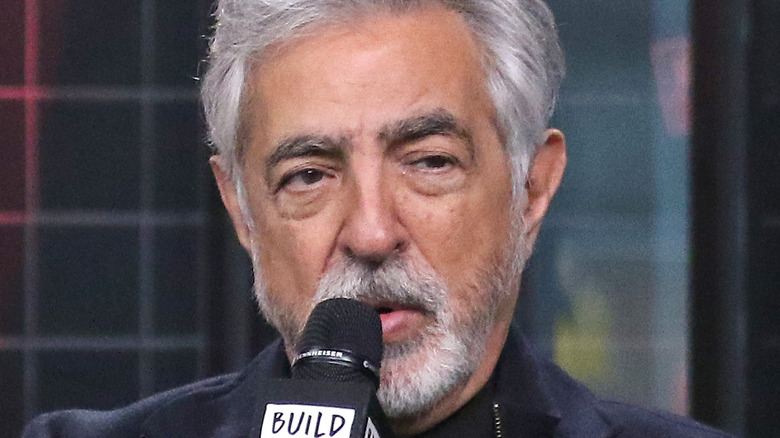 Jim Spellman/Getty Images
"Criminal Minds" has been on the air since 2005. During its 15-season run, the show has garnered a massive following. It's endlessly rewatchable, and people are always noticing things they previously missed. 
If the present tense here is confusing – because the series concluded in 2020 – look no further: Streaming service Paramount+ has picked the series up for a revival, granting it a sixteenth season, (via ScreenRant). The cast of "Criminal Minds" is widely beloved, and with them returning to the screen sometime in the future on Paramount+, it's time we take a closer look at these stars and who they're spending their lives with.
Starting with Joe Mantegna, whose David Rossi portrayal has always been bone-chilling in the best way. As it turns out, Mantegna has been married since 1975, (via Allvipp). He and his wife, Arlene Vrhel, even have two kids together! October 2021 will mark their 46th year of marriage, and we couldn't be any happier for the actor.
Kirsten Vangsness and Aisha Tyler have both heard wedding bells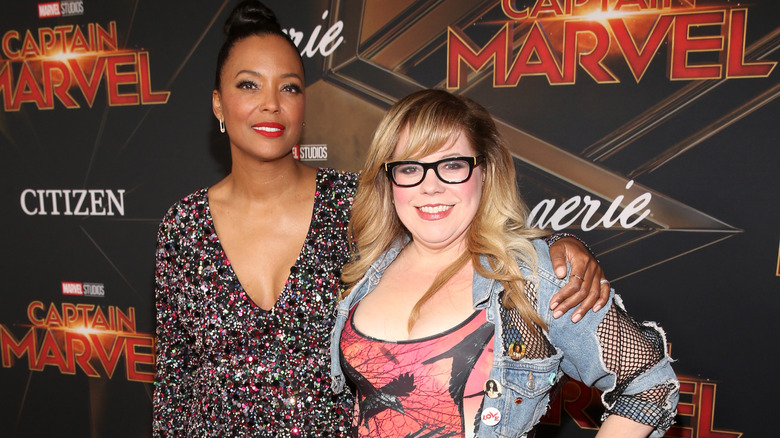 Jesse Grant/Getty Images
Kirsten Vangsness plays Penelope Garcia, the effervescent technological genius who aids the detectives in their cases each week. In the series, Penelope has an ongoing flirty relationship with Shemar Moore's character Derek Morgan, but in real life she is, in her own words, "super queer," (via The Advocate). 
Vangsness was with a woman named Melanie Goldstein for seven years but is now engaged to actor Keith Hanson. She explains that she didn't expect to find herself in love with a man before adding, "If I were straight, I would say I was, but I don't totally understand it myself," she explained, per People. "I don't want to have an answer to something that I don't really have an answer to."
While Vangsness is just rearing up to get married, costar Aisha Tyler has already been down that road. Tyler married her husband Jeff Tietjensin 1994, but the couple divorced in 1997 after 20 years of marriage, (via People). 
Tyler played Dr. Tara Lewis on Seasons 11 through Season 15 of "Criminal Minds," and she's remarked that being in the public eye made her divorce worse. During an appearance on "The Talk," Tyler shared, "That's a very painful thing to go through and it's also a really painful thing to go through in public. I'm sure you can imagine it's pretty frustrating to have people talking about your private life who don't know anything about it."
Matthew Gray Gubler and A.J. Cook have very different dating love lives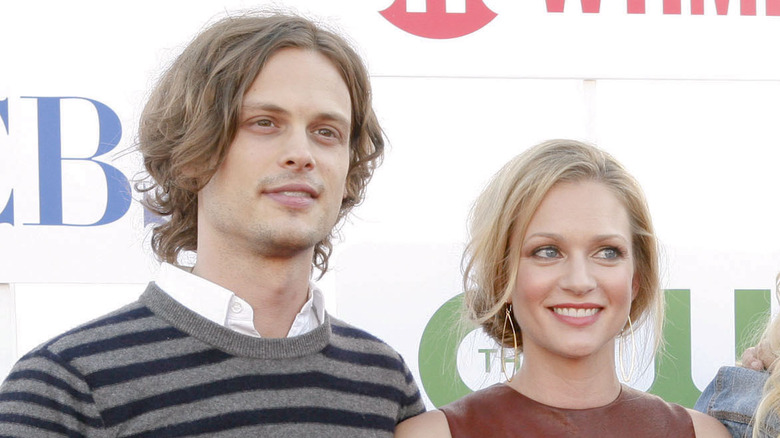 Shutterstock
Matthew Gray Gubler, who's played Dr. Spencer Reid for the series' entire run, may currently be single but he's dated several big names. Gubler was rumored to be dating Taylor Swift back in 2013 after the two were seen spending a lot of time together, and he had a longer relationship with fellow actor Kat Dennings (via The Blast). 
One thing is always true with Gubler's dating life, though: the actor always wants to end on good terms and remain friends. In an interview with Glamour, he said, "I fall in love with wonderful people and people that can't be replicated. They are completely unique individuals, and those people are really rare and you can't let them go. You gotta be friends with them forever because if I'm going to date someone, it's a real big thing for me." 
In that same interview, Gubler says his costar A.J. Cook is like his sister, so let's take a look at her love life. As it turns out, Cook, who played Jennifer Jereau, has been married to Nathan Andersen — a classmate she met while studying at Utah Valley University — since 2001, (via Paramount+). The couple has welcomed two children into the world, one of which has even appeared on the show as her character's son!