Why Pamela Anderson Reportedly Won't Watch Lily James' Portrayal Of Her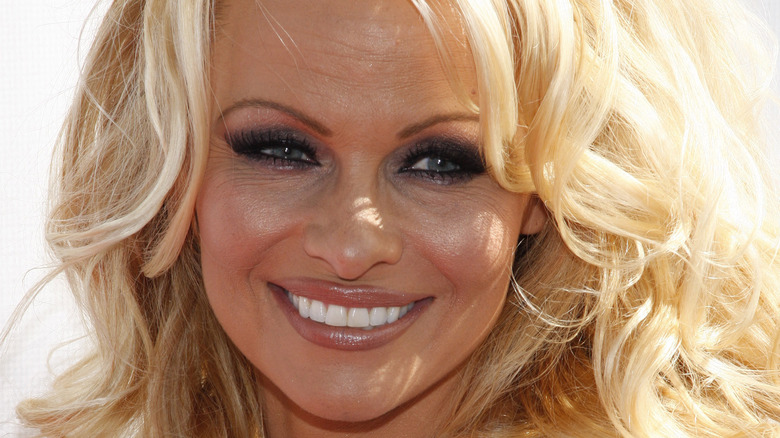 Shutterstock
First look photos for the upcoming Hulu mini-series "Pam & Tommy" have bene released. Its eight episodes will focus on the relationship of Pamela Anderson and Tommy Lee, played by Lily James and Sebastian Stan, respectively, (via IMDb).
The "Baywatch" actress and Mötley Crüe drummer were married in 1995, after knowing each other for just 96 hours. They then made a sex tape, which was stolen and leaked, and Seth Rogen will be playing the man who got his hands on this infamous home movie.
Deadline reported that Anderson and Lee are not involved in the series but are aware of it. More buzz was started around the project when the images of James and Stan playing this ex-couple were released on social media, and commenters voiced their praise of the uncanny portrayals. Anderson, on the other hand, does not seem to share these positive thoughts and opinions, according to insight from an insider.
Pamela calls the new mini-series a "cheap knockoff"
Apparently, Pamela Anderson spoke with her friends on "Pam & Tommy," and that information was shared with The Sun, which reported that the actress has "no intention of watching this God awful show."
"She's never heard of the actors playing her or Tommy and doesn't care to know them," an insider stated. "Pamela finds it amusing that this girl is getting so much attention for playing her ... Lily isn't a match for Pamela, doesn't even come close, nor does Sebastian Stan do justice to Tommy."
The source went on to say that Anderson views the series as a "cheap knockoff" and "a joke" and that focusing on the sex tape scandal — which was "extremely traumatic" — is "pathetic." The insider did say, however, that Anderson has no issue with being reminded of her time with Lee. "From her relationship with Tommy, came her joy — her boys. Pamela loves them deeply, and that's what matters to her."