Mistakes You're Probably Making When Defining An Eyebrow Arch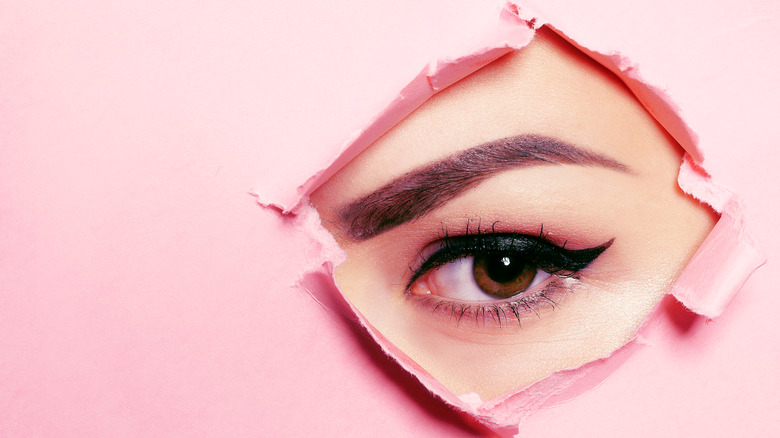 Shutterstock
The truth is that achieving the right eyebrow shape and style can completely alter your appearance, instantly lifting your face. That's why, when it comes to your eyebrow shape, it's so crucial that you choose a style that flatters your face shape and features.
That said, as per Asia One, figuring out what eyebrow shape works best for your face can be tricky, and so can defining that perfect brow arch. 
Makeup artist Nigel Stanislaus explained to Elle that, "The whole thing about brows is that they frame your face." He also says that "If you get them right, your features look amazing – it's that simple."
Of course, as Elle notes, while perfectly shaped brows (hello, Gigi Hadid and Kim K) can change the whole appearance of your face, one slightly over zealous tweezing session can result in absolute eyebrow disaster, leading to a painfully slow re-growth period, and totally messed up brows.
Less is more when it comes to defining your own eyebrow arch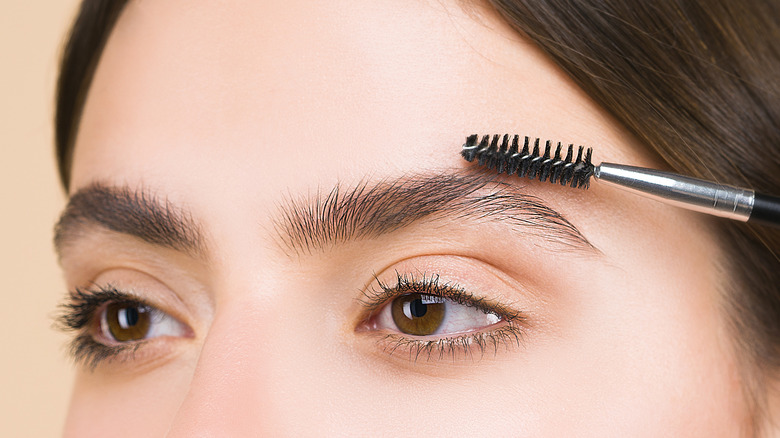 Shutterstock
When trying to achieve bold, beautiful brows, Elle suggests taking a step back from the sharp tools and magnifying mirror. Instead, it's best to reach for pencils and brow products that can be honed to create perfectly aligned brow shapes and allow for any shaping mishaps without spelling total disaster.
As per Elle, to create perfectly arched brows, use your eyebrow pencil as a guide, positioning it against the side of your nose as an anchor. Then, slowly move the pencil along the length of your brow, along to the point where your brow ends.
"Do not pluck below the brow to create an arch" warns Stanislaus as per Elle, as it can end up looking puffy or creating a permanently shocked expression – until your brows grow back, that is. 
As per Elle, if you're going to pluck your brows, ensure that you stick only to the top of the brow – avoid plucking below the brow at all costs, or have a professional do it for you.
Brow products are your best friend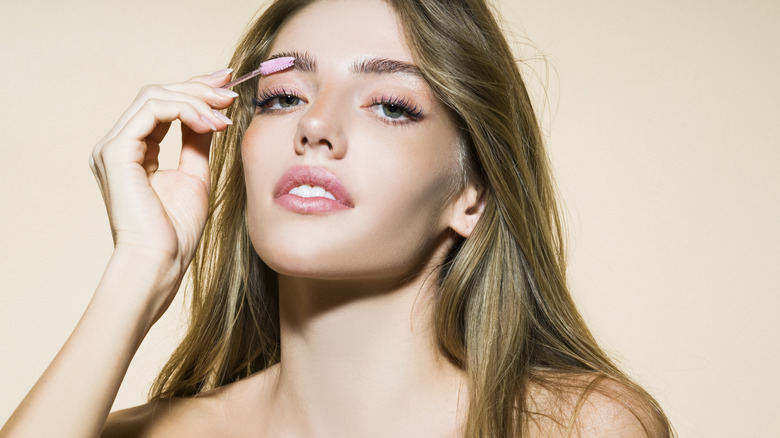 Shutterstock
As per Stylist, a study from NPD showed that eye makeup sales increased during the pandemic, with eyebrow product sales rising significantly. Without access to spa services, it's not difficult to see why. The right brow product can overhaul messy, unkempt brows into sleek, stylish, perfectly defined arches in just a matter of minutes. 
From traditional eyebrow pencils, waxy pomades, and brow setting wands to microblading effect pens and brow combs, there are a range of products to choose from when seeking perfect eyebrow arch success (via Stylist). It's just a case of utilizing them properly. 
These tools can, not only be used to help define eyebrow shape, Stylist reports that they can also be used to fill in sparse areas and create a more even finish on both sides of your brows. Creating a more symmetrical look and frame for the face is the ultimate goal. 
As per Elle, Stanislaus suggests beginning at the tail end of the brow, using a sharpened pencil – or other tool – to create short, feathery strokes that start on the underside of your brow and extend upwards and outwards towards your temple, allowing you to create a sharp, pointed, perfectly defined brow shape.