Why Fans Of Costco's Boba Ice Cream Bars Are Buzzing
In December 2020, Costco began selling an ice cream product that would blow up into its own phenomenon. The introduction of the Brown Sugar Boba Ice Milk Bar into Costco stores had established and new boba fans alike crazed for more boba (via Yahoo!). Interestingly, there has been a boba shortage in 2021, with bubble tea shops and various other establishments running out of their prized offerings (via Eat This, Not That). This caused the boba ice cream bars to go missing after having only just hit Costco shelves last December. However, good news has come: Brown Sugar Boba Ice Milk Bars are back in select U.S. states.
Eat This, Not That further reports that the boba shortage comes from a substantial shipping backlog on the U.S. West Coast, and if shipping doesn't get caught up in the near future, this summer could experience a massive boba shortage many times larger than what has happened so far this year. Still, Costco's ice cream bars are back in stock, at least temporarily.
Here's exactly where you can find these boba bars in the U.S.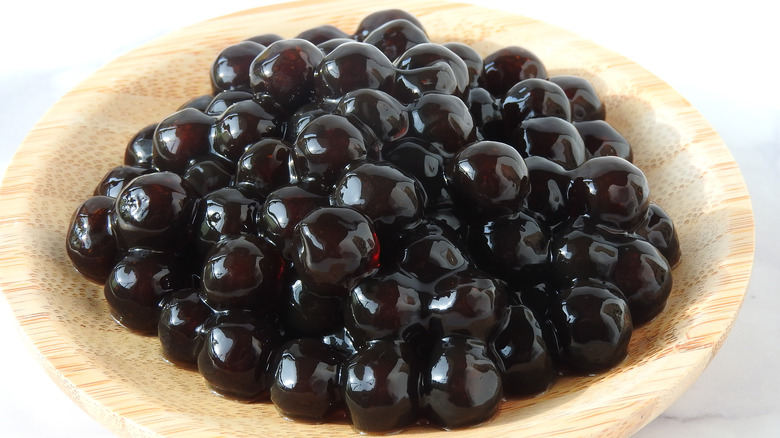 Shutterstock
Costco's Brown Sugar Boba Ice Milk Bars come from the brand IMEI, and Costco subscribers can find them in packs of 12 bars that retail for $13.99 (via Yahoo!). Fans of brown sugar milk tea will already be familiar with the bars' flavor and texture, as the bars have actual boba pearls inside of the ice cream encasement. The bars are currently restocked in Georgia, Utah, California, Oregon, Minnesota, and Washington, though fans in other states should continue checking their Costcos' freezer sections because they could return elsewhere at any time. Finally, Yahoo! notes that the bars cannot be found and purchased on Costco's website — probably because of their popularity and their spotty stocking — so you'll have to continue checking Costco for them when you visit.
Are you a fan of bubble tea or these ice cream bars? We love both, and we're hoping we can find some of these bars soon — and that the shipping issues blocking boba from being transported across the country get fixed so that these bars can stay in stores for their loyal fans.