The Skincare Products You Shouldn't Mix With Benzoyl Peroxide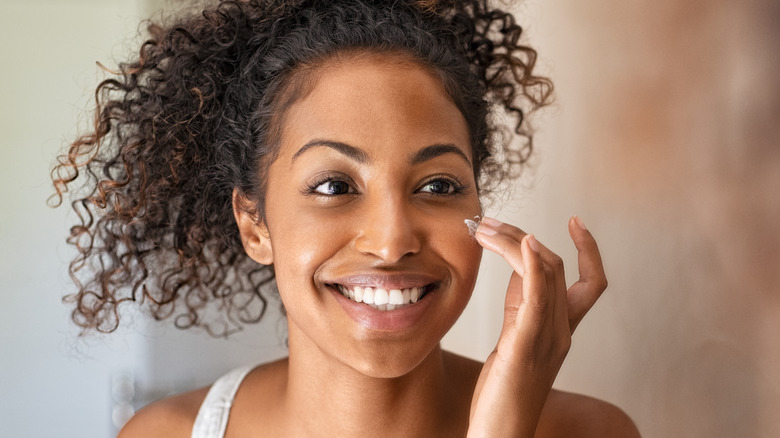 Shutterstock
You probably have some sort of skincare routine, even if you aren't among the 65% of women who use products for their skin every day (via Statista). Perhaps you use a specific line of skincare, or maybe you pick and choose among products from a variety of different brands. Globally, people spent more than $134 billion on skincare items in 2019 to help them achieve flawless skin, as reported by the Las Vegas Review-Journal. The popularity of taking care of your skin means that brands compete to grab a share of the enormous market, producing and offering a dizzying array of solutions for any number of things you might want to fix. 
According to InStyle, if you're mixing and matching different serums and creams, you might be making a mistake that renders the powerful ingredients ineffective for your skin. There are a few skincare ingredients that you shouldn't mix. Board-certified dermatologist Dr. Shari Marchbein, told the publication, "Mixing ingredients without proper knowledge of how these ingredients work and what other ingredients they may interact with will be not only a waste of money but also time."
Dr. Marchbein adds that doing so can also lead to frustration, stemming from less than expected results and/or skin irritation. Benzoyl peroxide is among the typical ingredients you should be careful not to mix with certain other components in your skincare routine.
Here's why you shouldn't mix these skincare ingredients with benzoyl peroxide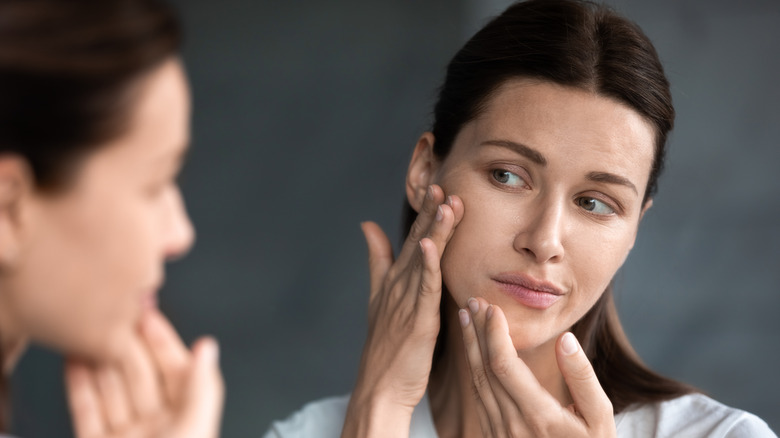 Shutterstock
Like many other areas in life, more isn't always better when it comes to skincare. It's essential that you choose products that complement each other to avoid drying out or over-exfoliating your skin. According to Healthline, benzoyl peroxide is powerful in helping prevent acne, but it also dries your skin. "Because acne treatments, in general, can cause dryness and irritation of the skin, combining them together needs to be done with caution, and every other part of the skincare routine (i.e., cleanser and moisturizers) need to be extremely gentle and ultra-hydrating, respectively," Dr. Shari Marchbein explained to InStyle.
You shouldn't mix retinol (vitamin A1) with benzoyl peroxide because the ingredients can deactivate each other, which wastes both time and money (via Allure). Also, if you have an acne prescription with tretinoin as an active ingredient, you should avoid both retinol and benzoyl peroxide. Dr. David Lortscher, board-certified dermatologist and CEO of Curology, told InStyle that the best way to minimize interaction of these ingredients is to separate products into a morning and evening routine. "Apply the tretinoin-containing formulation in the PM, and use your benzoyl peroxide in the AM, or use a wash-off benzoyl peroxide cleanser rather than layering a leave-on benzoyl peroxide," he recommended.
If you use benzoyl peroxide products, you can mix them with hydrating ingredients, topical antibiotics, and sunscreen. If you're unsure about something you're using, check with your dermatologist.