Why Kat Dennings' Latest Tweet About Andrew W.K. Has The Internet Talking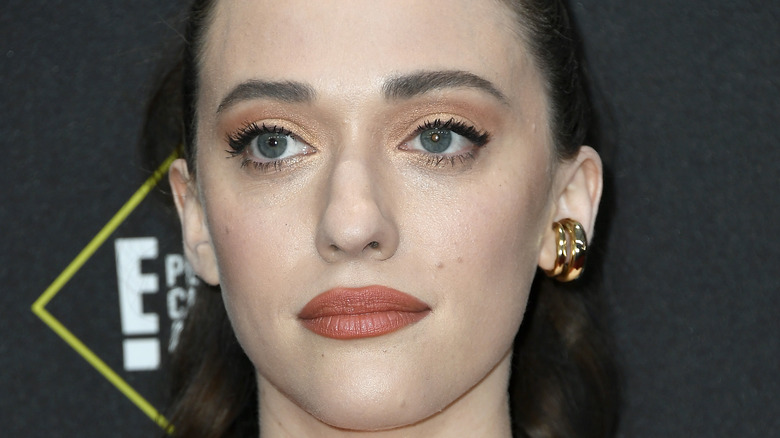 Frazer Harrison/Getty Images
Actress Kat Dennings has big news to share. The star took to Twitter Thursday, May 13, 2021 to announce she is seemingly engaged to Andrew W.K. Posting a photo of her red fingernailed hand adorned with an impressively-large diamond ring, and holding the hand of whom we assume is Andrew, Dennings captioned the tweet, "Don't mind if I do @AndrewWK."
Followers quickly reacted to the WandaVision star's share, with one asking the obvious question, "SHES'S ENGAGED?" (via IMDb). Many more followers congratulated Dennings, with one joking, "My heart Is broken But Im so happy for you hahaha Xoxo."
Whether fans were disappointed she is off the market or not, at time of writing, the star's tweet had been liked over 11,000 times and is clearly getting tons of attention. Meanwhile, Andrew shared the same post on his Twitter account, where he too received many congratulations.
Kat Dennings just made her relationship with Andrew W.K. official
According to People, the newly-engaged couple's announcement that they plan to wed comes just a week after Dennings confirmed their relationship via social media. Over on Instagram, where the "2 Broke Girls" actress also shared her engagement news, she posted a photo of the two kissing just days ago. At the time, Andrew, who is a musician according to his website, posted dozens of black hearts in the comments section.
Today, celebrity friends weighed in with their comments about the pair's elevated relationship status, with model Tess Holiday noting, "Can't wait to be a bridesmaid." Colin Hanks shared his congratulations, as did Jamie Alexander. Evan Rachel Wood posted heart emojis in the comments section, while Nikki Reed expressed her feelings via diamond ring and celebration emojis, among others. Singer Michelle Branch said, "This is fabulous news."
This is the first engagement for Dennings, while according to People, Andrew was previously married to Cherie Lily.