Why Prince Harry's Most Recent Interview Has The Internet Seeing Red
Emma Mcintyre/Getty Images
Prince Harry had a lot to say when he dropped by as a guest on Dax Sheperd's podcast. The interview was, in the words of Vanity Fair's Katie Nicholl "candid," and as with his last interview with Oprah Winfrey where he and his wife Meghan Markle had dropped a few bombs that shook the royal family, he made a few more revelations about what being a member of the family did to his mental well being.
He admitted being a royal made him feel like he was in a cage, saying, "I've seen behind the curtain, I've seen the business model and seen how this whole thing works and I don't want to be part of this." He said how important therapy had been for him because "once I started doing therapy it was like the bubble was burst. I plucked my head out of the sand and gave it a good shake off and I was like, you're in this position of privilege, stop complaining and stop thinking you want something different – make this different – because you can't get out" (via Vanity Fair).
While Twitter appreciated Harry's revelations about his voyage of self-discovery, they had harsh words for him because of the way he criticized his father and his upbringing, especially so soon after the death of Prince Philip. "'He's treated me the way he was treated': Harry claims he moved family to LA to 'break cycle' of 'genetic pain and suffering' passed on from Charles, the Queen and Philip" What a BRAT!!!" tweeted one.
Twitter took exception to Harry's comments about Prince Charles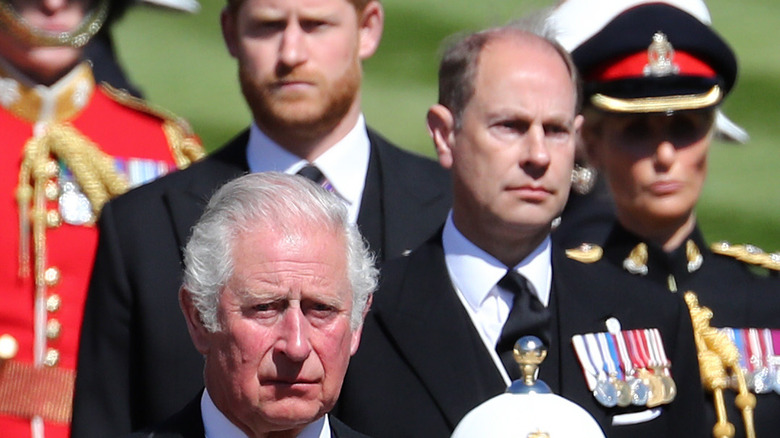 Wpa Pool/Getty Images
Harsh words for Harry even came from Darren McGrady, former royal chef who used to work for the royal family when, as he tweeted, "Prince Harry dissing his father for bad parenting just a few weeks after he has lost his father is bad timing and wrong. And just because he didn't do it on social media doesn't make it right #dirtylaundry."
Another asked the same question: "How could he do this now while Charles grieves for his father? So on Armchair Expert Prince Harry today takes a pop at Charles' parenting as he poured his heart out to a US mental health podcast and said he moved to California with his family to 'break the cycle' of 'pain.'"
But there were others that took Harry's side on social media — a member of the Twitterverse said: "Just listened to the Prince Harry interview on #ArmchairExpert and I am so confused by the backlash. It was an wonderfully eye-opening, powerful and open interview. Harry was charming and funny, and incredibly self-aware. A literal must listen chat on mental health."