The Truth About Hillary Clinton's Engagement Ring
Shutterstock
Bill and Hillary Clinton comprise one of the most praised and scrutinized couples in the world. With their high profile lives first as president and first lady — then with Hillary as a senator, the Secretary of State, and a presidential nominee — their relationship has been examined over and over again during the search for scandals. And even the story behind their engagement and her ring has its share of drama.
The fact that Bill cheated on his wife is well-documented, and the situation led to his 1999 impeachment trial (via The New York Times), but Hillary – who has a new job as of February of 2021 — has chosen to stay with her husband despite the affair. Some observers call them a loving older couple, while still others say they fake their affection. Through the years, Hillary has been seen wearing quite a few different rings on her finger, but it's the original engagement ring her husband gave her that shines brightest, according to Ritani.
How did Bill and Hillary Clinton meet and fall in love?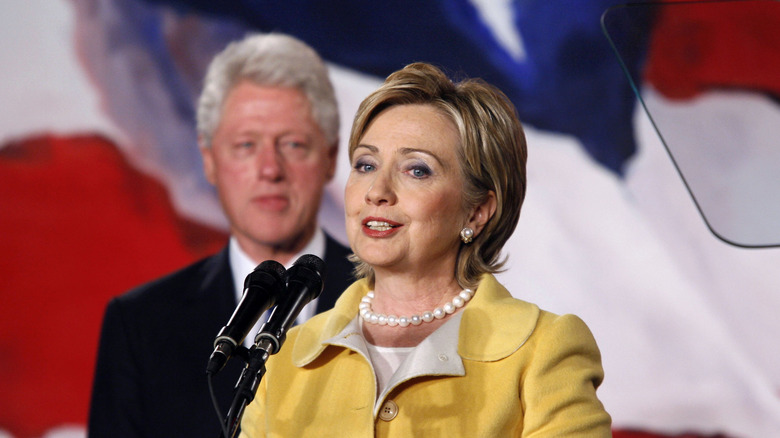 Shutterstock
Hillary Rodham met Bill Clinton in 1971, when they were both students at Yale Law School. Both of them were just as political as each other from the start, and not even a year after meeting, they traveled to Texas together to work on George McGovern's failed presidential campaign, according to Insider.
Bill had to propose to Hillary more than once before she was willing to settle down and say yes. The first proposal was in 1973, when the pair was in London, England — he popped the question, but she wasn't sure yet and told her Bill she needed time. So, Bill took her back to his native Arkansas and bought her their first house (what a gesture). That's where he proposed again and this time, Hillary said yes. In 1975, the pair finally wed with only 15 guests in attendance, but they apparently didn't need a big wedding to have a long marriage (via Insider).
Hillary Clinton's emerald-cut engagement ring has stood the test of time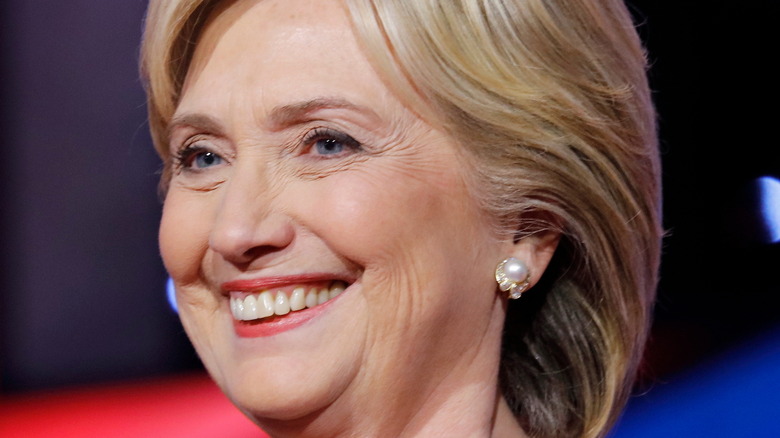 Shutterstock
According to Ritani, Hillary Clinton has been seen with various rings on her ring finger throughout the years, including one stunner, with emerald and ruby stones at the center. She also wears her gold-plaited wedding band. However, the ring Bill Clinton gave her outside their new Arkansas home (third proposal's the charm, right?) was a gold band with an emerald-cut center diamond flanked by baguettes on the side, and it's absolutely beautiful.
The former first lady has been scrutinized for pretty much every fashion choice she has made since Bill first ran for president in 1992 — from her headbands to her pantsuits to her hairstyle. However, her engagement ring has remained an exquisite staple of her wardrobe.
That ring and proposal led to one of the most high-profile pairings in both American history and world history, as well as 45 years of marriage. The couple has one daughter, Chelsea Clinton, and three grandchildren, Aiden, Jasper, and Charlotte, according to ABC.