How To Make DIY Clarifying Shampoo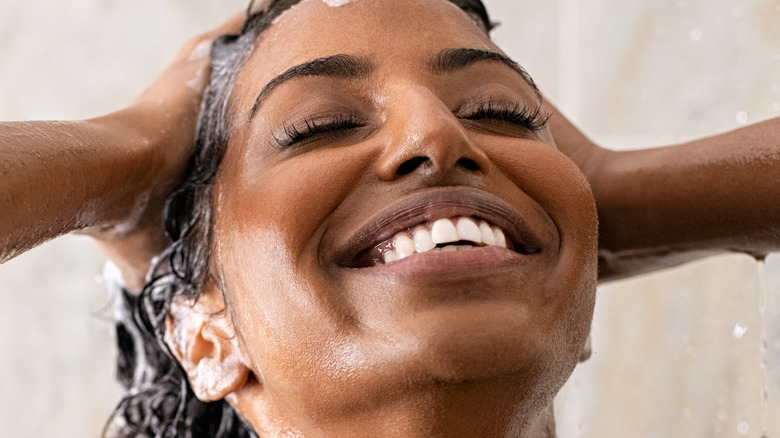 Shutterstock
We may receive a commission on purchases made from links.
Everyone has the occasional bad hair day, but if you're struggling with your hair more often than not, scalp buildup might be the culprit. If your hair texture has changed, if your scalp feels extra oily or itchy, if you're seeing more hair than usual falling out when you shower or style it — it might be a sign that buildup on your scalp is negatively affecting your hair.
According to mindbodygreen, scalp buildup can be due to either natural oils or hair products. Product buildup is the most common, and happens when your hair is overloaded with products like dry shampoo, hairspray, and mousse without being thoroughly cleaned in between applications. These products mix with your scalp's natural oils, called sebum, and can weigh down your tresses, make them look dull, and cause flakiness and, in extreme cases, hair loss.
Dermatologists like Dr. Debra Jaliman often recommend a scalp exfoliation as a way to eliminate product buildup (via Byrdie). "Scalp exfoliation makes way for fresh skin and hair follicles to grow healthy hair," said Jaliman to Byrdie. "Many people pay more attention to their hair rather than their scalp, but the truth is that a healthy scalp will produce healthy hair."
But there's another step you should consider adding to your scalp buildup-fighting repertoire: Clarifying shampoos.
What is a clarifying shampoo and how do you use it?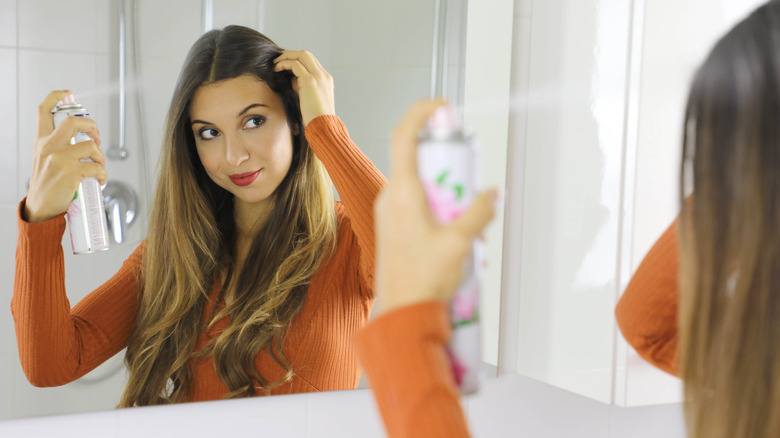 Shutterstock
A clarifying shampoo is a type of shampoo that is formulated to give your hair and scalp a deep clean by dissolving product buildup (via Cosmopolitan). When used correctly, clarifying shampoos can make your scalp healthier and restore your mane to its former glory.
Here's the catch: Clarifying shampoos work by stripping your hair of all the product and oil buildup, but this can be incredibly drying to your hair. You shouldn't use clarifying shampoos every day: Once every week or two is enough. If you use them too often they can irritate your scalp and leave your tresses brittle (via mindbodygreen).
To combat the drying effect of clarifying shampoos, dermatologists like Dr. Iris Rubin, founder of SEEN Hair Care, recommend that you deep condition your hair after using a clarifying shampoo — even if your hair isn't normally dry (via Byrdie).
Another thing to note is that you should repeat the clarifying shampoo process several times during your wash. Unlike a typical shampoo, clarifying shampoos often need to be applied and rinsed out three to four times to ensure that your entire scalp and all your hair is being treated (via Byrdie).
Clarifying shampoos can work magic on your tresses, but they can also be quite expensive. Some of the most popular clarifying shampoos like Bumble and Bumble's Sunday shampoo (via Ulta Beauty) and Oribe's The Cleanse can be in the $30 to $40 range.
But there's no reason to break the bank to eliminate your scalp buildup — you can make an all-natural, super effective clarifying shampoo at home.
How to make an at home, DIY clarifying shampoo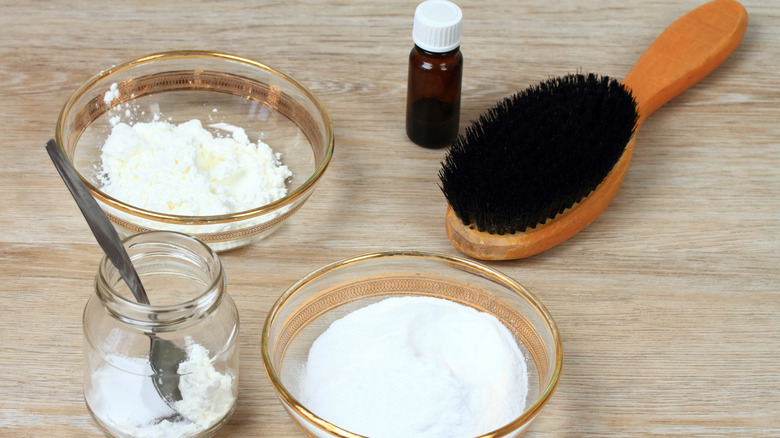 Shutterstock
The key ingredients of most clarifying shampoos are things that you probably already have at home in your pantry, which means that you can throw together a clarifying shampoo treatment when you need it — and without having to spend money on a pricey treatment.
Apple cider vinegar, the all-star of many clarifying shampoos, can be used as a clarifying shampoo by itself. That's right: One ingredient can bust up your product buildup for pennies. To use apple cider vinegar as a clarifying shampoo, Naturally Curly recommends that you make a mixture of ACV and warm water — three parts vinegar, one part water — and shake it up before rubbing it into your scalp with your finger tips. Because ACV can be quite drying, avoid the length of your hair as much as possible and follow with a deep conditioning treatment.
Another easy one-ingredient clarifying shampoo is made by mixing together baking soda and warm water. According to Naturally Curly, you should mix one tablespoon of baking soda with one-and-a-half cups of water and spread the mixture evenly over your scalp. Baking soda breaks up the residue on your scalp, leaving it squeaky clean, but its high pH level can be harsh on your hair. Naturally Curly recommends that you follow your baking soda cleanse with an ACV rinse and a deep conditioning treatment.
Or, if you're a fan of herbs, you can make a clarifying rinse by boiling water with fresh rosemary (via Naturally Curly). Once cooled, the mixture will contain the naturally detoxifying properties of rosemary and can help bust up buildup on your scalp — and it smells super fresh.