Why Everyone Is Talking About Chrishell Stause's Very First Reality TV Appearance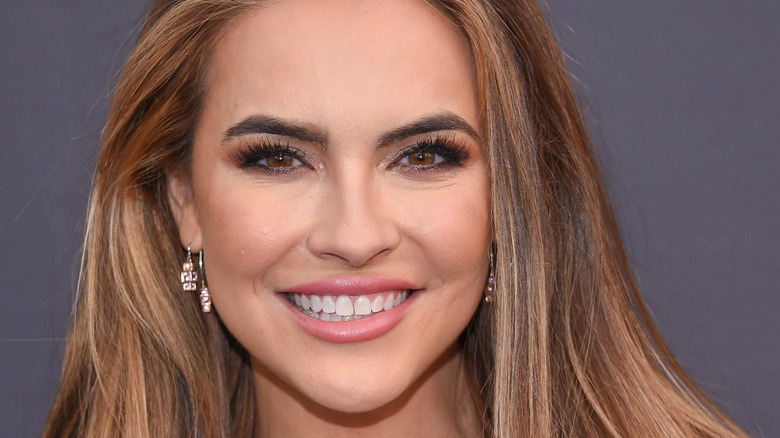 Shutterstock
Some stars may want the world to forget about their early careers. Ahem, Jennifer Aniston in "Leprechaun." But "Selling Sunset" realtor Chrishell Stause recently shared a clip of her very first reality TV appearance to her Instagram, proving she is one celebrity who can poke a little fun at herself (via Yahoo!).
"In honor of the #MTVawards here is a #TB to my very 1st time on TV circa 2004..?" Stause wrote as a caption to the lengthy clip, going on to set up the footage by saying, "I auditioned for a scripted show & the casting director asked if I'd be up to go on a date for a show called Wanna Come In?"
Apparently, the premise of the show was for Stause to go on a date with a guy, and if he impressed her, she would invite him into her house. Sadly, it seems he only earned a handshake-worthy goodbye — he couldn't even remember her name at the end of the date — with Stause going on to admit, "A handshake is brutal!! I could have at LEAST hugged him goodbye."
Why Chrishell Stause did the show back in 2004
According to Stause, her first reality TV gig was more about making ends meet than exposure, with the super successful realtor going on to write on Instagram about the dating show, "It paid a couple hundred bucks so it was an instant yes because it beat waiting tables."
Of course that Stause, who recently split from her "Dancing With The Stars" boyfriend Keo Motsepe, shared this footage instantly inspired many followers to comment about how she is the same and how she has changed since 2004 (via Us Weekly).
First, it's worth noting most of Stause's followers simply loved the clip, with one commenting, "bahaha this is FANTASTIC." But many also noticed that her accent has softened over time since this early appearance, with the star having hailed from Draffenville, Kentucky (via Soap Central). "Your accent! Love it," one fan gushed, while another noted, "Aw the southern accent popped out here." Someone else said, "The way you speak here sounds so differently to now!"
Another follower wondered about the star's youthful appearance, "Do you even age?!" Finally, one fan pointed out, "It's pretty amazing how far you've come!"