Prince Harry And Oprah Winfrey Share A Powerful Message In Just-Released Trailer For Their New Show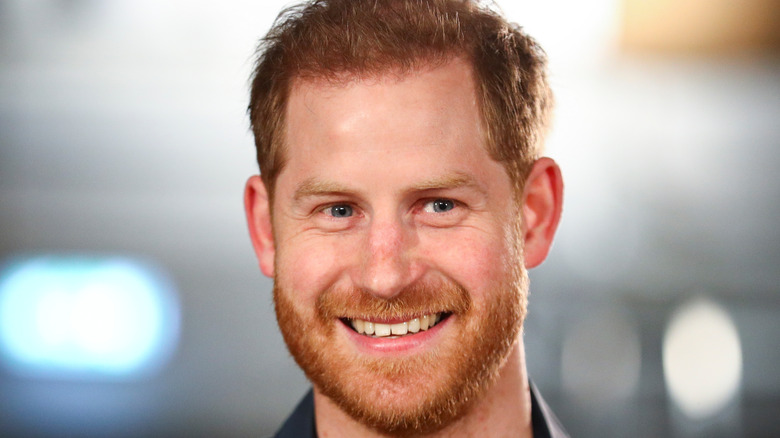 Wpa Pool/Getty Images
Following a bombshell interview with his wife Meghan Markle, Prince Harry has reunited with Oprah Winfrey for an upcoming series centered around mental health. According to People, the Duke of Sussex and Winfrey are co-creators and executive producers of the new series — titled "The Me You Can't See" — which arrives on Apple TV+ on Friday, May 21. 
In a trailer for the upcoming release, the pair open up about their own struggles with mental health and discuss the importance of combating the stigma which surrounds it (via YouTube). "All over the world people are in some kind of mental, psychological, emotional pain," Oprah explains in the clip, sitting opposite Prince Harry. "Being able to say, 'This is what happened what happened to me,' is crucial," she adds.
Per The Independent, the Duke of Sussex continues in trailer, "To make that decision to receive help is not a sign of weakness. In today's world, more than ever, it is a sign of strength." Accompanied by archive footage of a young Prince Harry attending his late mother Princess Diana's funeral, a voiceover adds, "Treating people with dignity is the first act." 
Meghan Markle also makes a cameo in the trailer
Throughout the Apple TV+ trailer, the likes of Glenn Close and Lady Gaga make appearances alongside several other notable figures, including the Duchess of Sussex herself, Meghan Markle (via People). "The results of this year will be felt for decades," Prince Harry continues, while a photograph of Meghan reading to their young son Archie is displayed. "By kids, families, husbands, wives — everybody," he concludes. 
In a statement, Apple TV+ revealed that "The Me You Can't See" will include "high-profile guests alongside a wide range of people from across the globe living with the challenges of mental health issues," adding that producers have enlisted "14 accredited and respected experts and organisations from around the world to help shed light on different pathways to treatment." 
In a separate statement upon the announcement of the new series, Prince Harry said, "We are born into different lives, brought up in different environments, and as a result are exposed to different experiences. But our shared experience is that we are all human." Per iNews, the Duke added that he hopes the series will "show there is power in vulnerability, connection in empathy, and strength in honesty," while co-star Winfrey commented, "there is an immediate need to replace the shame surrounding mental health with wisdom, compassion and honesty."