Here's The Best Cleanser For Your Skin Type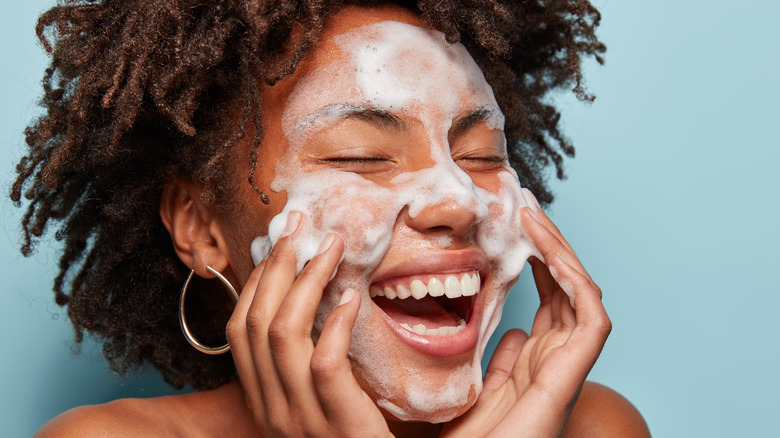 Shutterstock
Beauty Insider reports that cleansing is the initial — and most important — stage of any skincare routine. The process of cleansing is simple, but the process of choosing the right cleansing product isn't always as straightforward.
As per Glamour, choosing the right cleanser for your skin type is no easy feat, especially as there are limitless options to choose from. There are foam cleansers, oils, balms, lotions, bars, and micellar water, and each cleanser type works slightly differently and is designed to meet the needs of specific skin types.
Beauty Insider suggests that the first step to finding the right cleanser is to understand your skin type and its specific needs.
Glamour reports that alongside the cleanser type, there are also the ingredients within the cleanser to consider. As with many things, ingredients that work for one person may not work for others, especially when it comes to skincare.
How can you determine which cleanser will be the best fit for your specific skin type and any skin concerns that you may have?
What's the best cleanser for your skin type?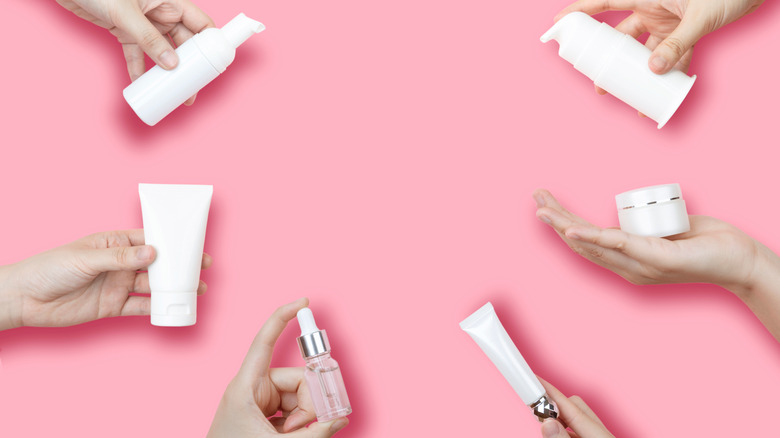 Shutterstock
Beauty Insider reports that gel cleansers offer deep cleansing, working effectively to unclog pores, reduce excess oil, and beat acne-causing bacteria on the skin's surface. They are ideal for use on normal skin, oily skin, combination skin, and acne-prone skin.
Cleansing oils and balms tend to offer deep nourishment for skin, according to Glamour, but can leave behind an oily film. For dry skin, this additional layer can be beneficial, however, for oily skin it can be problematic. Interestingly, on a scientific level oil actually dissolves oil, and when dirt or oil is trapped in the pores, an oil-based cleanser can help to remove it.
As per Beauty Insider, cream cleansers offer deep moisturizing, and as they don't lather, they don't tend to strip the skin's natural oils, and don't cause skin dryness as a result. Because cream cleansers can cause pore clogging, they're only recommended for use on sensitive and dry skin, not oily skin.
Beauty Insider reports that foam cleansers are best for oily and combination skin — this is because the foamy lather is able to deeply penetrate the pores, removing dirt. However, the main irritant in foaming cleansers is usually sodium lauryl sulfate, which can cause skin dryness and irritation.
As per Beauty Insider, facial soap cleansing bars can contain a range of pH-balancing ingredients that help to nourish the skin, while also offering deep cleansing, making them ideal for oily or combination skin.